Doctor Declares Miracle After Father, Dead for 45 Minutes, Wakes Up When Son Prays and Screams: 'You're Not Going to Die Today'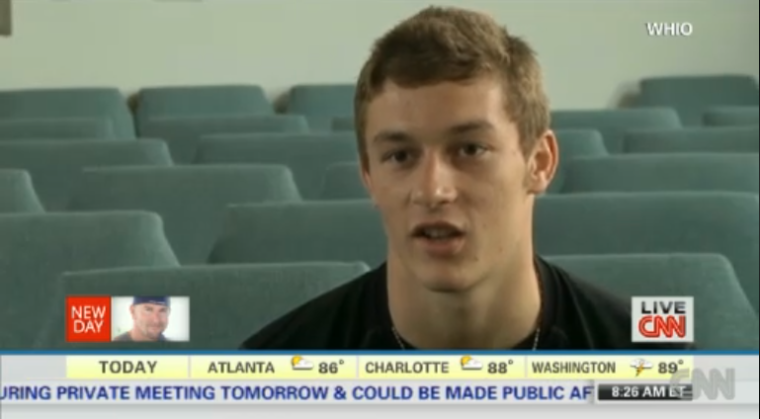 A doctor at the Kettering Medical Center in Ohio pronounced a miracle this month after a man he had declared dead for 45 minutes came back to life after the man's 17-year-old son prayed over his lifeless body and screamed: "You're not going to die today."
"Well, they (doctors) were working on him for 45 minutes and all the doctors and nurses came into the room. They sent us into a counselling room. They didn't have to say anything, you just knew they were gonna pronounce him dead," the teenager told CNN about his father, Tony Yahle, 37, a diesel mechanic.
But something wasn't right with the way the doctors were reacting said Lawrence.
"They almost just looked at us and no emotion almost. Everyone in tears. For some reason, I just thought 'he's 37 years old, he's never had a heart problem. He's not dead in that room," he said in defiance while sporting a crucifix around his neck, surrounded by his father, mother and two sisters.
"I go back there, my pastor, he was there. We were praying next to the room. I was in the doorway and something came in me and got me to point at him and I said 'dad, you're not going to die today.'"
"When I said that, I stood there for a few more moments and then started walking back to the counselling room to comfort my sisters and my mom and anyone else. I took about three steps when my pastor called," he continued.
"He looked at me and said, 'Lawrence, Lawrence,' got my attention then he said 'your dad, he has a heartbeat. So I got the rest of the counselling room and cheered everyone with that news. So it was awesome!" he said.
Tony's cardiologist at Kettering Medical Center, Dr. Raja Nazir, told ABCNews.com that it was a "miracle."
"I'm calling it a miracle because I've never seen anything like it," said Nazir.
"When I looked at the electrical activity, I was surprised," Nazir said after Lawrence had prayed and screamed at his father. "I thought we'd better make another effort to revive him."
And when he did, said Nazir: "Very slowly, the heart rate was picking up."
The incident took place on Aug. 5 and doctors thought that Tony Yahle would need a heart transplant or would be in a vegetative state for the rest of the life, but everything he has done since he came back from the dead has defied all medical logic.
According to the ABCNews.com report, Tony Yahle's wife, Melissa, realized he wasn't breathing at about 4 a.m. on Aug. 5, and even though she has been a nurse for seven years, she couldn't wake him up.
She and Lawrence performed CPR on Tony until an ambulance arrived and found a heartbeat after shocking him several times.
Later on at the hospital, however, Tony "coded" for 45 minutes despite efforts from doctors to revive him, and they decided to call the time of death.
"We looked at each other," said Nazir. "We'd given him all the medicine we had in our code cart. At some point, you have to call it off."
Nazir called the event "mind boggling." But Melissa said Lawrence and people from their church who were praying witnessed a miracle.