Doctors Given Authority to Remove Baby's Life Support Despite Parents' Wishes, UK Court Rules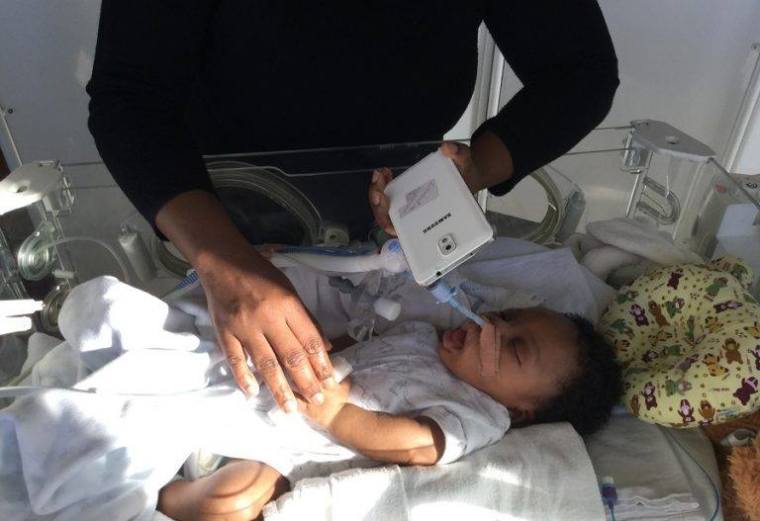 A judge in the United Kingdom has ruled that doctors can pull an 11-month-old baby off life support despite the parents' decision that their child continue further intensive treatment.
On Monday, Judge Alistair MacDonald of the Family Division of the High Court of England and Wales in Birmingham ruled that doctors at King's College Hospital in London can remove 11-month-old Isaiah Haastrup, who suffers from severe brain damage, from life-supporting treatments and begin palliative care.
The ruling comes as doctors have argued that the it was not in the best interest of the baby to prolong his life.
As previously reported, doctors have determined that baby Haastrup is not only suffering from brain damage caused by lack of oxygen to the brain but that he is not breathing or moving without assistance. Doctors have also determined that Haastrup is not showing any "purposeful" responses.
"Examining Isaiah's best interests from a broad perspective ... I am satisfied that it is not in his best interests for life-sustaining medical treatment to be continued," MacDonald ruled, according to The Guardian. "That, with profound sadness, is my judgment."
Although the judge recognized that discontinuing life-sustaining treatment would lead to Isaiah's death, he said that Haastrup's parents, Takesha Thomas and Lanre Haastrup, were "understandably and sadly heavily influenced by the flattering voice of hope" that medical opinions did not support.
The judge ruled that if Isaiah were to remain on life support that he would simply be "ventilator dependent and without meaningful awareness of his surroundings."
"I am satisfied on the evidence before the court that Isaiah has no prospect of recovery or improvement given the severe nature of the cerebral atrophy in his brain," MacDonald said in his decision. "Having, as I must, Isaiah's best interests as my paramount consideration, I am entirely satisfied that it is no longer in Isaiah's best interest to receive life-sustaining treatment."
"It is trite but true to observe that the court cannot imagine the emotional pain that the conclusion of the court will cause to the parents," the ruling continued. "It is my hope that, in due course, the parents will be able to derive some small measure of comfort from the knowledge that they have done all that they can for their much-loved and cherished son to seek an alternative outcome for Isaiah."
According to CNN, Andrew Whitelaw, an independent expert who provided evidence to the court, explained that the baby had no audible heartbeat, respiration, activity or muscle tone at birth.
"This is as near death as it is possible to get and still have heart action started by resuscitation," Whitehall was quoted as saying. "In former times, he would have been declared a stillbirth."
The decision comes after Haastrup's mother, Takesha Thomas, a Pentecostal Christian, told the court in a hearing last week that even though doctors say Isaiah is largely unresponsive, her baby responds when she speaks to him.
"When I call his name, I say: 'Isaiah it's mummy,' he will also give me a response by opening his eyes," Thomas said.
Thomas also proclaimed that it shouldn't be the doctor's decision whether her son lives or dies.
"For me, I don't think it is right to say who should live or who should die," she said. "If God wants to take the person, He will."
After the court's ruling, Lanre Haastrup said they need to consult with their lawyers.
"Of course, one is disappointed," he said, according to the Press Association.
Supporters of the Haastrup family say their case is reminiscent of the late infant Charlie Gard, another U.K. baby who suffered from a genetic condition that caused brain damage. Gard's parents petitioned to be able to seek experimental treatment in the United States and their case received international attention and support from President Donald Trump and Pope Francis. 
Yet, the parents' petition was denied. Gard died  in July 2017.