Does the Old Testament Support Voting for Morally Questionable Candidates Like Roy Moore?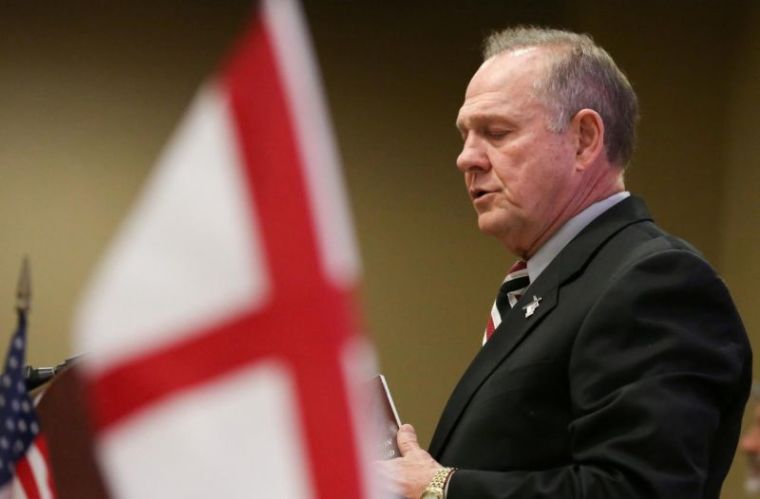 A Christian columnist has ignited an intense theological debate online, asserting that it's justifiable to support a morally questionable political candidate given how God uses immoral men to accomplish His purposes on Earth.
In a Tuesday Federalist column, journalist Denise McAllister explained why she believes it's acceptable to vote for people for public office who have deep character flaws. The specific context of her essay was embattled U.S. Senate candidate Judge Roy Moore in Alabama, who has been accused of sexual misconduct from several women. While she did not endorse Moore or any other compromised politician, she argued that Christians routinely miss a crucial distinction between the city of God and the city of man, drawing upon St. Augustine's famous work City of God.
Christians too often regard political leaders as though they are spiritual leaders, McAllister, who is Protestant, contended. She maintained that they view them "as if any stain on their character, fault from their distant past, or even theological apostasy disqualifies them from political leadership" and "seem to fear that the personal sinfulness of a man will bring about the ruin of an entire party or nation."
God, however, is more "pragmatic," and employs all kinds of "immoral" men in the secular realm to bring about His purposes for His Church, she said.
"Just go back to the Old Testament and see how he used secular leaders. God employed foreign kings to bring about His purposes of rebuilding the holy site of Jerusalem. For example, King Cyrus of Persia helped the Jews with royal decrees and financing to construct the temple, and later foreign armies defended them."
"The Scriptures reveal how God used all sorts of things to fulfill his plans, including directing a dumb 'ass' to rebuke His servant Balaam to open his eyes to God's truth. God forbade His people from forming unholy alliances and intermarrying with foreigners, because this was true spiritual corruption, but He used pagan authorities, armies, and even religious people from foreign lands to execute His will. In Joshua, God's people worked with a prostitute, and lies were even justified."
Her words elicited both heated pushback and muted praise from several quarters.
Commentator Erick Erickson, an evangelical Christian and #neverTrump conservative, responded at the Resurgent that he has read a lot of bad theology in defense of voting for Donald Trump and "bastardizations" of Augustine but that McAllister's piece "took the cake."
"There is no great firewall between the things of God and the things of man. You do not get to engage in all sorts of bad behaviors and endorse all sorts of bad behaviors and excuse it all away as being in the city of man, so it is OK," Erickson said.
"When a man declares himself part of the church, as both Trump and Moore have, and then behaves in a way to bring disrepute on the church, the church is supposed to shun them," he added, arguing that she had "twisted" Scripture to make her points.
Author and radio host Eric Metaxas, also an evangelical, had a different take, tweeting Tuesday in support of McAllister:
"If you haven't seriously considered what @McAllisterDen is saying here, you aren't being honest or intellectually rigorous. This is very difficult, but important. Think it through logically, not with your emotions and/or religious self-righteousness."
New York Times columnist Ross Douthat, a Roman Catholic, wrote in a tweet-thread that "of course God can, and does, use even wicked figures for His good ends. But to actively vote to place the wicked in power is dangerously presumptuous, and far too close for comfort to the 'unholy alliances' that @McAllisterDen admits are forbidden."
Orthodox Jew Ben Shapiro joined the chorus of Christian voices criticizing the essay, saying it makes the error of assuming that we are somehow God.
"Yes, God can use bad people to accomplish His goals; in fact, He does so routinely throughout the Bible, and openly informs His prophets of that fact," Shapiro explained on The Daily Wire Tuesday, where he is the editor.
"But that's because God is omniscient. His question isn't our question. When we say that God used David — a man who committed murder and adultery — to create a dynasty, that's a question of why God would choose to do so. Our question is whether it would be OK to act like David if it meant accomplishing David's goals. And the answer is no, since David repents."
McAllister replied to Shapiro with a post — published on the Daily Wire — insisting that he misunderstood her premise, taking issue with Shapiro's headline: "No, the Bible doesn't say you should vote for Roy Moore just because God uses bad people to do good things."
"When I describe a candidate as 'morally questionable,' I am not talking about established criminality, abuses, or moral failings that would outright disqualify a candidate from office or put the public at risk," McAllister wrote.
"I am talking about personal sins and past immoral actions that taint one's character. I am not talking about an evil or wicked man, or a Hitleresque individual who promises economic prosperity while committing genocide."
Christians are to weigh these matters based on their conscience, she stressed, and deal with the tension of living both as a citizen of God's heavenly city and Earth.
"When it comes to governing decisions, laws, and rules, which choice will cause the greater spiritual damage and threaten God's people in their worship of God in the long run? An immoral man with sins from his past who stands for religious liberty and right to life, or a "moral" man who threatens religious liberty and stands for death?" McAllister asked.
"These are the questions I wrestle with. They don't make me immoral. They don't make me short-sighted. They make me a pilgrim struggling to live in obedience to my God in a dark and fallen world."