Domestic Violence Is Scourge on America, White House Episode Reminds Us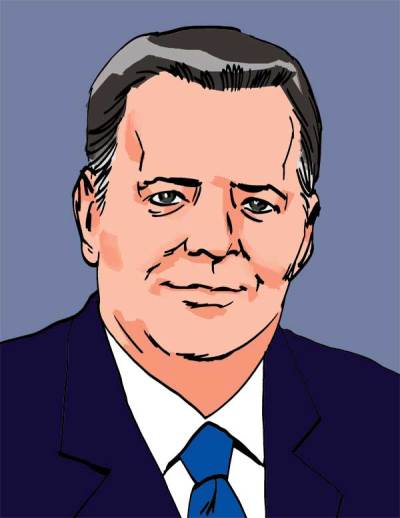 Most Americans were startled, to say the least, when news broke that Rob Porter, the President's White House Staff Secretary, had resigned amid allegations of serious domestic abuse by two ex-wives. Staff Secretary is a serious and sensitive job, which among other things, controls the daily paper flow to the president's desk in the Oval Office.
Such a position requires the highest security clearance, and it was in the course of that security clearance investigation that these abuse allegations surfaced. In fact, as early as January 2017, at the very outset of the Trump administration, Porter himself evidently alerted the White House Counsel, Don McGahn, that the security clearance background check would likely uncover derogatory information. He is reported to have specifically warned that his two ex-wives would likely say unflattering things about him to FBI investigators.
Before we get lost in the crossfire of political machinations and questions of, "what did Chief of Staff John Kelly know and when did he know it," we need to seize this opportunity to focus on the serious problem of domestic spousal abuse in America.
By all accounts, Rob Porter was the model of what most parents, and most women, would call a "catch." The 40-year-old Porter, Harvard Law grad and Rhodes scholar, with tall, clean-cut, movie star good looks, fits a recruiting poster model for much of corporate culture.
Prior to serving in the White House, Porter had served as a long time senior aide to the straight laced Senator Orrin Hatch of Utah. Upon hearing the egregious allegations against Porter, Senator Hatch said he was "heart-broken" and added that Porter had been a much loved and trusted advisor. He also immediately added that "domestic violence in any form is abhorrent and unacceptable."
I do not know Rob Porter or David Sorensen, the second White House staffer to resign over ex-wife domestic abuse allegations in recent days. However, I do know people who do know them. These people are shocked as I am sure President Donald Trump, General Kelly and others are shocked. I am sure they find it hard to believe that Rob Porter could be guilty of the heinous actions of which his ex-wives accuse him.
This is precisely why domestic violence is so widespread in America. It is most often a secret crime committed in private by respectable "pillars" of society. According to the Center for Disease Control and Prevention, one out of four women and one out of nine men are victims of "intimate partner" violence in their lifetimes.
As someone who has been an ordained minister for over half a century (and pastored or interim pastored 19 local congregations) these numbers, sadly, are not a surprise to me. Nor would they be to anyone else who has been in pastoral or counseling ministry for any length of time.
As former Arkansas governor and former presidential candidate Mike Huckabee explained, in the process of defending the appropriateness of a former local church pastor running for political office, whatever problem is afflicting American society, be it domestic violence, poverty, drug abuse, sexual molestation, murder, suicide, etc., a pastor can put a human face on it because he has had to help people deal with one or more of these crises on a personal level. As a pastor and a minister I have consistently been shocked at allegations of domestic violence in homes where you would never have expected it, including the parsonage.
Domestic violence is a scourge in our society, and it is increasing rather than decreasing. And as my wife and others who are therapists and marriage counselors will readily attest, unless it is addressed and the abuser gets help, it will almost certainly continue, and it will almost always escalate into greater acts of violence.
It is certainly true that Mr. Porter should have the opportunity to prove his innocence. In the meantime, it is absolutely right he shouldn't serve in such a sensitive position unless the allegations are proven untrue.
We should seize this tragic case to publicize the epidemic of domestic violence in our culture. We should encourage those victimized to come forward, we should take their allegations seriously and we should encourage all victims to remove themselves and their children from physical danger immediately, helping them to find alternative living arrangements when necessary.
How we should counsel the accused? I would say, "if you are guilty get professional help immediately. Without it you will be a repeat offender." Second, "if you are innocent, then take a polygraph test. The results of such tests are often not admissible in a court of law, but they are very persuasive in the court of public opinion."
And for everyone's sake, "do not accept employment in a position of public service that requires a background security check, and if you are already in such a position, resign for the good of the country."
Dr. Richard Land is president of Southern Evangelical Seminary and executive editor of The Christian Post.