Donald Driver and Dancing With the Stars: 'Game On' Says NFL Star (VIDEO)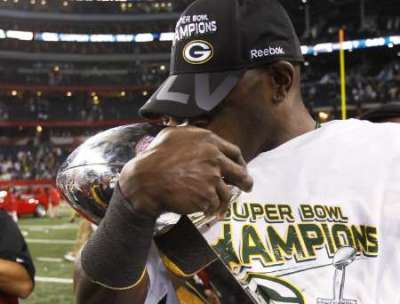 "Dancing With the Stars" star Donald Driver has announced that he's in it to win it, suggesting that his partner Peta Murgatroyd is also eager to take the trophy home.
The Green Bay Packers wide receiver has the attitude of a winner, and his score on Monday night's "Dancing With the Stars" premiers didn't exactly hurt his ego either. Driver and his partner Peta Murgatroyd scored 21 out of 30 points on their first go for the dance competition. With a high score to boost his confidence, Driver is already seeing his own reflection in that Mirror Ball trophy.
"We've been thinking about [winning it] since the first day! That hasn't changed," Driver, 37, told Us Weekly post-show. "We want it and it would look good next to my Super Bowl trophy! Peta's won a lot of awards in her career, so I know she'd like to have that Mirror Ball trophy as well."
Driver stated that doing the cha-cha on national television isn't so different than catching the ball.
"I play in front of 70,000 fans week in and week out, and I may drop the ball in practice, I may run the ball the wrong way, but once it's game time it's game on," Driver said. "Tonight it was game on."
Driver will have to amp up the competition however, as he and his partner only tied for first place with classical singer Katherine Jenkins and Family Matters actor Jaleel White earning the same high score.
Some of the judges appeared as confident in Driver's abilities as Driver himself.
"I'm calling it now: Donald will be one of the finalists for the Mirrorball trophy this season. He has great athleticism and sex appeal. His cha cha rhythm was precise and it appears that he can balance technical expertise with showmanship," judge Ney Melo stated on the show, giving the couple a 9 out of 10. "He already looks like a professional dancer."