Donald Trump Blames Obama for Baltimore Riots, Says President Is Failing to Make Positive Impact on 'Thugs' Who Are Destroying the City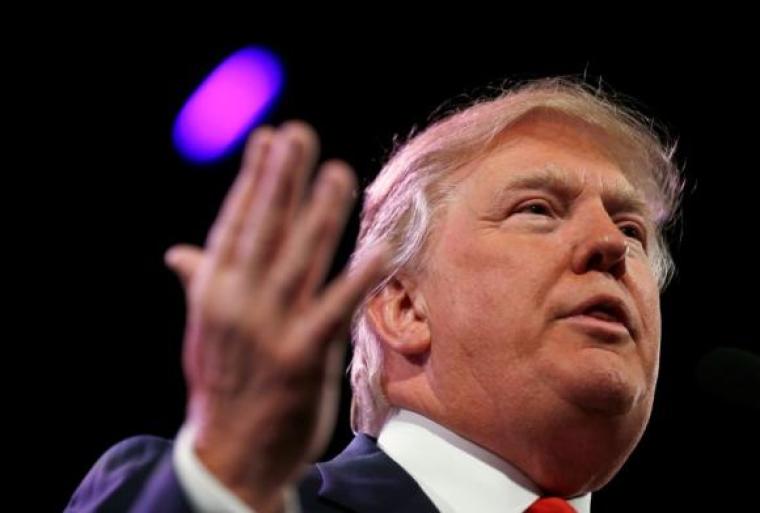 American business magnate and potential presidential candidate Donald Trump has blamed President Barack Obama for the riots that broke out Monday night in Baltimore City, arguing that Obama, as an African-American leader, has failed to have a positive impact on the "thugs who are destroying" the city.
"Our great African-American president hasn't exactly had a positive impact on the thugs who are so happily and openly destroying Baltimore," Trump wrote in a Twitter message Monday night.
On Tuesday morning, he urged Obama to act: "President Obama, you have a big job to do. Go to Baltimore and bring both sides together. With proper leadership, it can be done! Do it."
The clashes with police and heavy rioting in West Baltimore, which led to 15 officers being injured, came on the same day as the funeral of 25-year-old Freddie Gray, who died on April 19 after suffering serious injury while in police custody.
MSNBC reports that Gray had previously been arrested as many as 18 times.
Republican Maryland Gov. Larry Hogan declared a state of emergency in the city, and warned that looting and acts of violence will "not be tolerated."
"In response, I have put the Maryland National Guard on alert so they can be in position to deploy rapidly as needed. I strongly condemn the actions of the offenders who are engaged in direct attacks against innocent civilians, businesses and law enforcement officers. There is a significant difference between protesting and violence and those committing these acts will be prosecuted under the fullest extent of the law," Hogan warned in a statement Monday night.
Hogan added that the attacks against police "betray the cause of peaceful citizens seeking answers and justice following the death of Freddie Gray."
The investigation into Gray's death has sparked another national discussion about the way black men are treated by U.S. police officers, and so far has led to the suspension of six officers.
Obama promised to provide assistance "as needed" to Baltimore in the wake of the riots. U.S. Attorney General Loretta Lynch told the president that the Justice Department "stands ready to provide any assistance that might be helpful there," according to Fox News.
"I condemn the senseless acts of violence by some individuals in Baltimore that have resulted in harm to law enforcement officers, destruction of property and a shattering of the peace in the city of Baltimore," Lynch said.
Earlier on Monday, Trump revealed at an appearance at New England College that he is "very much inclined" to run for president.
Trump told WMUR.com that he is "very close" to becoming a candidate.
"The only negative I ever get is that people say I'm not going to run," the billionaire said. "I don't need to do this. I can do other things, but I'm very close to making a decision. It will probably be in June or July, and I think lot of people are going to be very happy.