Hundreds March in Baltimore as US Justice Dept. Begins Probe of Freddy Gray's Death From 'Spinal Injury' While in Police Custody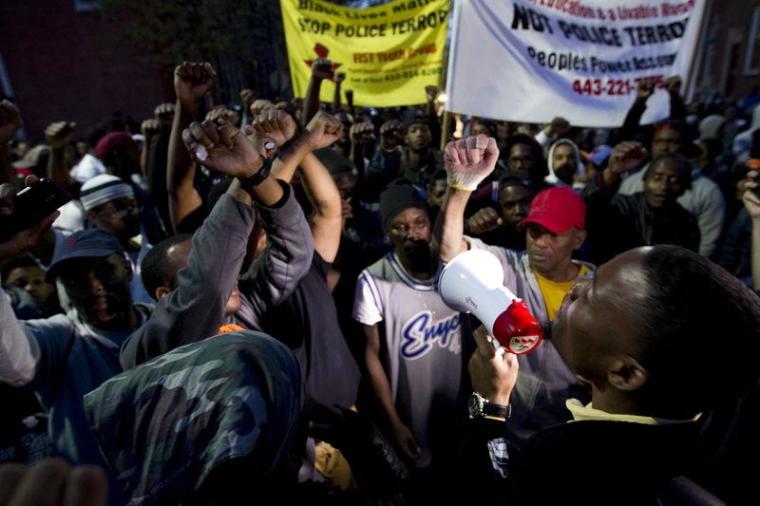 Hundreds of protesters marched in Baltimore, Maryland, Tuesday in response to the death of 25-year-old Freddy Gray, who died while in police custody earlier this month.
Participants in the march demanded "Justice for Freddie" by calling for the six officers involved to be charged with first-degree murder.
"The crowd of protesters gathered on Tuesday evening outside the city's Western District police headquarters and marched to the spot a few blocks away where Gray was arrested," reported Reuters. "They could be seen raising their hands in the air, in what has become a protest sign since the August 2014 death of Michael Brown by a white police officer in Ferguson, Missouri."
On April 12, Gray was arrested by Baltimore police because, according to a police department document obtained by WBAL-TV 11 News, he "fled unprovoked upon noting police presence in the neighborhood."
"The officer then noticed a knife clipped to the inside of his pants pocket. The defendant was arrested without force or incident," read the document.
A week after being arrested by Baltimore police, Gray died while in custody, reportedly from a spinal injury. Dispute exists as to how he received the fatal injury.
In a news conference held Monday, Deputy Police Commissioner Jerry Rodriguez called Gray's death "a very tragic injury to his spinal cord, which resulted in his death."
"What we don't know, and what we need to get to, is how that injury occurred," continued Rodriguez. "… when Mr. Gray was put in that van, he could talk, he was upset, and when he was taken out of that van, he could not talk and he could not breathe."
Gray's death is the latest in a series of highly publicized deaths of black men that have been connected to excessive police force.
Among those included Michael Brown of Ferguson, Missouri, and Eric Garner of New York City. Grand juries concluded that those responsible for the deaths of Brown and Garner would not stand trial.
In response to the Gray death, six officers were suspended and their names released to the public: Lt. Brian Rice, Sgt. Alicia White, Officer William Porter, Officer Garrett Miller, Officer Edward Nero, and Officer Caesar Goodson.
Tuesday's protests in Baltimore have been part of a growing tension in the Maryland city as the U.S. Department of Justice and Baltimore police continue their investigation, according to CNN.
"As protesters chanted "No justice, no peace!" Tuesday evening, Gray's distraught mother, Gloria Darden, collapsed in tears at the spot where her son was arrested this month," reported CNN.
"The demonstrations are gaining momentum. The crowd will be back on Wednesday in front of the Western District police station where Gray was taken after his arrest. On Thursday, they will rally in front of City Hall."