Donald Trump Puts Money in Communion Plate, Says He 'Thought It Was for Offering'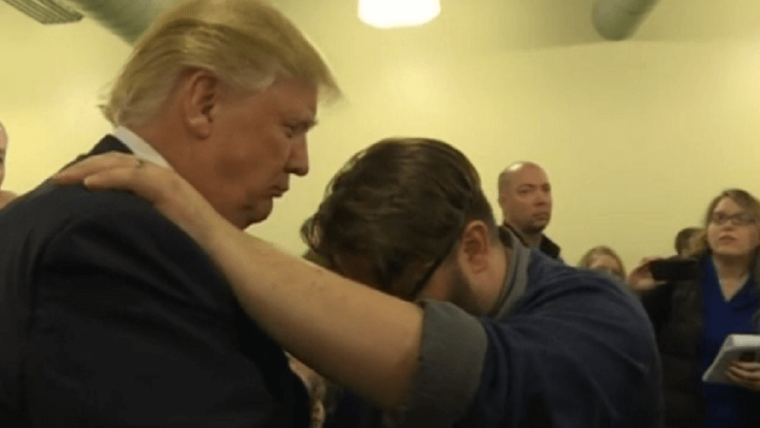 Republican presidential frontrunner Donald Trump went to church in Iowa again on Sunday and momentarily mistook the Holy Communion plate being passed around with sacraments as an invitation to give money.
On the last day before voters choose their nominee in caucuses Monday, Trump attended the nondenominational First Christian Orchard Church in Council Bluffs, Iowa, where he, his wife Melania and two staffers took communion according to WHDH.
Prior to taking the sacrament however, Trump briefly mistook the silver communion plates for the offering plate and took a number of bills from his pocket for a donation.
He was apparently informed that it wasn't that time of the service yet and he laughed off the mistake.
"I thought it was for offering," he said.
Trump, an avowed Presbyterian who has repeatedly said he doesn't like asking God for forgiveness told CNN last summer that when he takes Holy Communion it's a form of asking for forgiveness for him because he usually feels cleansed after partaking.
"When I drink my little wine — which is about the only wine I drink — and have my little cracker, I guess that is a form of asking for forgiveness, and I do that as often as possible because I feel cleansed," he said. "I think in terms of 'let's go on and let's make it right.'"
Trump would eventually give his donation when the offering plate finally came around.
At the end of the church service one of the pastors laid hands on Trump's shoulder and prayed that: "Jesus would guide his decisions and that only Christ could guide his decisions."
Trump reacted: "Thank you, I need that."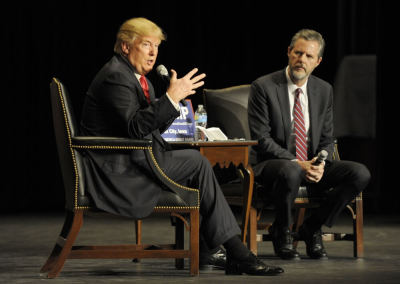 At a later event in Council Bluffs, Trump sat down with Jerry Falwell Jr., president of Liberty University, for an "interview" instead of giving a speech. Falwell told the crowd that when he rode with Trump on the billionaire's plane, he was expecting champagne and caviar but was surprised that Trump was having cheeseburgers, apparently like the average American.
As Trump pulled out all the stops to woo Evangelical voters in Iowa, he also played up a Bible given to him by his mother in a new campaign video on Saturday.
"I really appreciate the support given to me by Evangelicals. They've been incredible, every poll says how well I'm doing with them.
"And you know, my mother gave me this Bible. This very Bible," said Trump holding up the good book. "Many years ago. In fact it's her writing, right here. She wrote the name and my address and it's just very special to me. And again, I want to thank the Evangelicals, I will never let you down."