Donald Trump Defends Killing Innocent People at GOP Debate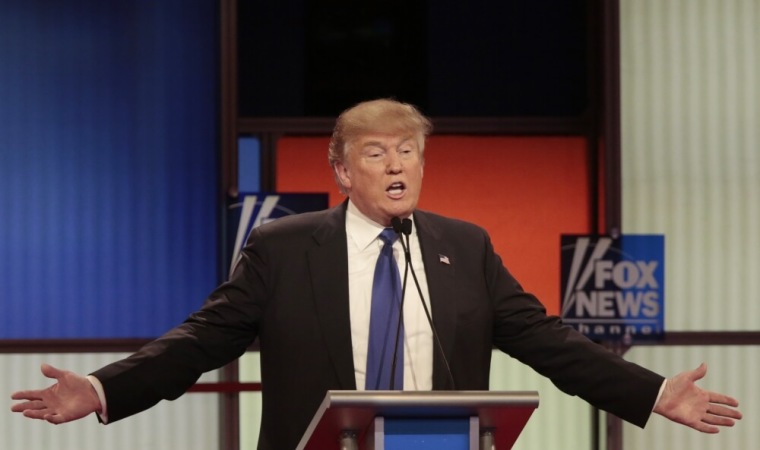 Republican front runner and billionaire real estate mogul Donald Trump defended his previous comments calling for the killing of innocent family members of Islamic terrorists.
Before an energetic crowd at the Fox Theater in Detroit, Michigan on Thursday evening, Trump was asked about his comments regarding the usage of torture and his advocating the killing of terrorists' families.
"A man flies into the World Trade Center, and his family gets sent back to where they were going — and I think most of you know where they went — and, by the way, it wasn't Iraq — but they went back to a certain territory, they knew what was happening. The wife knew exactly what was happening," said Trump.
"They left two days early, with respect to the World Trade Center, and they went back to where they went, and they watched their husband on television flying into the World Trade Center, flying into the Pentagon, and probably trying to fly into the White House."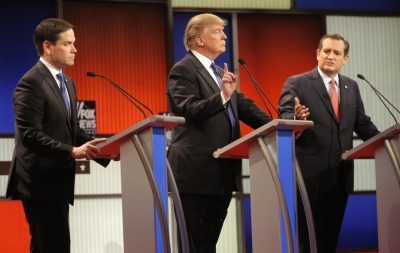 Trump also doubled down on past comments promoting the use of torture methods considered illegal, such as waterboarding.
"Let me just tell you, you look at the Middle East. They're chopping off heads. They're chopping off the heads of Christians and anybody else that happens to be in the way. They're drowning people in steel cages," continued Trump.
"Can you imagine — can you imagine these people, these animals over in the Middle East, that chop off heads, sitting around talking and seeing that we're having a hard problem with waterboarding? We should go for waterboarding and we should go tougher than waterboarding. That's my opinion."
Trump's comments were part of the latest GOP debate, which was hosted by Fox News. In addition to Trump, the other candidates on the stage were United States Senator Ted Cruz of Texas, U.S. Senator Marco Rubio of Florida, and Ohio Governor John Kasich.
Candidates debated and argued during a lively crowd, which booed, cheered, heckled, and applauded during the numerous instances of crosstalk. At one point early in the debate, Trump even made a reference to the size of his penis.
Panelists from Fox News who grilled the four remaining GOP candidates were Bret Baier, Megyn Kelly, and Chris Wallace.
The Detroit debate was the first GOP debate held after Super Tuesday, in which voters in twelve states cast their ballot for who they wanted to make the Republican nominee for president.
Tuesday was a big day for Trump, as he won Alabama, Arkansas, Georgia, Massachusetts, Tennessee, Vermont, and Virginia.
Cruz was the second most successful, winning Alaska, Oklahoma, and Texas, followed by Rubio who won the state of Minnesota.
After Tuesday's results, Detroit native Dr. Ben Carson released a statement saying that he would not attend the debate, basically stepping out of the race.
"I do not see a political path forward in light of last evening's Super Tuesday primary results," stated Dr. Carson, adding that "this grassroots movement on behalf of 'We the People' will continue."
"Along with millions of patriots who have supported my campaign for President, I remain committed to Saving America for Future Generations."