Donald Trump's Un-Christ-Like Behavior Leaves Falwell Sr. Friend Baffled by Falwell Jr. Endorsement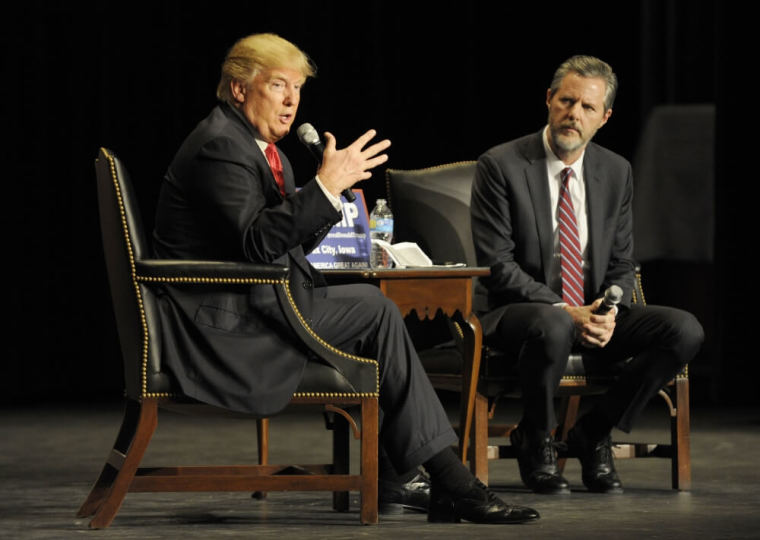 The executive committee chairman of Liberty University's Board of Directors said it was a mistake for Liberty University president Jerry Falwell Jr. to endorse Donald Trump for president, saying that the billionaire's tactics contrast with the Christian values promoted by the institution.
After Falwell Jr. announced his endorsement for the Manhattan real estate mogul in January, he drew the ire of many members of the prominent evangelical school's community even though his endorsement was private and not intended to speak for the university.
Among those disappointed by Falwell Jr.'s endorsement is a former adviser to Falwell Jr.'s father, the late founder of school, Jerry Falwell Sr.
Mark DeMoss, Falwell Sr.'s former chief of staff, spoke to the Washington Post on Monday about Falwell Jr.'s endorsement. DeMoss argued that the Trump's constant use of insults on the campaign trail shows that the Republican frontrunner boldly rejects the basic Christian morals that Falwell Sr. espoused and the principles that Liberty University presses upon its students.
"Donald Trump is the only candidate who has dealt almost exclusively in the politics of personal insult," DeMoss explained. "The bullying tactics of personal insult have no defense — and certainly not for anyone who claims to be a follower of Christ."
"That's what's disturbing to so many people," DeMoss added. "It's not Christ-like behavior that Liberty has spent 40 years promoting with its students."
As Trump has had no trouble winning the support of evangelicals throughout the various primary contests thus far, Falwell's endorsement proves to be one of Trump's most prominent endorsements from an evangelical leader.
Although it took DeMoss over a month to publicly criticize Falwell Jr. for his endorsement, he said he simply couldn't hold his silence about the endorsement any longer.
"I've been concerned for Liberty University for a couple of months now, and I've held my tongue," DeMoss, who through his work as a public affairs executive has ties to the evangelical community throughout the United States, said.
"I think a lot of what we've seen from Donald Trump will prove to be difficult to explain by evangelicals who have backed him," DeMoss continued.
DeMoss, who said he was going to vote for Rubio in Tuesday's Virginia Republican primary, criticized Trump for not disavowing the support of former Klu Klux Klan grand wizard David Duke in an interview on CNN over the weekend.
"Watching last weekend's escapades about the KKK, I don't see how an evangelical backer can feel good about that," DeMoss said, although the Washington Post reports that Trump did denounce Duke at a press conference days prior to the CNN interview.
DeMoss further criticized Falwell Jr. for comparing Trump to his late father.
"It bothered me that he said Donald Trump reminded him of his father," DeMoss said. "Donald Trump certainly does not demonstrate Jerry Falwell Sr.'s graciousness and love for people. Jerry Falwell Sr. would never have made fun of a political opponent's face or makeup or ears. He would not have personally insulted anybody — ever."
DeMoss said he has talked privately with Falwell Jr. about his endorsement but it "appears to be something we're just going to disagree on."
DeMoss felt the need to speak out against Falwell's endorsement in order to represent the many Liberty alumni who are appalled by Falwell's endorsement.
DeMoss even explained that one alumnus returned his diploma to the Liberty's board of directors because he was so ashamed by Falwell's endorsement.
Falwell Jr. told the Washington Post that he finds DeMoss' comments about his endorsement disappointing and "puzzling."
"Any time you support a candidate, and you're an official at a university, you just have to accept the fact that a large percentage of the community is not going to agree with you," Falwell Jr. stated. "I think our community is mature enough that they understand that all the administrators and faculty have their own personal political views."
Falwell defended his comparison of Trump to his father. He asserted that sometimes his father would insult local politicians from the pulpit who opposed Liberty University zoning.
"The only way Mr. Trump was like my father was one, he made politically incorrect statements and didn't care who disagreed with him, and two, he was very generous to strangers," Falwell explained.