Donald Trump Finds 'Great Love' in Meeting With Black Pastors Who Praise His 'Big Mouth'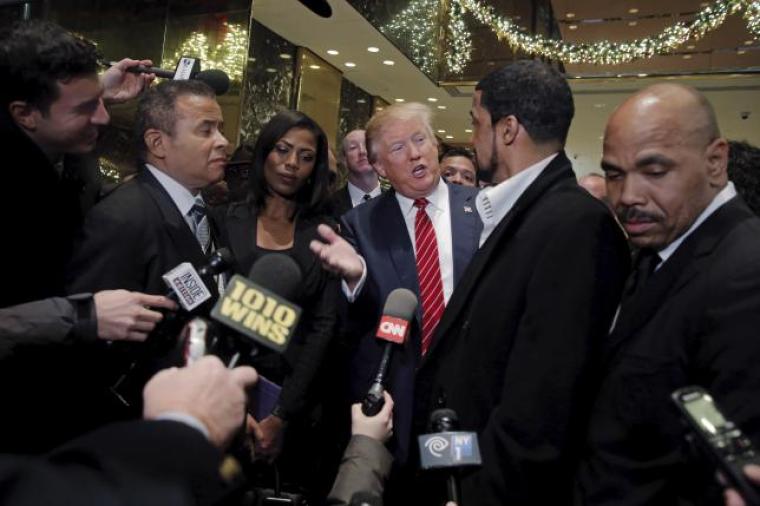 Despite the controversy that preceded his meeting with a group of black pastors in New York City on Monday, Republican 2016 presidential frontrunner Donald Trump says he found "great love" among the pastors who praised his "big mouth" politics.
"I saw love in that room. I see love everywhere I go," Trump told reporters in an impromptu press conference in the lobby of Trump Tower in midtown Manhattan where the meeting was held, according to CNN.
"This meeting was amazing. Amazing people," Trump added. "The meeting went so much longer, and it went longer only because of the love. It didn't go longer for other reasons."
The meeting became a flashpoint after Trump's campaign announced on Nov. 25 that "a coalition of 100 African American Evangelical pastors and religious leaders" would endorse him after the Monday meeting. There was also supposed to be post-meeting news conference.
A number of pastors on the guest list for the meeting later charged, however, that they wouldn't necessarily endorse Trump after a number of disapproving preachers and the media raised concerns about the billionaire's track record on race relations and other issues.
On Sunday, Trump's campaign clarified that he "will host a private, informational meet and greet with many members of the Coalition of African American Ministers at Trump Tower after which a number of attendees are expected to endorse Mr. Trump."
While there was speculation that the meeting would have been a failure, Trump emerged from the meeting like "Teflon Don," declaring that more than 100 people showed up for the two-and-a-half hour meeting, and that he expected "many, many endorsements" to come.
Bishop Orrin Pullings, a Richmond, Virginia-based pastor, revealed in a Politico report on the meeting, however, that the meeting wasn't just a lovefest. Some pastors demanded that Trump apologize not only to the black community, but also to Mexicans for his inflammatory rhetoric, he said.
"Our community really wants him to be sensitive with the way he handles people and they feel he's insensitive," Pullings said. "We told him that you are insensitive in appearance to our community and that's not a good position. He listened to us and you know, I think Donald Trump is a very good listener."
Others however advised Trump not to muzzle himself.
"Another crowd said, 'No you should never apologize. You're ahead in the polls now because of your big mouth … You start apologizing, you've got to keep apologizing,'" said Mullings who added that Trump didn't look like he planned to apologize anytime soon.
Trump says he wasn't asked in the meeting to change his tone: "The tone has taken me to first position in every single poll. The beautiful thing about the meeting is they didn't ask me to change the tone."
According to Trump, the pastors discussed a range of issues with him, such as the high unemployment rate among black youth and controversial police shootings. He also noted that the pastors also called for firm and effective leadership.
"What they really want more than anything else is results. They want results in the form of jobs," Trump said.
Darrell C. Scott, who attended the meeting, said afterward according to the New York Times: "We made history today because we had meaningful dialogue with Donald Trump, and we voiced concerns that are sensitive to the African-American community."