Donald Trump: 'I'm Not Sure If I Ever Asked God's Forgiveness'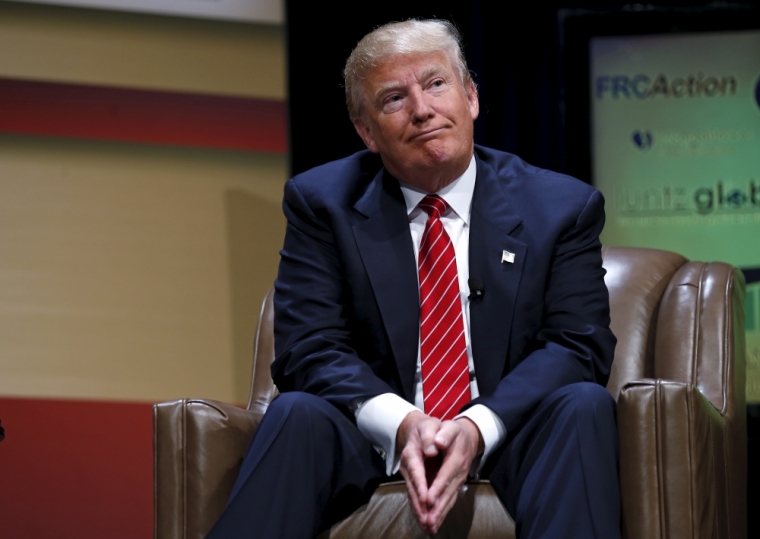 Donald Trump says he's not sure if he's asked God for forgiveness, at the Family Leadership Summit in Ames, Iowa on Saturday, which led some to question the sincerity of his alleged Christian faith.
Moderator Frank Luntz asked Trump on Saturday if he had ever sought God's forgiveness and Trump replied, "I'm not sure I have ever asked God's forgiveness. I don't bring God into that picture."
Trump clarified further about forgiveness in the church setting saying, "When I go to church and when I drink my little wine and have my little cracker, I guess that is a form of forgiveness. I do that as often as I can because I feel cleansed. I say let's go on and let's make it right," declared Trump.
Trump made immediate headlines Saturday for questioning McCain's war record, when he stated, "He's a war hero because he was captured. I like people who weren't captured."
McCain has been critical of Trump's comments on illegal immigration and called Trump supporters at a rally in Phoenix, "crazies." Trump blasted McCain for graduating last or second to last in his class at the Naval Academy, but later added in his conversation with Luntz, "Perhaps he is a war hero."
"We have Christians in the Middle East getting their heads cut off and these people want results not tone," added Trump.
Trump too was asked about his faith in God and he elaborated on his admiration with his former pastor, Norman Vincent Peale. Trump said he could listen to Peale, who passed away in 1993, "all day long" and praised his book, The Power of Positive Thinking. Peale pastored Marble Collegiate Church in Manahattan for 52 years, which is a member of the Reformed Church in America denomination.
Eric Teetsel, director of the social conservative advocacy group Manhattan Declaration, was live-tweeting at the event and several times voiced his displeasure at Trump's remarks.
"So [Trump] has never sought forgiveness, takes his 'little wine and little cracker' to 'feel cleansed.' Now are we done?" Teetsel tweeted.
Becky Kruse, who attended the event and said she was considering Trump for his immigration stance, told The New York Times, "I was not too impressed. He sounds like he isn't really a born-again Christian."
Trump called the Iran nuclear deal "a disaster," and ripped Secretary of State John Kerry "for not getting our hostages back," adding that Kerry is "the worst."
"I think we are run by a group of incompetent people and they are destroying our country," declared Trump.
Trump continued his harsh critique of what he calls career politicians. "No politician in my opinion is going to get this country back," said Trump. He criticized politicians for being "totally controlled" by special interest money.
He attacked Obama saying, "I don't know if Obama loves this country, I don't know." Trump told Luntz if he wanted an answer to whether Obama loves this country he needs to ask first lady Michelle Obama.
"I thought he [Obama] would be a good cheerleader," declared Trump, "but he's been horrible."
"He hasn't even called Kate Steinle's family who was killed in San Francisco," declared Trump. "This is a man that was pushed over from Mexico, and nobody has even called the family. Morality and success go hand in hand, you can't have one without the other," he declared. Steinle was randomly shot and killed by an illegal immigrant on a pier in San Francisco on July 1.
Trump praised his children and talked about the importance of family in his own life. "The happiest people I see in my own life are the people with great families," said Trump.
The 2015 Family Leadership Summit on Saturday was sponored in part by the National Organization for Marriage, Liberty University's Helms School of Government, and Family Research Council Action.