Donald Trump Mocks Jeb Bush as 'Weak' After Costly Super Bowl Ad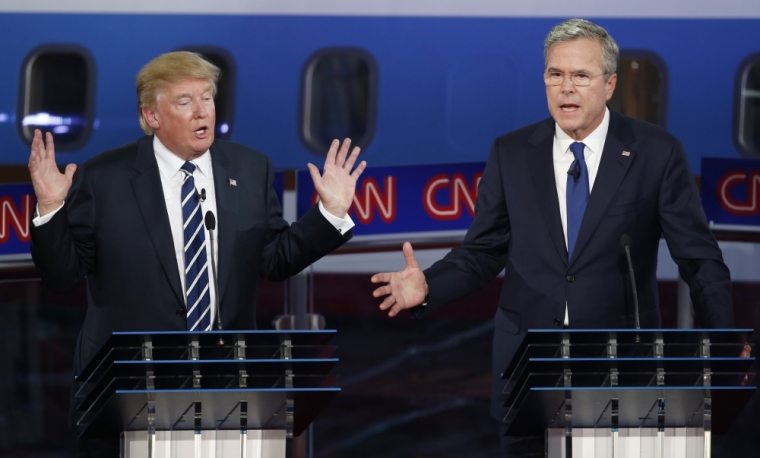 Republican presidential frontrunner Donald Trump mocked rival Jeb Bush as a "weak candidate" Sunday after watching a costly Super Bowl ad featuring his brother, former President George Bush supporting his presidential bid.
"The first job of the president is to protect America. Our next president must be prepared to lead. I know Jeb. I know his good heart and his strong backbone. Jeb will unite our country," said the former president in the 30-second as paid by Right to Rise USA, a super PAC supporting Bush.
"He knows how to bring the world together against terror, and he knows when tough measures must be taken. Experience and judgement count in the Oval Office. Jeb Bush is a leader who will keep our country safe," ended George Bush.
According to CBS president and chief executive Leslie Moonves, a 30-second Super Bowl ad was being sold for as much as $5 million prior to the Sunday event.
In a Twitter post Sunday, Trump charged that the ad was bought with "special interest money" and dismissed the communication skills of his rival.
"Jeb Bush has zero communication skills so he spent a fortune of special interest money on a Super Bowl ad. He is a weak candidate!" Trump noted.
Under federal election law, the super PAC can have no coordination with the campaign, so it was not Jeb Bush's decision to run the ad.
In a Sunday rally in New Hampshire, Jeb Bush called Trump a "loser" for making fun of disabled people, according to CNN.
"It's a sign of weakness when you make fun of the disabled," Bush said. "What kind of man would do that? You do not want that man as president of the United States, I can promise you that. ... it's a sign of real weakness when you call John McCain or Leo Thorsness or anybody else that is a POW, who served this country in a way that should be admired, American heroes. Calling them losers? Donald Trump, you're the loser!"
Jeb Bush also defended his brother.
"On Day One, I will not blame Barack Obama for anything," Bush said. "I got sick and tired of hearing him blame my brother and I will never do it to him."
According to CNN, Trump accused Jeb Bush as being in the pocket of the pharmaceutical industry and called his chances of becoming president an "impossibility."
On the eve of New Hampshire's presidential primaries, a new CNN "Poll of Polls" shows Trump topping the GOP field with 31 percent ahead of second place Marco Rubio's 15 percent.
Rubio's support has grown by four points since the previous New Hampshire Poll of Polls, but all of those polls were conducted before his poor debate performance Saturday night.
Texas Sen. Ted Cruz is now polling in third place at 13 percent while candidates John Kasich and Jeb Bush follow with 11 and 10 percent support respectively.
New Jersey Gov. Chris Christie, whose support has dwindled in New Hampshire, is in fifth place at 5 percent, tied with Carly Fiorina. Retired neurosurgeon Ben Carson bottoms out the GOP list of candidates at 3 percent.