Donald Trump Jr. Says Democratic Party Platform and Nazi Platform Have 'Scary' Similarities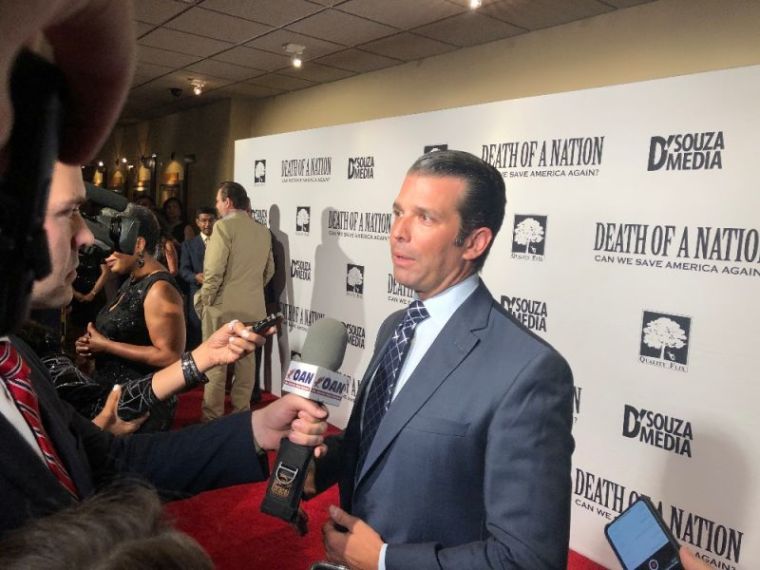 WASHINGTON — Donald Trump Jr. said Wednesday evening that there are similarities between the current Democratic Party platform and that of Adolph Hitler's Nazi Party in late 1930s Germany.
The eldest child of the United States president was among many special guests who walked down the red carpet at the E Street Cinema for the advanced screening of controversial conservative filmmaker Dinesh D'Souza's new documentary "Death of a Nation," set to be released in theatres nationwide on Friday.
The provocative film explores United States and world history to draw parallels between the fascist Nazi Germany and the intolerant elements of modern day American political left while drawing parallels between the Trump presidency and the presidency of Abraham Lincoln, who helped lead the nation through one if its most violent and divisive times.
"I have been out hearing the left talking about all these things — fascism, Nazism on the right," the 40-year-old Trump Jr. told reporters before the screening. "When you look at the actual history of how these things evolved, if you look at that platform versus the platform of the modern left, you say, 'Wait a minute. Those two are really heavily aligned and frankly, contrary to the right.'"
Trump Jr. said that he watched the movie beforehand to make sure that he was coming to promote a film that actually "makes sense." He assured that the movie is really about "having actual real history being out there."
"When people talk about these things, you can't just spew that because someone told you that in a history class when academia and everything has been so wrongly influenced by the left," he stressed. "When you look at the movie, you will see that there is a very distinct and clear difference between what actually happened and what is being sold to our youth today."
Trump urged people to "talk about the facts."
"You got to look at the platforms. ... You see the Nazi platform of the early 1930s and what was actually put out there and you look at it compared to the DNC platform of today," Trump stated. "You are just like, 'Man, those things are awfully similar to a point that is actually scary.' To me that is one of the most striking things I took from the movie because it is the exact opposite of what you have been told."
"When [there] are a bunch of kids in dreadlocks running around screaming about fascism and all these things. It's like, 'Wait a second, have you actually taken a history lesson? Do you actually know what these words mean that you are running around and screaming?'" Trump asked. "They actually don't and they are able to get away with that because academia and mainstream media all sell the same false narrative and they have been doing it effectively for quite some time. People really have to see that and have to realize that. I think [the movie] will be something to help motivate the people on the right to say, 'Enough!'"
D'Souza, who was pardoned by Trump from a campaign finance conviction in May, has produced other documentaries over the last several years that have enraged liberals, such as "Hillary's America: The Secret History of the Democratic Party" in 2016. D'Souza was asked by a reporter whether he agrees with claims that he is a "provocateur."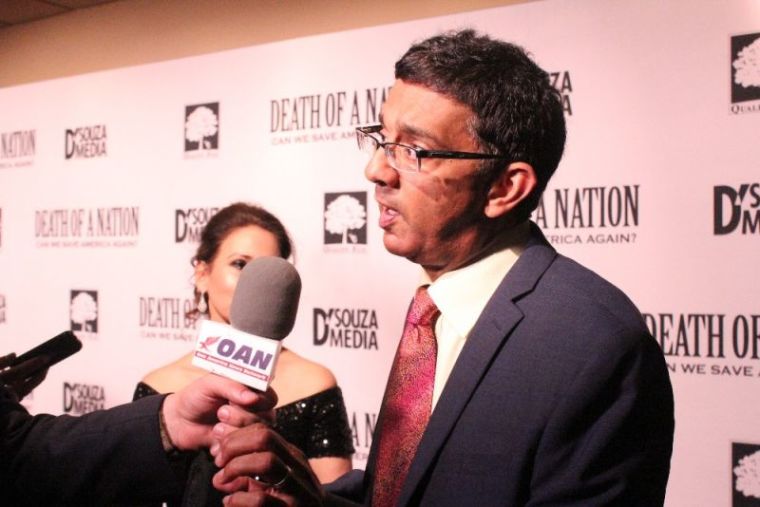 "A little bit," the Indian-American filmmaker answered. "But the reality is that the race card and the facism card were not played by me. They were played by the Left against Trump. Not only against Trump but also against Republicans and conservatives and patriots, Christians. Who invented the incendiary rhetoric? Not me. I am jumping into the debate to say, 'Alright, if you are going to talk about racism and fascism, let's dive into what those things mean and let's dive into who did them and where the racism and fascism is today."
D'Souza stressed that this movie is not an attempt at a "get-out-of-jail/thank you card."
"We started the movie a year ago," he said. "You can tell actually watching the movie, the scenes in Europe, which deal with racism and fascism were all shot in the winter. In other words, we went to Prague and Munich in January. The poster for the movie was submitted to the American Motion Picture Bureau and Trump's pardon came after all of that. That is why the two are really unrelated."
The film's producer Gerald Molen, who also produced timeless movies like "Jurassic Park" and "Schindler's List," told reporters that the movie is about "the truth rather than people being able to swivel it to their personal likes."
"That is why Dinesh is very careful about the way he goes back and talks about Lincoln, the beginning of the Republican Party, the Civil War and what happened there and all the circumstances that have taken place over the years," Molen said. "People have said, 'We are not at fault, they are.' It is always 'they.'"
Jerry Falwell Jr., the president of the prominent Virginia Christian institution Liberty University, also strolled the red carpet with his wife, Becki, and daughter, Caroline. Falwell told reporters that he had not seen the movie but was there to support D'Souza, who has spoken in the past at Liberty University and will do so again in the fall.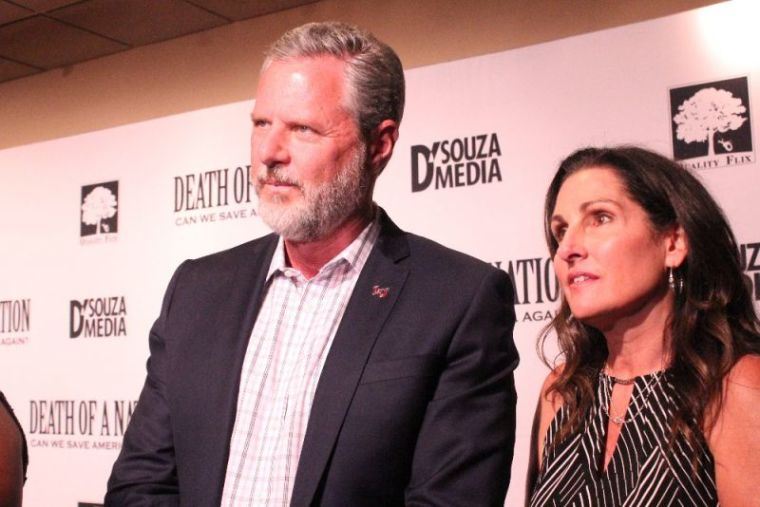 Falwell, who was one of the first prominent evangelical leaders to back Trump during the 2016 Republican primaries, suggested that he sees a little of himself in the thrice married real estate mogul and reality television star.
"Well, I believe he is the right person for the job at the right time. Liberty University, I was the general counsel there for years. ... We fought to survive financially there for years. We ended up becoming one of the most prosperous universities in the country," Falwell explained. "So, when I saw a businessman running for president and I saw the country $21 trillion in debt, I thought, the same thing needs to be done for the country that we did for Liberty."
When asked if he thought Trump was comparable to Lincoln, Falwell stated that he thinks Trump has been the best president since George Washington.
"I think he is the best president we have ever had except for George Washington," he asserted. "I have to say that because we are from Virginia, the early days, [since] the 1600s. It is hard to beat George Washington. And [Becki] is related to him."
The Christian Post asked Falwell to respond to fellow evangelical leaders who have criticized him and other evangelical conservatives who have supported Trump.
"The worst ones were the Cruz supporters. They beat me up like you wouldn't believe. [Becki] didn't like seeing it on social media. I loved it because I knew I was making a difference. So, I took it as a compliment," Falwell explained. "When I talk to them now ... the owner of Hobby Lobby, I saw him at Billy Graham's funeral. I said, 'You still mad it me for supporting Trump?' He said, 'No, you were right.'"
Falwell said that in elections from here on out, he will only be supporting political outsiders like Trump. He added that he plans to write a book with former Democrat President Jimmy Carter that he says will come out sometime next year.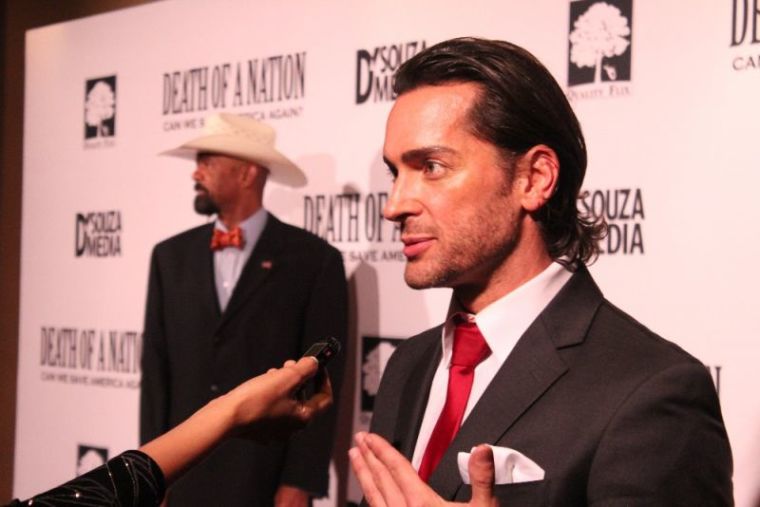 Other notables who attended the advanced screening are Housing and Urban Development Secretary and former presidential candidate Ben Carson, Former Deputy Assistant to the President Sebastian Gorka, former Milwaukee County Sheriff David Clarke, former Vanderbilt University political science professor and political commentator Carol Swain and Brandon Straka, the founder of the #Walkaway movement to leave liberalism.
Straka said that he doesn't believe that D'Souza is "revising history."
"I hope it will help people to see what has been going on in front of their eyes that they haven't been noticing for a while now," he said. "There is a lot of references to antifa violence that is happening on the left, people who are drawing crazy conclusions that our president is a Nazi or a racist and his followers are those things too. It really exposes that for people who aren't seeing that for some reason."