Donald Trump Talks About Late-Night Twitter Wars With World Leaders If President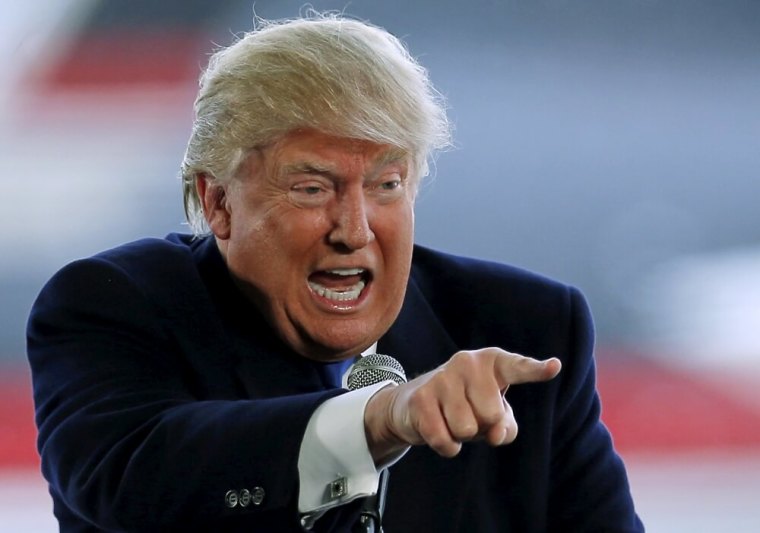 Republican frontrunner Donald Trump, who's been involved in a late-night Twitter war with his rival candidate Ted Cruz, said in a television interview that he's "not going to be doing it very much as president."
"Would you act this way as the president of the United States? Would you be doing late-night Twitter wars with world leaders who insulted you?" ABC News' "This Week" host Jonathan Karl asked the billionaire businessman in a phone interview.
Karl was referring to Trump's recent Twitter attack on the appearance of Heidi Cruz, Ted Cruz's wife.
"It's a new way of communicating," Trump told Karl. "It's very effective. I've been very effective with it. I have between that and Facebook I have like 15 million or 16 million followers. It's a great way of communicating. Now other people don't like it because they have 15 followers. I have between that and Instagram I have probably close to 16 million followers."
Trump added: "But I'm not going to be doing it very much as president. I will say you know, I will — I will act in the best interests of our country. I will act to protect our country, whether that's counterpunching or not."
Trump also said he is going to protect the United States "not like it is now, where we have nobody at the helm, where we have nobody protecting the interests of our country, where we're being ripped off by every single nation in the world and we can't even beat ISIS at war."
Trump recently used an unflattering photo of Cruz's wife, an executive at Goldman Sachs in New York, juxtaposing it with a glamour shot of his won wife, Melania Trump, on Twitter with the caption: "No need to 'Spill the Beans.' The images are worth a thousand words."
Trump told Karl the post was sent by "someone" and he merely "retweeted" it.
In his tweet, Trump was alluding to a National Enquirer story that accused Cruz of having had five mistresses. Cruz said Trump was behind the story, but Trump denied having any role.
"I had nothing to do with it. The campaign had absolutely nothing to do with it," Trump told Karl. "He's got a problem with the National Enquirer. I have no control over the National Enquirer."
Trump also alleged that Cruz started the twitter war, referring to the Make America Awesome Again super PAC, which republished a naked photo of Melania Trump posing 16 years ago for the British edition of GQ magazine.
"And from what I hear somebody bought the rights to it and he was the one or his campaign bought the rights and they gave it to the super PAC," Trump said on ABC News.
Cruz has denied he was behind the ad by the super PAC or that he had any extra-marital affair.
"It became clear as the campaign went on that Donald was a whole lot of sizzle without any substance. When he's scared, when he's losing, his first and natural resort is to go to sleaze and to go to slime," Cruz said earlier.