Donald Trump: Obama Would Have Gone to Antonin Scalia's Funeral 'If It Were Held in a Mosque'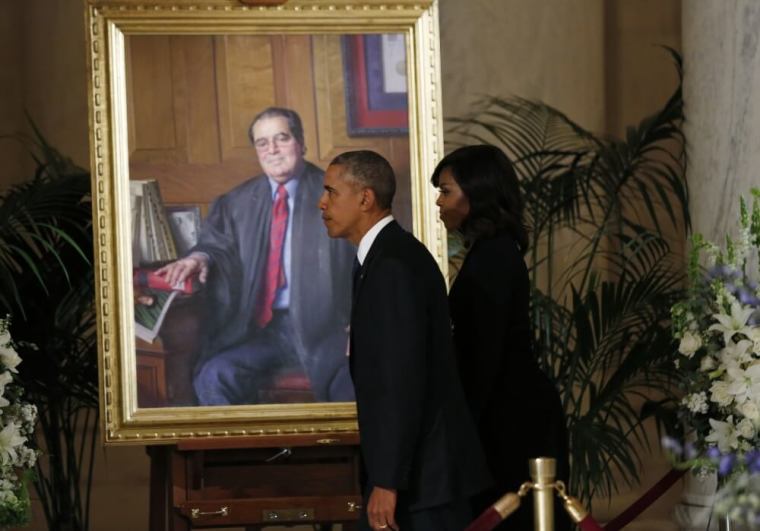 Republican Presidential candidate Donald Trump has slammed President Barack Obama for failing to attend Saturday's funeral for Justice Antonin Scalia in Washington, D.C., and claimed Obama could have changed his mind if the funeral was held at a mosque instead of a church.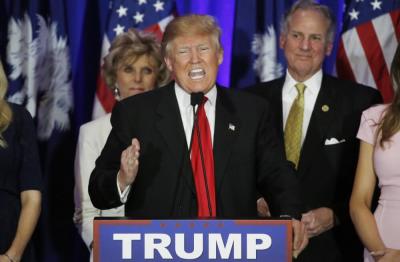 "I wonder if President Obama would have attended the funeral of Justice Scalia if it were held in a Mosque? Very sad that he did not go," Trump said in a Facebook post on Saturday.
Obama has faced criticism from different voices for his absence, the New York Post reported, with Philip Foglia, vice president of the Italian-American Museum, stating that "Italian-Americans take paying respects at funerals very seriously."
"Justice Scalia was a milestone for the community. The president's absence was disappointing and ill advised," Foglia said.
Adele Malpass, Manhattan's GOP chairwoman, claimed that "only President Obama could turn a funeral into a partisan event."
Malpass said: "He has once again missed an opportunity to bridge a partisan divide and chooses to divide people instead of bringing people together even when it comes to the funeral of a statesman."
Justice Scalia, who was a Roman Catholic, died of natural causes last week at the age of 79. His funeral gathered thousands of mourners, including sitting justices of the Supreme Court, Vice President Joe Biden, and Republican presidential candidate Sen. Ted Cruz.
The New York Times pointed out that Obama paid his respects to Scalia by visiting the Supreme Court on Friday, where Scalia lied in repose in the Great Hall. Biden, also a Catholic, was chosen to attend Saturday's funeral due to his personal relationship with Scalia and his family, however.
Josh Earnest, the White House press secretary, suggested at a conference on Thursday that the reason Obama chose not to attend the funeral was because of the extensive security that would have been required due to his presence.
"Obviously, when the vice president travels to some place, his security footprint is at least a little bit lighter," Earnest said. "But given his personal relationship with the family and given the president's desire to find a respectful way to pay tribute to Justice Scalia's service to the country, we believe we have settled on an appropriate and respectful arrangement."
Obama has meanwhile said that he will be looking to nominate a replacement for the now vacant Supreme Court seat, something which has drawn strong opposition from the Republican presidential candidates, who have insisted that the replacement be postponed until after the 2016 elections are over.
Obama, who has spoken out about his Christian faith on a number of occasions, visited a mosque for the first time as president earlier in February, in order to speak out against what he called the "inexcusable political rhetoric against Muslim-Americans" in the country.
"You're right where you belong. You're part of America too. You're not Muslim or American. You're Muslim and American," Obama said at the Islamic Society of Baltimore, calling Americans to refuse to be "bystanders to bigotry."
The President continued: "Together, we've got to show that America truly protects all faiths. As we protect our country from terrorism, we should not reinforce the ideas and the rhetoric of the terrorists themselves."
Trump, who most recently won the South Carolina primary, has attracted controversy for his suggestions to ban all Muslims coming to America due to terrorism concerns, and has remained firm in his view despite criticism both from the Republican and Democratic fields.