Donald Trump: Obama Has Done Nothing for Black Americans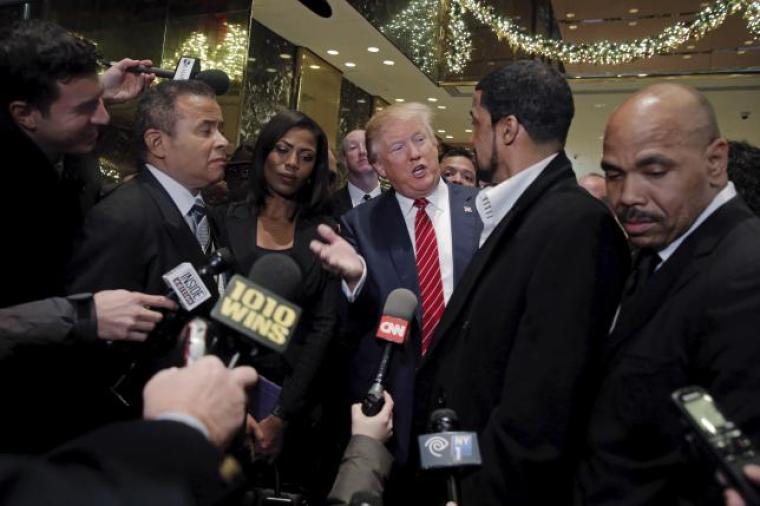 Brash-talking billionaire and Republican 2016 presidential frontrunner Donald Trump didn't mince his words at a rally in Manassas, Virginia Wednesday night when he said President Barack Obama has "done nothing" for black Americans.
"Think of it," he declared the real estate mogul at the rally. "Obama, your African-American youth — 51 percent unemployment, right? You guys our age, they have unemployment that's double or triple what other people have. What the hell has he done for the African-Americans? He's done nothing. He's done nothing. I don't think he cares about them. He's done nothing. It's all talk, it's all words with this guy."
Trump who predicted he'll become president with 25 percent of the black vote also said Obama has disappointed him because of his divisive politics and promise to unite the nation.
"He's an unbelievable divider," Trump said. "I thought he'd be a great cheerleader for the country, that's one thing I thought. I said he'd unify the country and he's really divided the country. We're going to unify the country and set records with the African-American vote."
The real estate mogul who met with a number of black pastors in a controversial meet and greet at Trump Tower in New York City on Monday also trotted out a number of them onstage at the rally Wednesday.
Steve Parson, one of the ministers from Virginia who attended the meeting in Trump's office spoke briefly at the rally to cheers.
"People ask me, well why are you endorsing Donald Trump?" Parson said. "My opinion: he's the best, and the only one that can beat Hillary Clinton. We have to win. And one thing about Donald Trump is he's a winner, Amen. He knows how to create wealth, can I get an Amen? And as a black minister … we're right in the inner city, and I'll tell you we need jobs, we need employment, we need businesses. And I tell you who better to help us help ourselves than Donald Trump?"
He also noted that he is supporting Trump because: "Donald Trump just doesn't take anybody's mess."
During an interview on CNN Monday night where he sparred with Pastor James Davis on whether or not the meeting with the billionaire real estate mogul had accomplished anything, The Rev. Jamal H. Bryant, pastor of Northwest Baltimore's Empowerment Temple church said the pastors who met with Trump were worse than prostitutes.
"I wanna apologize because prostitutes get money. And the 100 that went in there walked away with nothing. They did it for free. So there's another word for that and I would not use that language on the family channel. What I would suggest is that you couldn't find a hundred white pastors to do the endorsement. Not a hundred Rabbis, not a hundred Imams," charged Bryant.
In a video statement a day after he met with Trump however, Parson said Trump genuinely wants to help.
"Black American ministers met with Donald Trump because he wants to help us. Is there anything wrong with that? He has the ability to help us in a number of areas but certainly one of the areas he can help us is with developing and creating wealth," said Parson.
"As far as Christianity is concerned, I will tell you this, Donald Trump is a believer in the Lord Jesus Christ and not only that but he wants to defend our religious freedom," he added.
On Monday, outspoken civil rights leader Al Sharpton said Trump's meeting with the black pastors was a "smart thing."
"It's a smart thing he's doing to meet with black ministers 'cause the majority of black voters still go to church and that's why we are conveniently Democrats," he said.