Donald Trump, Others Defend Miss Utah After Flubbing Question on Equal Pay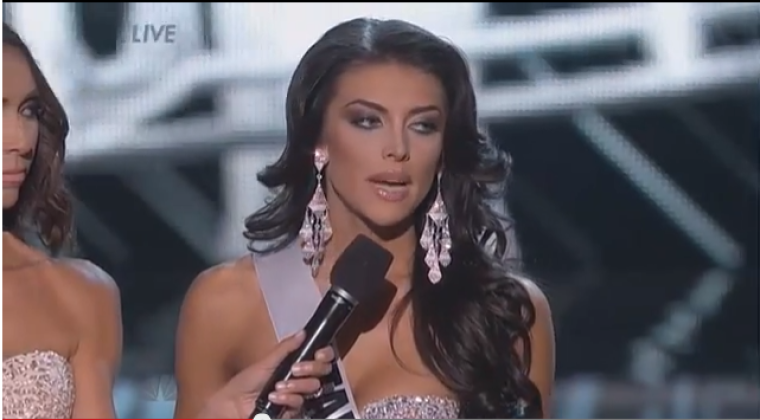 Business magnate and television personality Donald Trump came to the defense of Miss Utah, Marissa Powell, as a growing chorus flooded the 21-year-old with a deluge of mockery online for flubbing her response to a question some think was too loaded in the Miss USA pageant on Sunday night.
When pageant judge and reality TV star Nene Leakes posed the college essay-type question, "A recent report shows that in 40 percent of families with children, women are the primary earners, yet they continue to earn less than men–what does this say about society?" Powell struggled to compose a coherent response in the few seconds she had to deliver it.
"I think we can relate this back to education and how we are continuing to try to strive to … figure out how to create jobs right now and that is the biggest problem. Especially the men are um, seen as the leaders of this and so we need to figure out how to create education better so that we can solve this problem," Powell responded in a moment now immortalized in a YouTube clip that had been viewed more than half a million times as of Monday evening.
While many critics of Powell's response have questioned the model's intelligence, Trump dismissed the public shaming for the flub as unfair.
"Trending story on Miss Utah is very unfair. She simply lost her train of thought—could happen to anyone!" tweeted Trump on Monday.
And many others agree.
"People are so harsh. She's on national TV and in front of a huge audience. People freeze up sometimes, it's life. She wouldn't even be in this competition if she wasn't smart. So lay off her!" wrote Ashley Dolly in the comments section of the YouTube video.
"She's a beautiful, intelligent woman ...just experiencing some stage fright," wrote swabbyjam.
In an op-ed defending Powell, trained lawyer and NPR editor Linda Holmes agreed that the "question" was really three different questions rolled into one which made it a difficult one to answer.
"I think about this kind of stuff a lot. I've studied it. I've had about 20 years longer than Miss Utah USA to think about it. I have no idea what I would have said if someone had asked me such a moronic question on live television," she wrote.
And on Powell, she concluded: "She's not in the news for being dumb; she's in the news for being bad at spontaneous but convincing balderdash manufacturing, and because it's fun to watch a carefully orchestrated spectacle crash on the rocks. She's not a dumb person; she's bad at public speaking. And if she were good at it, nobody would have ever heard of her."
The debate on Powell's response to the question also generated other responses online.
"I'm going to preface this by clarifying I'M NOT ARGUING THAT THIS IS FAIR OR RIGHT BECAUSE IT'S NOT, but the reason women are paid less than men on average is because they can have children and that's considered a liability," wrote Brandon Franklin in the comments section of the video on YouTube.
"Why? Because they have to take more time off work to care for said children and that's considered a liability by most employers. If we change the way we think about biological characteristics we were born with and had no choice over, we'll change our behavior towards them," he added.
"Anyone remember Caitlin Upton? (People in our nation don't have maps)," noted another commenter Eric Skillingstad. "She was on the Amazing race and actually got some success from her blunder. Could Miss Utah actually be hoping to tap into that same type of mojo?"
"Men are giving up on life if 40% of them need their wives to take care of them. Older generations have every right to weep for us," wrote one commenter under the screen name Roldy.