Donald Trump Quotes Scripture, Says He Is Praying 'for the Day Evil Is Banished' After Las Vegas Shooting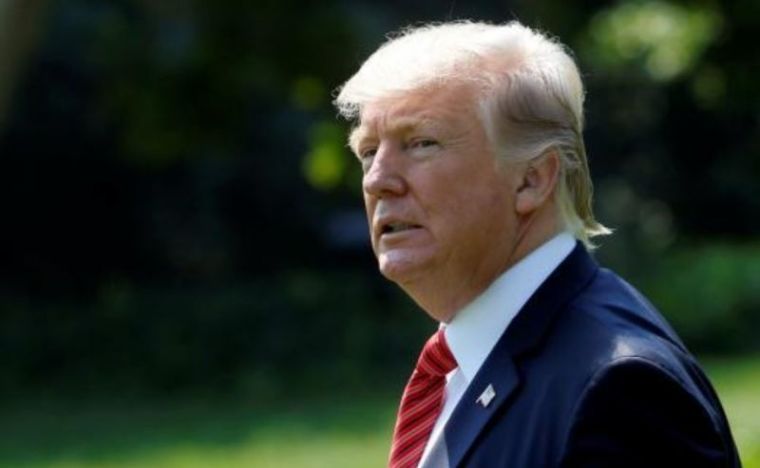 Donald Trump said he was praying "for the day evil is banished" after at least 50 were killed in a mass shooting at a country music festival.
President Trump called the shooting in Las Vegas "an act of pure evil" as he asked people to pray for the nation.
He quoted from Scripture in his address that was fused with religious overtones as he said the Lord is close to the brokenhearted.
"To the families of the victims, we are praying for you and we are here for you and we ask God to help see you through this very dark period. Scripture teaches us the Lord is close to the brokenhearted and saves those who are crushed in spirit," he said.
"We seek comfort in those words for we know that God lives in the hearts of those who grieve.
"To the wounded who are now recovering in hospitals, we are praying for your full and speedy recovery and pledge to you our support from this day forward."
The president said he will visit Las Vegas on Wednesday to meet law enforcement, first responders and the families of the victims.
In his address, he continued to urge Americans to come together as one and not allow violence to break the bonds that unite the nation — "our faith, our family, and our shared values."
He said the nation's unity "could not be shattered by evil" and that although people could feel anger, it is love that defines the American people.
Noticeably, he avoided using the word "terrorism" as he addressed the nation following the horrific attack at the Route 91 festival.
He concluded: "Melania and I are praying for every American who has been hurt, wounded or lost those they love so dearly in this terrible, terrible attack.
"We pray for this entire nation to find unity and peace and we pray for the day when evil is banished and the innocent are safe from hatred and fear.
"May God bless the souls of the lives that are lost. May God give us the grace of healing and may God provide the grieving families with strength to carry on."