Donald Trump Says He's Winning Because 'Americans Are Tired of Being the Patsy;' 2016 Will Be About 'Competence'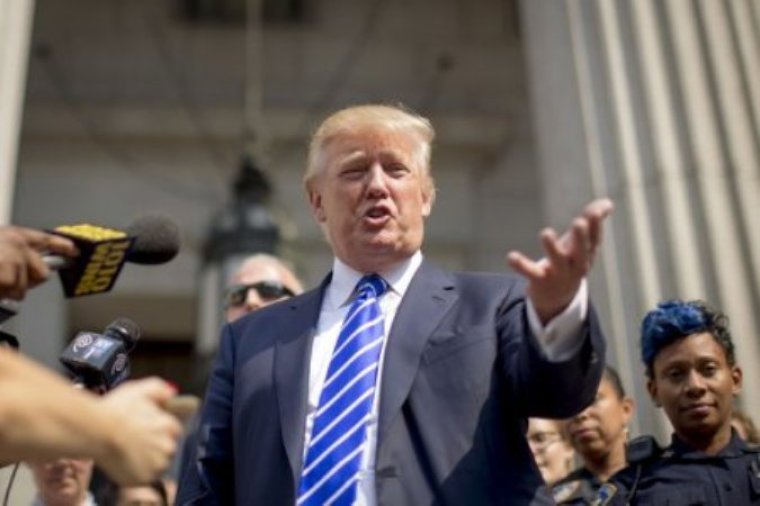 Billionaire 2016 GOP presidential candidate Donald Trump, who is currently the frontrunner to get the party's nomination according to several polls, told voters at the National Federation of Republican Assemblies' 2015 conference in Nashville, Tennessee Saturday that he is winning because "Americans are tired of being the patsy."
"We are tired of being like the patsy for everybody. I really do I think it's time," said Trump in a video from his entertaining speech posted to YouTube.
The plain-spoken candidate said despite early attacks from the media to discount his candidacy, Americans have not been fooled because people are "smart" and he thinks they will focus more on "competence."
"I think it's actually gonna be an election based on competence," said Trump.
"The reason is, people in this country are smart. They don't believe a lot of what they see in the media. Because if you believe these people why are they even doing it. Why are they saying it?" asked Trump.
The real estate mogul called out career politicians from both parties saying they failed the country by ignoring the mandate given to them by the voters who elected them.
"They go to Washington and they get weak," said Trump. "They get there and they see these beautiful, vaulted ceilings and they say, 'Honey, I've made it.' That won't happen to me, I promise."
Trump also knocked critics of his candidacy for not being pragmatic about his presidential bid.
"You'd think that if somebody is good for the country, and I'm gonna do good for the country, I'm gonna make great deals for the country … Our country doesn't win anymore," he began.
"You'd think if someone's even a liberal person or Democratic liberal, and I mean really liberal. If somebody's gonna make the country … why are they knocking it? Why do they fight? You'd think they'd say let's do it. It's good for all of us 'cause our country is in trouble," he added.
Trump also argued that he is soaring in the national polls because his message is resonating with Tea Party supporters who feel ignored by Democrats and betrayed by Republicans.
"I love the Tea Party," said Trump. "You people have not been treated fairly. These are people who work hard and love their country, and then get beat up by the media. It's disgusting. At least I have a microphone and can fight back."
He said he expects the base for his campaign will be much wider than traditional Republican voters.
"You don't know how big you are," he said. "The Tea Party has tremendous power. It's Democrats, it is evangelicals, it is everybody."
Trump's address at the NFRA's 2015 conference Saturday, according to The Hill, was attended by many luminaries from the original Tea Party movement.
WATCH HIGHLIGHTS FROM TRUMP'S ADDRESS BELOW: