#TrumpBible: Twitter Users Mock Donald Trump After He Refuses to Share Favorite Bible Verse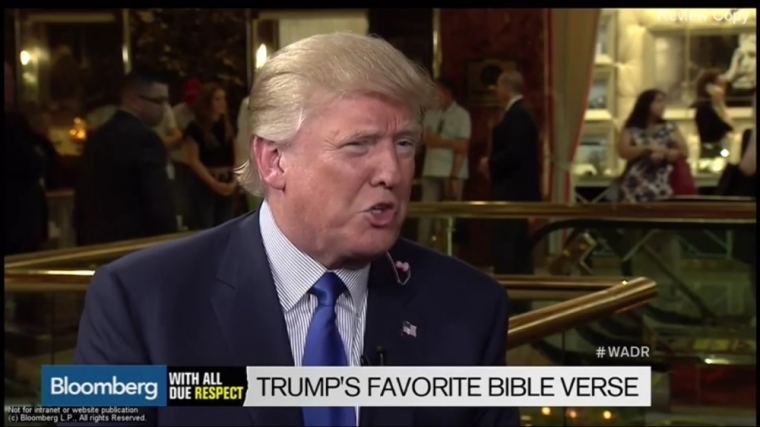 Thousands of tweets using the hashtag #TrumpBible are pouring in with re-imagined Bible verses to make fun of the Republican presidential candidate Donald Trump, who wasn't able to name his favorite Bible verse in an interview.
"Took God 6 days to create the Universe. Bad management. I would've done it faster, cheaper & Satan would pay for it #TrumpBible," reads one of the more than 10,000 tweets that have followed Trump's refusal to answer the question.
"I wouldn't want to get into it. Because to me, that's very personal," the billionaire businessman said on on Bloomberg's "With All Due Respect" earlier during the week, when asked to share his favorite Bible verse. "The Bible means a lot to me, but I don't want to get into specifics," he said.
Trump was then asked which does he prefer the New Testament or the Old Testament. "Probably equal. I think it's just incredible," he responded.
"God took six days to create the universe & then needed a day of rest? Lazy & inefficient. Would have taken me three days. Tops. #TrumpBible," one Edgar Allan Poe said on Twitter.
A new Twitter account with the handle "Trump Bible" has gained more than 69,200 followers. "Look I like Jesus. Anyone that can feed 5k people with 2 fish is sharp. Big mistake not charging. But I still like him. #TrumpBible," says one of its tweets.
"Moses? Awful negotiator. 'Let my people go'? If I'd been there, it would've been: 'Hey, Pharaoh. We're leaving. Deal with it.' #TrumpBible," tweeted one Kevin M. Kruse.
Yet another tweet, by a Twitter user Leon Jacobs, says: 'I'm not saying Jesus wasn't born in Bethlehem. I'm just saying show me the birth certificate.'"
Trump has been talking about faith and the Bible on his campaign trail.
He recently looked at the crowd gathered for his rally at a 40,000-seat college football stadium in Mobile, Alabama, saying he now knows how evangelist Billy Graham felt.
"I know how Billy Graham felt," Trump said, apparently jokingly, as he began his speech.
Trump also said, "What's my favorite book? The Bible! The Bible.... We take the Bible all the way."
At the Family Leadership Summit in Iowa last month, Trump was asked about his faith.
"People are so shocked when they find out I am Protestant. I am Presbyterian. And I go to church and I love God and I love my church," he said.
Asked whether he has ever asked God to forgive him, Trump responded, "I am not sure I have. I just go on and try to do a better job from there. I don't think so. I think if I do something wrong, I think, I just try and make it right. I don't bring God into that picture. I don't."
He further explained, "When I drink my little wine -- which is about the only wine I drink -- and have my little cracker, I guess that is a form of asking for forgiveness, and I do that as often as possible because I feel cleansed. I think in terms of 'let's go on and let's make it right.'"
Talking to CNN later, Trump denied that his statements damaged his chances with Evangelical voters, and said his polling in Iowa is very strong. However, he added that he'd "change" his "tone" as president. "Right now I'm trying to do something to make this country great again."