Sarah Palin Claims Asking Donald Trump to Name Favorite Bible Verse Was 'Gotcha Question'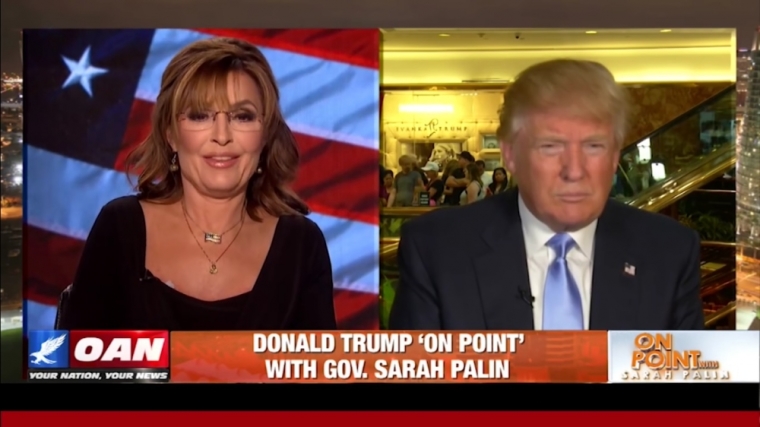 Former Alaska Governor Sarah Palin defended GOP presidential candidate Donald Trump for refusing to name his favorite Bible verse in an interview, claiming it was a "gotcha question."
"You get hit with these gotchas, like most conservatives do, for instance 'what's your favorite Bible verse?' And I ask 'Did they ask Hilary [Clinton] that? What does it have to do with running for the office of the presidency? Is it anybody's business? These personal gotcha questions really trying to get you, us, anybody running for office off game," Palin told Trump in an interview on One America News Network.
Trump responded, "I love the Bible, I'm Protestant, I'm Presbyterian, and they were hitting me with different questions, one after another, and look, I don't know if it's a 'gotcha,' but it probably is."
He then added, "It's a very personal thing, I don't like giving that out to people that you hardly know."
The interview in question refers to a segment on Bloomberg's "With All Due Respect" last week, where Trump was asked several times to name his favorite Bible verse, but he declined each time.
"The Bible means a lot to me, but I don't want to get into specifics," Trump said.
When asked whether he prefers the Old Testament or the New Testament, the billionaire businessman said "probably equal."
Trump had earlier in August named the Bible as his favorite book, following his own The Art of the Deal.
Thousands of posts on Twitter using the hashtag #TrumpBible mocked the GOP presidential candidate's refusal to name a Bible verse, however, re-imagining the Bible according to Trump.
"Took God 6 days to create the Universe. Bad management. I would've done it faster, cheaper & Satan would pay for it #TrumpBible," reads one of the more than 10,000 tweets on the topic.
Evangelical author and speaker Eric Metaxas contributed many tweets to the #TrumpBible meme, including, "Blessed are the dealmakers."
Other tweets included: "Moses? Awful negotiator. 'Let my people go'? If I'd been there, it would've been: 'Hey, Pharaoh. We're leaving. Deal with it.' #TrumpBible."
"I'm not saying Jesus wasn't born in Bethlehem. I'm just saying show me the birth certificate," added another.
In his interview with Palin, Trump reminded the viewers that regardless of everything, he is still leading in all the polls, and doing very well among Evangelicals and conservative Christians.
The Rev. Franklin Graham suggested that Trump's outsider appeal is the driving force behind his popularity among voters.
"He's shaking up the Republican Party and the political process overall. And it needs shaking up," Graham said.