Who Are the Evangelicals Supporting Donald Trump?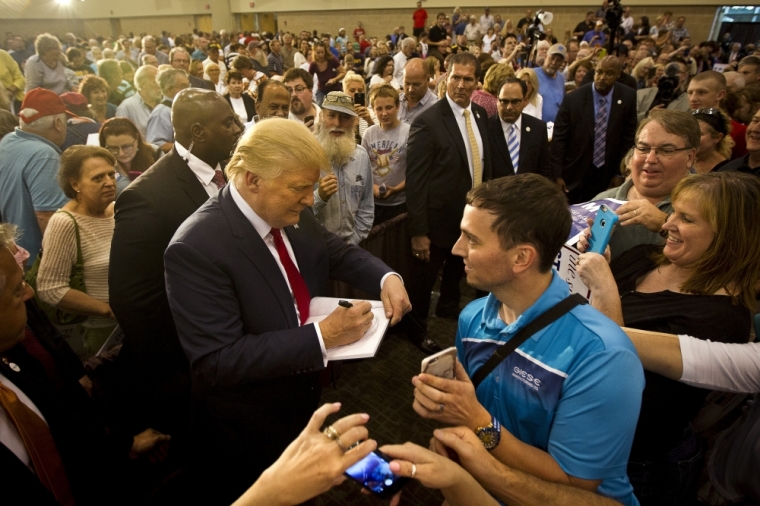 New polling shows Donald Trump continuing to surge among the Republican field. His strong showing among Evangelicals is a surprise to some and annoyance to others. As a matter of fact, he currently leads among conservative Christians.
"I love the Evangelicals," said Trump, but there are doubters.
A scathing op-ed in The New York Times on Trump and his Christian support concluded with this assessment: "I don't see someone interested in serving God, I see someone interested in being God."
If the disconnect between Republican Party leaders and much of the base is evident, it may exist among Evangelical leaders and the average Evangelical voter too. Immediately following the televised Republican debate in Cleveland, Trump shot up among Evangelicals in Iowa, which is the first opportunity for candidates to get a head start in their delegate count.
World Magazine published a survey in what it calls the favorite choice of "Evangelical insiders." Trump trails badly among these "insiders," with Marco Rubio as a favorite and Ted Cruz and Carly Fiorina said to be "surging." Perhaps a surprise to some, Trump is tied at 2.3 percent with Hillary Clinton as the top choice of those surveyed.
"Many of the candidates running for the Republican nomination are impressive, but Marco Rubio reminds me more of Jack Kennedy every day," said Richard Land, president of Southern Evangelical Seminary, CP's executive editor and a survey participant. "Whatever charisma is, he's got it."
While a "non-starter" for Evangelical insiders, just like many Washington insiders, Trump has legions outside the fold.
An op-ed published at the Christian Post explains some of the support. Larry Tomczak, undecided on whether to vote for Trump, attended an Ohio meeting with Trump and a groups of pastors. He offered ten reasons why he thinks the billionaire is out in front.
Franklin Graham offered what many believe is Trump's ultimate appeal — his outsider status, and ability to articulate general contempt for Washington.
"He's shaking up the Republican Party and the political process overall. And it needs shaking up," declared Graham.
The Daily Beast published a piece in August titled, "Why Evangelicals Worship Trump." The piece chronicles some of Trump's quieter support of Evangelical ministries, including Samaritan's Purse, and Billy Graham affiliated ministries. Trump spoke to raucous applause at Liberty University in 2012, and reportedly took time visiting campus leaders and students, instead of merely jetting in and out on his plane after his talk.
"I think long before anyone thought he would seriously run for president, he was making outreaches to Evangelicals and Catholics who are involved in the political process," exclaims Johnnie Moore, a former media relations manager and campus pastor at Liberty University and CP Senior Contributing Editor.
Jerry Falwell, Jr. went so far as to call Trump "one of the greatest visionaries of our time."
Trump has made similar outreach to Evangelical leaders such as Tony Perkins of the Family Research Council and Ralph Reed.
"Trump is the result of a Republican leadership here in Washington D.C. that is playing footsies with Barack Obama instead of fisticuffs," says Perkins. "People are tired of that."