Drug Dealer and Gun Owner Turned Pastor Leads Church in Gun Buy-Back Campaign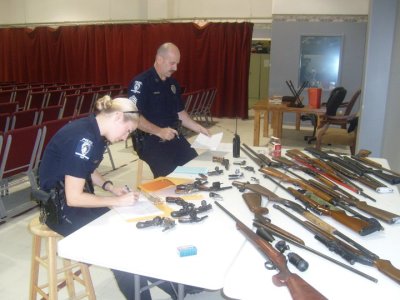 A North Carolina church has completed its seventh annual gun credit card exchange program, though its numbers were down sharply from previous years.
John Kee, 51, who now pastors New Life Fellowship Center in Charlotte, started the program based out of his own experiences of carrying around guns as a young adult selling drugs.
Kee told The Charlotte Observer that the program emerged out of a sense of personal responsibility that he felt toward his own community and out of another ministry that offers young men an alternative to being on the street.
"I want to clean up what I poisoned," said Kee, who used to hit the streets with a .38-caliber pistol, a 9-millimeter handgun or a sawed-off shotgun or "chopper."
The church pays $25 to $50 in Walmart gift cards for handguns and up to $100 for assault rifles and shotguns. It collected 41 guns this year, down from the 120 that it had consistently collected annually in the six years prior.
The church works with the Charlotte-Mecklenburg police to destroy turned in firearms and advertises the program throughout the city. There is a no questions asked policy for anyone who turns in weapons.
Despite the decrease in overall numbers and skeptics who say that the programs only attract a tiny portion of the total amount of guns in the U.S. and do not make an impact on crime, Kee believes in what New Life Fellowship Center is doing.
"I absolutely believe this helps the community, even if it's just 30 or 40 guns," Kee said. "We're doing a service ... It's my way of doing right by the neighborhood."
The church has received weapons from a myriad of sources; a 14- or 15-year-old brought in a chopper and another woman brought in her late husband's rifle.
During the exchange, Kee also said that gun rights advocates set up across from the church trying to buy back weapons. They wanted to collect them to prevent them from being destroyed. The pastor did not think that their efforts affected the church's numbers.
The North Carolina church is just one of several churches around the country that have organized gun buy-back programs. First Presbyterian Church of Dallas, whose program has been in existence for 13 years, has collected 700 guns over its time in operation. Another program in Arlington, Va., composed of a coalition of five local churches, bought back 80 guns in October.