'Duck Dynasty' Cast Reveal Interventions That Saved Their Lives in 'I Am Second' Film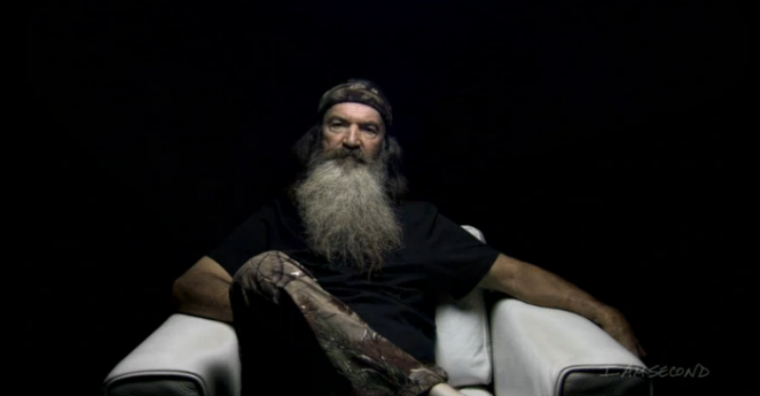 Three generations of "Duck Dynasty" men – Phil, Jep and Reed – share their stories of overcoming frightfully reckless behaviors of infidelity, drug use, rebellion and suicidal ideation in their 30-minute "I Am Second" film debut.
Most "Duck Dynasty" fans are familiar with Phil Robertson's testimony, but for their "I Am Second" debut, Miss Kay joins in to share her perspective of the family patriarch's transformation once he was saved, baptized and accepted Jesus Christ as his Lord and savior.
The revealing testimonies that will be new to most "Duck Dynasty" viewers are those of Jep, the youngest son of Phil and Miss Kay, and their grandson, Reed, who is Jase and Missy's eldest son.
Phil and Miss Kay: Infidelity, alcohol, abandonment

With the help of Miss Kay, Phil talks about his upbringing in Louisiana, meeting his future wife when she was 14, and the twisted turn their lives took when Phil went to Louisiana Tech on a football scholarship and started drinking heavily.
"What I saw was, Phil who had never drank before, started drinking. It was scary to me. The drinking got worse. He would be mad and would be in and out like a flash," Miss Kay says about her life as a struggling young mother and wife of a philandering husband, who was not only drinking, but was also smoking dope and popping pills. "I knew then, but didn't want to believe it, he was running around on me."
After Phil graduated and grew tired of working as a teacher, he convinced Miss Kay to move the family to Arkansas to embark on what he saw as an exciting adventure and great financial opportunity: managing a bar.
The mother of three boys who abstained from drinking alcohol had become a barmaid to support her husband.
Unfortunately, Phil's life continued to spiral downward. Phil got into a fight with the bar's owners, one of whom ended up in the hospital. Subsequently, state troopers were searching for him. Phil fled into the woods, where he lived for four months to evade the law, and left Miss Kay to fend for herself and their three sons.
When Miss Kay finally decided to return to Louisiana with her three sons, they started attending church and were saved. But when Phil came back to join them, he was still the same person.
"He became more and more mean and mean spirited. And I would tell my sons, that's not your daddy. That's the devil in your daddy," she says.
Phil adds that "the low point is when I ran Miss Kay and the kids off [kicking them out of their house].
"You're all alone, no hope, miserable. That's when I began to contemplate, 'Is there a way out of all this?'"
Ultimately, Phil recognized this life, as he was living it, was leading to complete destruction, and was hurting him and everyone who loved him. He finally decided to talk to a preacher who, along with Phil's sister, had attempted to turn his life around years earlier at the bar.
"I sat down with this guy and he said, 'Phil, what do you think the Gospel is?' I didn't know what the Gospel of Jesus was. … I was blown away when I heard that Jesus died for me and was buried and raised from the dead."
When Miss Kay returned home with Alan, Jase and Willie, they found a note on the table from Phil letting them know that he had gone to the church.
"We headed in there and when we got into the auditorium, I just stopped, because there he was, up in the baptistery. I heard Phil say, 'I want to make Jesus the Lord of my life. I want to follow Him from this day forward.' I looked down at each one of the boys, tears were rolling down their eyes, even 3-year-old Willie. They said, 'My daddy's saved, my daddy's saved, my daddy's saved.' They were so happy. It was a complete family then."
From this point, Phil said he turned from his sinful past, and started obeying God, and "started trying to be good" – even to the point of giving away the fish he was catching as a living to those who were stealing from him.
Jep: Drugs, family intervention and transformation
Jep Robertson, often teased by his older brothers as being Miss Kay's favorite son, wanted to experience what the world had to offer and at 18, got mixed up with the wrong crowd. Despite witnessing his parents' Christian example of obedience, clean living and helping those in need, during the end of his senior year in high school he started drinking and says he tried almost every drug that was put in front of him.
"I remember smoking a joint that was dipped in formaldehyde. They called it a wet daddy."
One night, Willie left a note on his truck that read: "I know what you've been up to. We need to talk."
The next morning, Jep drove to his parents' house, and unexpectedly saw all of his brothers' trucks parked outside.
Still unsure of what was going on, Jep walked into the house and found Alan, Jason, Willie and his dad, Phil, sitting in the living room prepared for their intervention.
Phil then asked Jep, "Son, are you ready to change?"
"I just want you to know that we've come to a decision as a family, and it's going to be either you are going to join us and follow God, or you are going to go on your own. And good luck to you in this world. So there are your two choices."
Jep says he fell down on his knees, started crying and asked, 'What took y'all so long?"
According to Miss Kay, Jep told his father that he didn't deserve to come back to the family. But Phil cried and said, "I want you to know that God loves you and we love you. But you just can't live like that."
Everyone then bent down to their knees, with Jep, and cried together and prayed to God.
"I remember dad saying, 'My prodigal son has returned,'" Jep recounts, adding, "It was one of the best days of my life."
Phil then gave Jep an ultimatum that he was under Robertson house arrest for three months and was required to go duck hunting every day.
Watch the Robertson family's 30-minute "I Am Second" film below:

Reed: Overcoming suicidal thoughts
Reed Robertson, the eldest the son of Jase and Missy Robertson, has grown up watching the success of the Duck Commander business and the media fame that comes along with millions of people watching "Duck Dynasty" every week. He says that his cynical attitude and thinking that he's better than everyone else led to him losing friendships and later, suicidal thoughts.
"I thought I was better than everyone else because of who my family was," Reed says. "Twelve million people watch us every week. That's part of the pressure that's on me."
Reed further shares that, even though it might sound silly to some people, one night after church all of the youth were meeting up to watch a movie at someone's house, and although his brother was invited, he wasn't.
"That was pretty hard," he says. "No one wanted anything to do with a cynical person like me."
Reed says he hit rock bottom and told his youth minister that he wanted to kill himself.
Contemplating suicide because he wasn't happy and felt alone, Reed wrote a suicide note.
His parents soon found out about his plans. "My mom was devastated. Of course, she's crying. She's thinking [about] where she went wrong."
Jase, his father, sat down with Reed and told him, in his opinion, committing suicide would've been his most selfish act, "to leave this world because you can't take it."
"I just thought about, I'm about to leave all these people that I could have a really huge impact with. That really just hit me hard and that's what turned me around," Reed says. "It was a relief when I came out of that. I think just knowing that I was back on track with Jesus, and knowing that He was OK with me coming back to Him. And it doesn't matter what I did, what I've been through or going to do, He's going to love me just the same. I was finally free ... Jesus brings that relief..."