'Duck Dynasty's Missy Robertson Tells Son He 'Can't Come Home' After He's Married
'Duck Dynasty's Missy Robertson Tells Son He 'Can't Come Home' After He's Married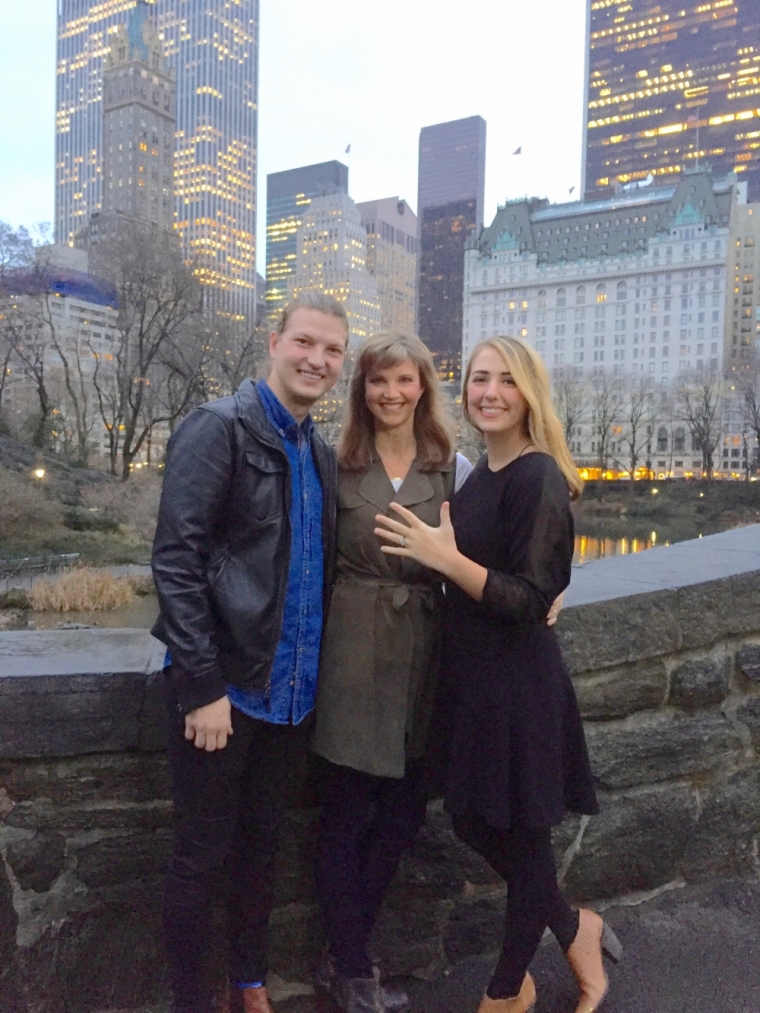 "Duck Dynasty" star Missy Robertson reveals why she told her son that he won't be allowed to come back home after he's married.
"Reed, I love you with all my heart, but once you say 'I do' this fall, you can't come home. And Brighton, you're stuck with him," Missy told Reed, and his 19-year-old fiance, Brighton Thompson, in a blog post last month.
The two were engaged in New York City's iconic Central Park during a family trip in December.
"Now that my oldest son, Reed, has chosen Brighton to be his wife, he needs to love her more than he loves me. And I, as his mom, need to understand that. There is no place in a marriage for a man to love his mother more than he loves his wife. And there is no place in a marriage for a mother who hasn't accepted that.
"I've been abundantly blessed with a mother-in-law who understands her role in her sons' marriages. She not only has four sons, but she has four daughters because of that. I'm hoping to be that same wonderful, godly mother-in-law to Brighton," Missy wrote.
Although the mom of three credited her mother-in-law Kay Robertson for setting such a great example, she maintained that the idea, however, came from her very own father's advice to her when she married Jase.
"'When you have problems with your husband, and you will, you'll need to work them out. Your mom and I will be here to help you however we can, but you'll have to go home to your husband,'" she recounted her father telling her.
Missy admitted that married life, although initially appearing to be all butterflies and rainbows, can be extremely difficult as she herself was tempted many times to go back home to her family.
"I laid in bed crying and wishing I was back at my parents' home in the comfort of my upstairs bedroom without all of these challenges and disappointments of my new life. Then I would remember what my dad told me, and I knew I had to go talk to Jase about it," she explained.
"But in reality, those of us who have been married for any length of time can honestly say that the excitement of the nuptials will quickly dissipate into a harsh dose of reality. And what is left are two people coming from two different backgrounds from two different families with two different sets of baggage, habits and quirks, and we have to figure out how to make it work."
The loving mother ended her blog post with Genesis 2:18: "It is not good for the Man to be alone. I'll make him a helper, a companion." Missy explained to her son that God was well aware that there would be difficulties in marriage.
"He knew our bodies would grow old and we wouldn't be as attractive to each other as we once were. He knew that we might face financial hardships and have to make hard decisions on how to do what's best to feed and take care of our families. He knew we might be faced with the death of a child and wants us to rely on each other for support. He created marriage for the specific reason that He did not want us to be alone," she concluded.
To read Missy's blog about her son's engagement titled, "I Love You, But Stay Out!" click Here.