'Duck Dynasty' Phil Robertson to 43,000 People at SoCal Harvest: Hearing Gospel Was Best Thing to Happen to Me
Organizers say more than 100,000 people attended SoCal Harvest 2013 and over 9,000 put their faith in Jesus at the three-night event, which ended Sunday with 43,000 hearing Pastor Greg Laurie's conversation with "Duck Dynasty" star Phil Robertson, who encouraged Californians to accept God's call.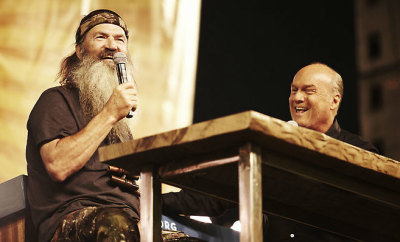 Laurie, pastor of Harvest Church in Riverside, Calif., began his conversation with Phil, Duck Commander and star of A&E's popular reality TV show, by asking him about his upbringing in Louisiana in the 1950s.
"We had no bath tubs, no hot water unless you set the tub out in the yard and let the sun warm it up," Phil told the tens of thousands of people at Angel Stadium in Anaheim, Calif. "We could have pretty well lived off the land… times were hard. We were poor, but I never heard anyone say we were poor. We never called on the government to help us out."
Laurie then asked Phil how he met his wife, Marsha "Kay" Carroway.
"Miss Kay was 14," Phil responded. "California, all you young bucks out there, you're listening? If you marry these girls at about 16, they'll pick your ducks, if you wait till they're 20, they'll pick your pocket," he said jokingly.
Laurie told the crowd Phil and Kay got married after graduation, and Robertson went to Louisiana Tech University, where he also played football as the starting quarterback. So why didn't Phil get into professional football?
"Well, I weighed my options, and someone said, 'Well, why don't you go and play pro football?' But I weighed it, and said, let's see how shall I make a living, shall I make a living running after large violent men, or shall I go chase ducks. I thought it's less stressful to chase ducks, California," Phil said.
VIDEO: Greg Laurie's full interview with the Duck Commander Phil Robertson
Laurie also asked Phil about his life before he became a Christian. Phil was in drugs sex and rock and roll, the pastor told the crowd.
"I went from sex, drugs and rock and roll until I was 28 years old," Phil said. "I heard the Good News of Jesus when I was 28, and I decided to make a change in my life. And now, I'm rich and famous," he said.
"That worked out pretty well," Laurie remarked, and laughed.
"Hey California, you know what Miss Kay told me the other day? She said, 'Phil, I've been poor with you, I've been rich with you. Rich is better,'" Phil responded, jokingly.
Laurie mentioned that Phil's sister once showed up with a preacher while he was still into drugs and sex. "He (the preacher) didn't think I was ready at the time," Phil said. "About a year later, I sat down and listened to what he had to say. And he preached to me, Greg, what you're going to preach tonight at California. And my life has changed forever... best thing ever happened to me."
Laurie asked Phil about his experience of raising up children, and said some children can go astray despite our best effort to bring them up in the way of the Lord. Phil's oldest son, Alan, who led the crowd to prayer at the Harvest event on Sunday night, was the first to go astray, the pastor pointed out.
"All of you who have children, just remember, when we come out of our mothers' wombs, we don't have any sin because we don't know what sin is... you're too little... you're a baby," Phil said. "But when we get into junior or high school... your children are going to sin, they're gonna make mistakes. But what you have to do as parents is teach them, train them, and, above all, love them and discipline them. It will save you a lot of grief down the road."
Phil added, "Even when you do that, they are going to sin." Alan, he said, ended up in New Orleans and picked up a fight with a guy "who beat him half to death with a tire tube." Alan decided to come back after "a police officer came up and said, 'Son, you want to go home, back to your mama and daddy."
"So when he came back we did like Luke 15," Phil added. "I said, 'Come on back, let's have a good meal here, we love you. And later on, he turned out to be a preacher of the Gospel. So that's the way it works."
Another son also got into drinking and drugs, but the family intervened and rescued him. "All of my sons are godly, and the daughter-in-laws… everybody is happy, happy, happy... You got be patient, California."
Phil has authored a book, Happy, Happy, Happy: My Life and Legacy as the Duck Commander. The autobiography chronicles the remarkable life of Phil from early childhood through the founding of a family business.
Before his Gospel presentation, Laurie asked Phil his last question. Why should people at the stadium put their trust in Jesus Christ?
"Listen, California, you have two problems that you cannot fix… you cannot solve it," Phil told the crowd. "One of them is sin, and we've all sinned. And the second one is physical death. Heart attack, gun shot, car wreck… we are all going to die, all of us are going six feet deep."
Phil explained, "Listen, what God has done through Jesus… you're counting time by it… it's 2,013 years since Jesus got here… What did He do? He died on the cross to remove your sin. First problem solved. Three days later, He was resurrected from the dead. The only way you're going to get out of planet Earth is through Jesus... Make a move on that tonight."
Laurie asked Phil to pray for the people at the event. Phil prayed that God would open the hearts of the people, acknowledging, "Father, we've made a mess out of the United States of America."
The "Duck Dynasty" series revolves around the Robertson family-owned duck call business in Louisiana, Duck Commander, and their strong Christian faith. The company produces duck hunting products, including a duck call. A staggering 11.8 million viewers tuned in to watch the premiere of the fourth season of the series earlier this month to make it the most watched reality show ever on cable television.
After the interview with Phil, Laurie shared a message titled, "God in Pursuit," and told the people, "I want you to know that God is pursuing you tonight."
The Bible not only tells us that God is good, it also tells us that "He is love," Laurie stated, adding He loves us despite what we have done and gives second chances. "Stop running from Him and instead run to Him."
Jesus said, "Behold, I stand at the door and knock, if you will hear My voice and open the door, I will come in," Laurie said, urging the people to do that publicly. And thousands did.
"Tonight at the #SoCalHarvest we had 43,000 in attendance at Angel Stadium and 3,507 made professions of faith in Jesus Christ! Praise God!" read the tweet by the organizers, who also said 105,000 people attended the 2013 event, and 9,263 came forward to accept Jesus.
In their 24th year in Southern California, Laurie's Harvest events have drawn over 4.7 million people.
Here is a related video: