'Duck Dynasty's Phil Robertson: AIDS is God's 'Penalty' for 'Immoral' Homosexual Behavior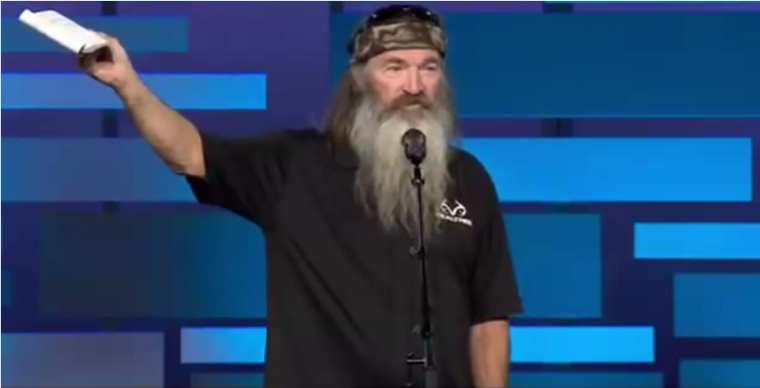 "Duck Dynasty" star Phil Robertson has spoken out about the plight of AIDS in homosexual communities and called it God's "penalty" for their behavior.
"God says, 'One woman, one man,' and everyone says, 'Oh, that's old hat, that's that old Bible stuff,'" Robertson told Tony Perkins, the head of the Family Research Council in a new interview. "But I'm thinking, well let's see now. A clean guy – a disease-free guy and a disease-free woman – they marry and they keep their sex between the two of them. They're not going to get chlamydia and gonorrhea, and syphilis and AIDS. It's safe."
"To me, either it's the wildest coincidence ever that horrible diseases follow immoral conduct or it's God saying, 'There's a penalty for that kind of conduct.' I'm leaning towards there's a penalty toward it," Robertson added.
The patriarch of "Duck Dynasty" has made controversial comments about homosexuality before and was even suspended from the reality series for saying that homosexuality was a sin that could lead to bestiality and other sinful behavior. A&E decided to take action and suspended him from the series but later chose to bring him, and the series back due to the public's reaction about the suspension.
Nothing has prevented Robertson from speaking his mind, though, and last week he compared himself to Jesus during an interview with ABC News.
"I'm as much of a homophobe as Jesus was," he explained. "The people participating in homosexual behavior, they need to know that I love them."
During his promotional tour for his new book unPHILtered: The Way I See It, Robertson has spoken about his views on homosexuality and other behavior he labels sinful. He has a lot of support from the public and from fans of the TV series, which has seen unprecedented viewership for the A&E network.
"Duck Dynasty" currently airs on A&E on Wednesday nights. Robertson's book is available online and in bookstores now.