'Duck Dynasty's Willie and Korie Robertson Speak on 'Importance of Being Real' at NewSpring Church Q&A
'Duck Dynasty's Willie and Korie Robertson Speak on 'Importance of Being Real' at NewSpring Church Q&A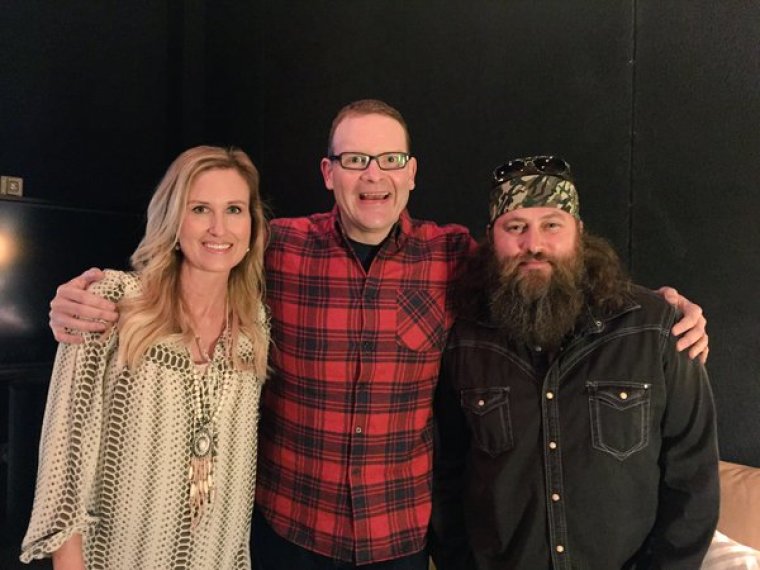 "Duck Dynasty" couple Willie and Korie Robertson spoke at Perry Noble's South Carolina-based NewSpring Church Sunday to share their faith and reveal how God has impacted their family in a live Q&A session.
Noble highlighted 10 points from his interview with the reality stars that he shared on the church's website, which included the Robertson's messages on God, family, character and "being real" despite life in the limelight.
"Being real is more important than being perfect," Noble shared as his No. 1 takeaway from the reality stars. Known for their down-to-earth personas on the popular reality TV show, Willie and Korie Robertson advocate for being one's true self, despite fame and notoriety.
Korie Robertson took this point a step further — saying that her and her husband's fame really wasn't about them — in a video clip from the interview, which she posted to Twitter. The reality star discussed the couple's new-found fame, saying, "From the very beginning, we still remind ourselves [of] this often, is that it's not about us. Like, this show, this success, this fame — any of it — is not about us," she said. "It's really about giving God the glory and pointing people to Him, and shining a light in this world."
The Robertsons are known as a family of believers, and Noble highlighted their belief in allowing one's life to be a witness for Christ as he summarized another of the couple's positive messages, "Living with good character is a powerful example of following Jesus."
Willie and Korie Robertson also believe that families should work together. The Robertson family is a prime example of a family that works in one accord as they have owned and operated Louisiana-based Duck Commander — a manufacturer of duck calls and duck-hunting merchandise — since the early 1970s. Noble reiterated Willie and Korie's belief in a united family when he wrote, "A family gets stronger when everyone works together."
Earlier this year, the couple announced announced their plans to adopt another son. In a post on socil media to her fans, Korie said the couple have decided to adopt a 13-year-old boy who has reportedly been living with the family since May.
"We've had lots of questions about the cute kid popping up in our photos lately. We are excited to be in the process of adopting a new son! He's been with us since May, but we wanted some privacy and time for him and our family to bond before telling the world," Robertson wrote on Instagram.
In 2013, the Robertsons spoke at the Congressional Coalition on Adoption Institute in Washington, D.C. for making the decision to adopt their son, Will, and for promoting adoption at events throughout the United States.
Willie and Korie "have twice restored the hope of a family to a child in distress and are vocal advocates of adoption," CCAI Executive Director Kathleen Strottman said in a statement to The Christian Post at the time.
"I think it's important for people to know that we adopted Will before we became rich and famous," said Willie, who was recognized as one of CCAI's National Angels in Adoption at the awards gala. "I say that because I think sometimes people think that only the rich and famous have what it takes, the money, the staff, to give a home to a child. But the truth is anyone can do it, once you have committed to make that kind of difference in a child's life. It's one of the best things I've ever done."
Willie and Korie have six children: John Luke, Will, Sadie, Bella and Rebecca. John Luke is their eldest son; Will, who's called "Little Will" on A&E's "Duck Dynasty," was adopted when he was 5 weeks old. Sadie is their eldest daughter, followed by Bella; and Rebecca, who lived with the family as an exchange student from Taiwan, is being fostered by the couple, and their newly adopted 13-year-old.
The NewSpring pastor promoted another of Willie and Korie Robertson's family values when he summarized, "Parenting isn't just about saying what you value; it's about living out what you value."
Following the interview, Noble took to Twitter to share how much he enjoyed the meeting. "Sunday we had @williebosshog & @bosshogswife! If you think church can't be fun … it was AWESOME!"