Duggar daughter continues breaking tradition? Jill Duggar sports short dress exposing legs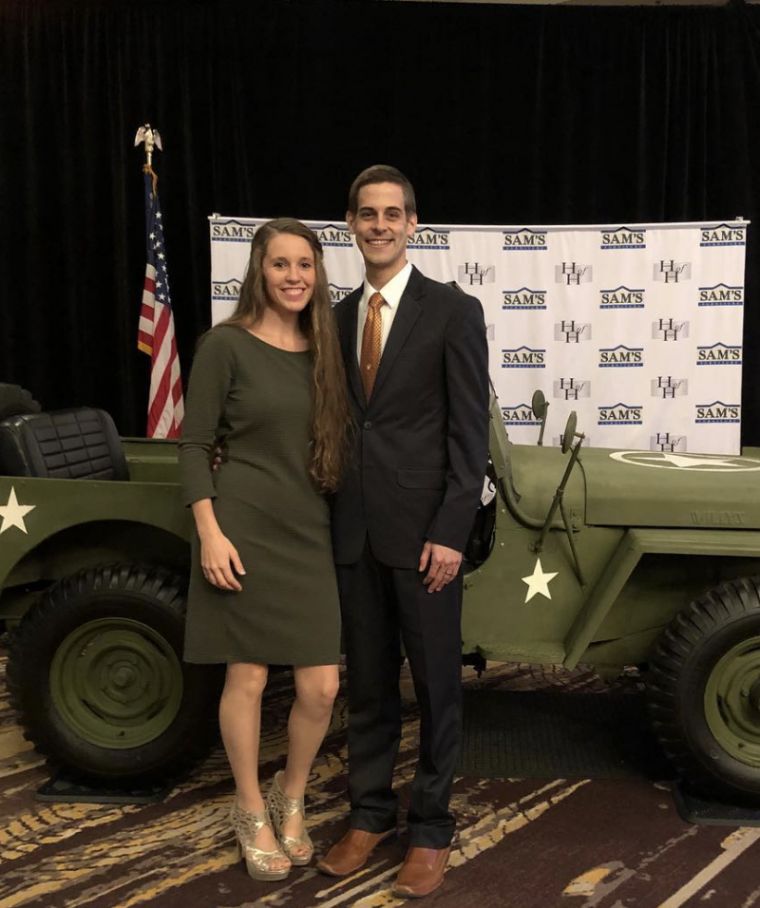 Duggar sister Jill Dillard has seemingly departed from some of her strict conservative family values. The reality star now occasionally wears pants, has a new nose piercing, sports temporary henna tattoos and is now wearing dresses that show off her legs.
Dillard recently took to Instagram after attending a Veterans Day gala with a photo wearing a form-fitting Army green dress that was above knee length, which she paired with gold heels. The outfit goes against the Duggar family rules which requires the daughters to cover up from neck to knee.
Fans of the Duggars were "shocked" to see Dillard's legs exposed but they celebrated the reality star.
Dillard started breaking away from family tradition after news broke that her husband Derick Dillard was reportedly fired by TLC from "Counting On" for making what some have called "transphobic" comments. Last year, on the Dillard family Facebook page, the daughter showcased a tattoo she had done during a local Christmas festival.
Short dresses and tattoos are just some of the many things that are forbidden by the strict Christian family.
The "Counting On" star first started charting her own path when she debuted her nose stud piercing last Thanksgiving, in a picture posted on the Duggar family Facebook page. It showed Dillard with her new accessory as she was holding her son, Samuel.
For years, the Duggars have publicly explained that the women in their family dress modestly to respect the relationship between husband and wife. Part of their modest attire always included long skirts below their knees since the Duggar women are not allowed to wear pants unless their husbands are OK with it.
"We do not dress modestly because we are ashamed of the body God has given us; quite the contrary. We realize that our body is a special gift from God and that He intends for it to be shared only with our future husband," the four oldest Duggar sisters (Jana, Jill, Jessa and Jinger) shared in their 2014 book, Growing Up Duggar.
It has been reported that the rule strictly applies to the single women of the household and when they get married they are then allowed to dress however their husband approves.