Dylann Roof, the Black Church and 'The Love That Forgives'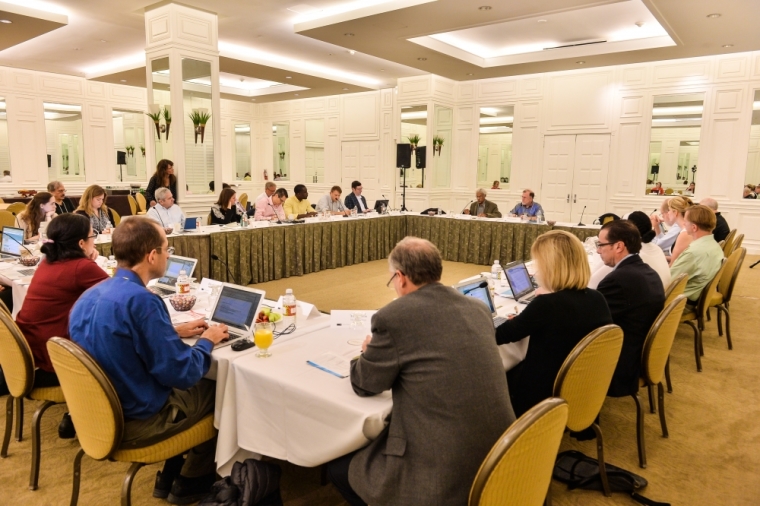 In relating Martin Luther King Jr. to the role of forgiveness in the black church, Raboteau recalled a situation similar to the June violence at Emanuel African Methodist Episcopal Church. In 1963, 16th Street Baptist Church in Birmingham was bombed and four young girls were murdered. King delivered the eulogy at their funeral.
Raboteau read part of that speech.
"God still has a way of wringing good out of evil. History has proven over and over again that unmerited suffering is redemptive. The innocent blood of these little girls may well serve as the redemptive force that will bring new light to this dark city. So in spite of the darkness of this hour we must not despair. We must not become bitter, nor must we harbor the desire to retaliate with violence. We must not lose faith in our white brothers. Somehow we must believe that the most misguided among them can learn to respect the dignity and worth of all human personality," King said.
The philosophy of King, Raboteau explained, "insisted upon agape, an unstinting love that did not permit outward violence or the inner violence of anger, hatred or even resentment and was not conditioned on the goodness of the other."
The Sunday school lesson on the morning of the bombing, he added, was, "The Love that Forgives."
Faith Angle Forum brings about 20 reporters together twice a year to discuss topics related to religion and culture.
The guests were clearly moved at the end of Raboteau's talk.
He spoke about the death of this father, who was shot and killed in Mississippi in 1943 by a white man who was never prosecuted. Raboteau spoke to the man's son in attempting to learn more about his father's death. He learned that his father's killer had committed suicide.
After that, Raboteau recalled, he went to visit his father's grave: "But for the first time I began to cry and then as if in my mind's eye I saw my father, I saw him up on the ladder in the stockroom and I saw him being shot and I saw him falling. And it was as if he fell into my life. And for the first time a father and a son met and I cried for him, I cried for myself, I cried for my mother and my sisters. And I instinctively knelt down and picked up some grave dust from his grave and rubbed it on my forehead. And then I left. That is the end of my remarks."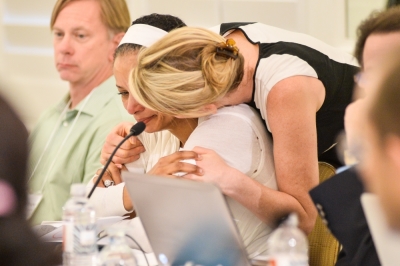 Fox News' Lauren Green began to cry and Kirsten Powers, also with Fox News, went to comfort her. Slate's Will Saletan had the first question and remarked, "I've been to a lot of these, but I have to say of all the [Faith Angle Forum] sessions I've ever been to, this is the one to which the transcript will do the least justice. That was just profoundly moving. Thank you."
You can watch the video or read the transcript here.