Eagles QB Carson Wentz Invites New Teammate Golden Tate to Church After Trade From Lions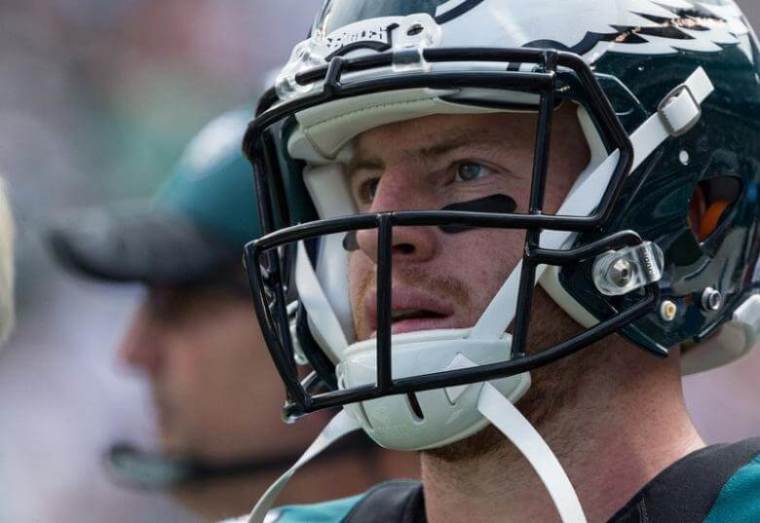 Philadelphia Eagles quarterback Carson Wentz invited his new teammate Golden Tate and his family to church on Sunday after the wide receiver was traded from the Detroit Lions last week.
The 30-year-old Tate, who was traded on Oct. 30, spoke with the media on Monday as the Eagles returned for their first practice after last week's team bye. Tate explained that the 25-year-old Wentz invited him and his family to church on that rare Sunday off for them.
The former Notre Dame standout explained that he couldn't go to the service. He was at the Eagles team facility studying the Eagles' playbook since he's new to the team and needs to be ready to play against the Dallas Cowboys on Sunday. But Tate's wife, Elise, and their child did attend the church service with Wentz.
"We are already just trying to build a relationship," Tate said of his new quarterback. "I have played with some really good quarterbacks through all my years. I think a wide receiver and quarterback relationships are a big reason for those guys having [success]."
New Eagle Golden Tate says he was "super excited to get in here" and he and Carson Wentz are already trying to build a relationship. He says thats very important

Golden says Carson invited him and his wife to church, but Golden had to study his playbook so his wife went#Eaglespic.twitter.com/P10Tsa7slU

— John Clark (@JClarkNBCS) November 5, 2018
Tate is a nine-season NFL veteran who has played with quarterbacks like Russell Wilson of the Seattle Seahawks and Matthew Stafford of the Detroit Lions.
During a news conference last week after the trade was announced, Tate thanked the Detroit Lions organization and the Detroit community for everything they helped him "achieve as a player, as a person, as a Christian."
According to the Philly Inquirer, Wentz was one of the first players to text Tate after the trade was finalized. Wentz is in his second season as the starting Eagles quarterback and is known for his devout Christian faith.
According to Complex, Tate was raised a Southern Baptist and considers himself a devout Christian.
Tate has also received some negative media attention through the years. As he departed Seattle for Detroit in 2014, rumors swirled that he might have had an affair with Seattle Seahawks quarterback Russell Wilson's ex-wife. However, that is a rumor that Tate said was "unfounded" and "irresponsible."
Tate also took heat on social media after reports that he was involved in a confrontation with a teammate.
"I have 100 percent confidence that those who deride me would feel differently if they knew what I stood for, if they knew about my faith in Christ, and my dedication to making a difference in the community," Tate wrote in an op-ed at the time.
Last year, the Eagles gained a reputation for being one of the most faith-oriented teams in the league.
The Philadelphia Eagles posted a video during the regular season highlighting how faith and prayer are an integral part of many of the Eagles players' lives.
The video highlighted how the Eagles players participated in chapel and Bible studies as an alternative to attending church since NFL players are busy on most Sundays.
"On every Monday night, we have a couples' Bible study. We have a Thursday night team Bible study," Wentz said in the video. "On Saturday nights, we just get together before the game and just kind of pray, talk through the Word of what guys have been reading, what they are struggling with, and just kind of keep it real with each other. To have that here in an NFL facility like this, it is really special."
Wentz is known for being one of the most outspoken players in the NFL about his Christian faith. He explained in the video that he was confirmed in a Lutheran church but really came into his faith as a freshman at North Dakota State University.
Earlier this year, Associated Press sports writer Rob Maaddi wrote a book titled The Birds of Pray, focusing on the faith and brotherhood of the Eagles team that brought home the first Super Bowl victory in franchise history.
Following the Super Bowl victory last September, fellow Eagles quarterback Nick Foles — who played in place of the injured Wentz during the playoffs — made a promotional video for YouVersion Bible app explaining why the app was important to his growth as a Christian.