Ebola Children Survivors Accused of Witchcraft, Black Magic in West Africa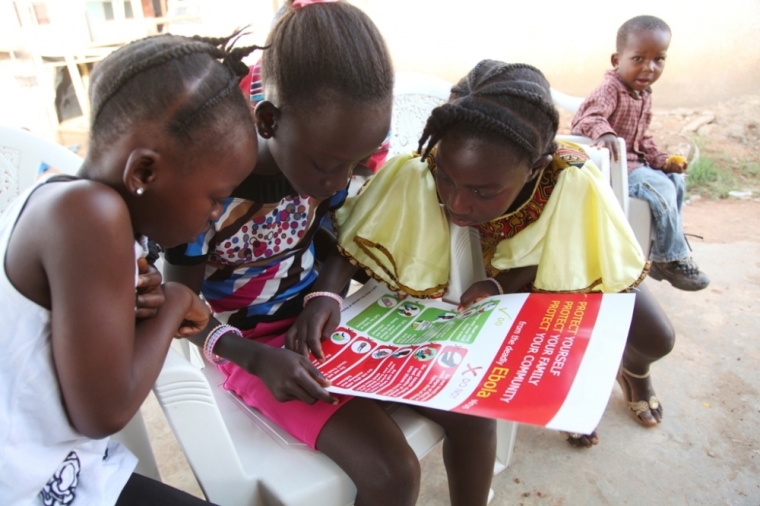 The spread of the deadly Ebola outbreak throughout West Africa is leaving hundreds of children orphaned, and a number of them are reportedly marginalized by some tribal communities due to the fear of witchcraft and black magic.
"There's a strong belief in witchcraft that Ebola is contracted through a curse or in some cases that it is a white man's fabrication," said Jamie Bedson, charity Restless Development's Sierra Leone country director, according to The Financial Times.
"There is a mistrust of foreigners, and in one place everyone threw away soap given out by the government because they thought it was poisoned."
Fides News Agency reported on Thursday that the health systems are in danger of collapsing in the hardest-hit countries of Liberia, Sierra Leone and Guinea. The Liberian government, with the help of NGOs, has so far registered 310 orphaned children who were not infected but who's parents died from Ebola, while another 600-700 remain in quarantine.
The children are faced not only with coping with the loss of family members, but also the preconceived notions of witchcraft.
Indigenous beliefs are spread throughout West Africa, and according to the CIA World Factbook claim 30 percent of the population in Sierra Leone. Liberia has a majority Christian population of over 85 percent, but indigenous beliefs are sometimes mixed in with the larger religions.
Over 3,800 people have died due to Ebola throughout West Africa, and the disease has infected a number of westerners who have returned to their home countries.
Five major American airports are starting examining passengers for Ebola from the three West African countries in the wake of the death of Dallas man Thomas Eric Duncan, who had travelled and returned from Liberia.
Speaking at the World Bank headquarters in Washington on Thursday, Centers for Disease Control and Prevention director Dr. Thomas Frieden said that the Ebola outbreak is the biggest world health crisis since HIV/AIDS, Voice of America reported.
Sylvia Burwell, the American cabinet secretary for health, added that "the nation is frightened, and people are frightened of this disease."
United Nations Secretary-General Ban Ki-moon underlined that the world needs a "twentyfold resource mobilization" to deal with the Ebola crisis. He said that the "surge in assistance" should include mobile labs, vehicles, helicopters, protective equipment, trained medical personnel, and medical evacuation capacities.
The U.S. has responded to the outbreak overseas by sending over 3,000 medical troops to West Africa. The American personnel are tasked with building treatment tents and helping educate the local population on Ebola prevention measures.
More than 500 troops from the 36th Engineer Brigade, 1st Medical Brigade and 85th Civil Affairs Brigade stationed at Ft. Hood in Killeen, Texas, are expected to deploy to Liberia by the end of this month. Approximately 200 troops stationed at Ft. Bliss, in El Paso will also deploy. Their mission, according to Texas Gov. Rick Perry's office, will be constructing facilities to be used in the housing and care of Ebola patients. The servicemen and women are part of a larger deployment recently announced by the U.S. Department of Defense that will send more than 3,000 troops to West Africa.