It's Not the Economy, It's the Family, CPAC Panelists Say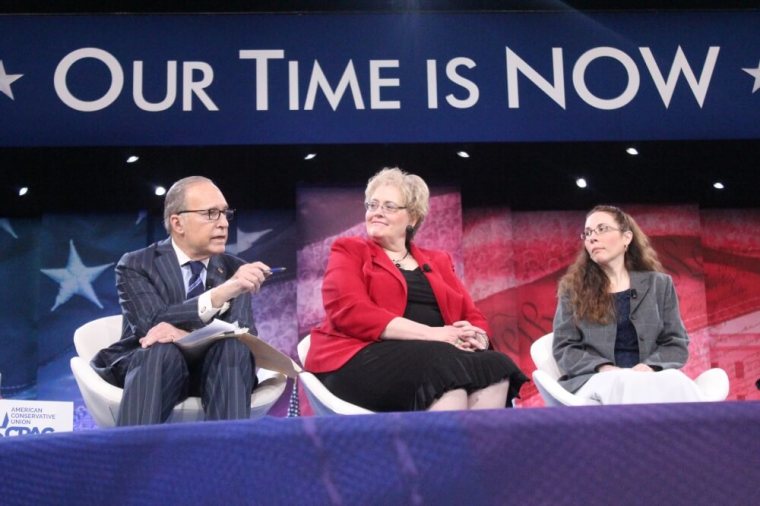 National Harbor, Maryland — In order to fix America's stagnating economy, the nation must first address the the breakdown of the traditional American family and find a remedy for declining marriage and birthrates, panelists at the Conservative Political Action Conference argued Friday morning.
While speaking at a CPAC Panel called "State of the Family in America: How Do We Measure Success?" well-known conservative economist and CNBC senior contributor Larry Kudlow argued that much of the reduction of economic growth in America is being caused by an increase in poverty resulting from a reversal in the traditional child-rearing paradigm.
Kudlow explained that more Americans today are not waiting before they are married and have economic security to reproduce and have kids.
"We are doing it backwards. We are having the kid first and don't even bother with the marriage, don't even bother with the job, don't even bother with the education," Kudlow said. "Where this came from? I don't know. We lost track of the very traditional American value and that is the culture of marriage and child rearing. We must not lose that."
Kudlow added that liberal government assistance programs over the last few decades have led to the decrease in the traditional marriage and the traditional marriage-then-kids social order.
"The government is providing assistance for people to have out-of-wedlock children, to have fatherless children, not to work, not to fulfill your responsibility in parenting. The government is handing out money, tax credits, direct federal assistance and it's wrong," Kudlow asserted. "I am not saying I don't believe in a safety net … Ronald Reagan believed in a safety net up to a point. Welfare is not a substitute for marriage, child rearing, education and for living responsibly and making responsible choices."
Julaine Appling, the president of the Wisconsin Family Council, weighed in saying that the decline in marriage rates have declined sharply over the last few decades in Wisconsin and other states.
"In Wisconsin, we have dropped 30 or 40 percent in our marriage rate over the last 30 years. We have been below replacement birth rate for 40 years," Appling said. "It's hard to find taxpayers and workers and all of that when you don't have people. A 1.9 per woman birth rate is significantly below the 2.1 children you need to have just to keep your population steady."
Dr. Wendy Warcholik, an economist with the American Conservative Union Foundation, explained that one-third of all U.S. counties — in both liberal and conservative states — are suffering from declining birthrates.
"We are not having babies anymore in America, enough babies to support the aging population — a Demographic winter," Warcholik said. "As we don't have enough babies, the labor pool is shrinking as our population is aging and that is a significant problem."
With the rise of no-fault divorce responsible for some of the breakdown of the traditional two-parent family paradigm, Warcholik, who is a child of divorce, spoke first-hand on how the breakdown of her two-parent family negatively impacted her childhood and has put her seven siblings through economic turmoil that they are still suffering from.
"I have seen the social turmoil related to the breakdown of the family. This is personal to me as well," Warcholik said. "Unfortunately, I am the only one among my seven siblings who was able to escape the social and economic turmoil associated with some of that. Some of what resulted from that was substance abuse, government dependence and lower educational attainment."
Appling and Warcholik pointed to the recently released Family Prosperity Initiative's Family Prosperity Index, which Warcholik co-created. The Index features five years of data showing the connection between families and the economy.
"The Family Prosperity Index gives us real data that links these variables that we have been talking about," Appling said.
Kudlow accused the Democratic Party of caring too much about government entitlement programs to address the issue of family breakdown.
"Politically, the Democratic Party does not want to face it, it just doesn't. I don't know why. Why can't a Democrat stand up and say 'Family breakup is bad?' I don't know, but they don't," Kudlow said. "I think the underlying reason is their propensity is to increase government assistance."