'Walk with God': Edward James Olmos shares how faith gives him strength to cope with tragedies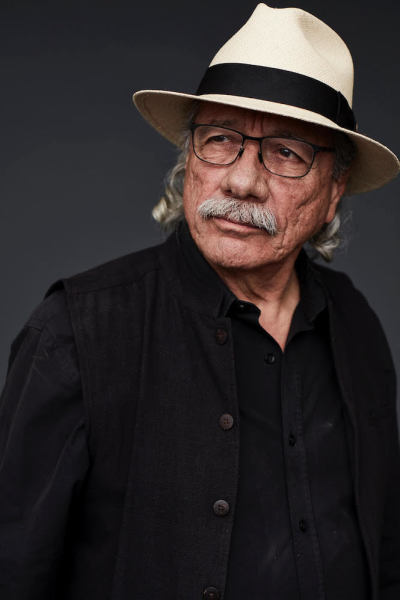 Legendary actor Edward James Olmos says he has clung to his faith throughout life tragedies even as he recently lost family members due to COVID-19 and is encouraging others to cling to God in both the good times and bad.
Olmos is the lead actor of the new faith-filled film "Walking With Herb," a comedy film directed by Ross Marks. Along with Olmos, the film features Kathleen Quinlan and George Lopez.
"I believe that the story itself was one that I was so grateful [that it] found my door. [Writer] Mark Medoff wrote it for me and with me in mind to play the role. That very seldom happens," Olmos told The Christian Post in a recent interview. 
"For somebody to do work, and then turn around when they're finished [and say], 'Listen, I wrote this for you, would you take a look at it?' Wow, Mark Medoff – Yeah! [He did] 'Children of a Lesser God,' [he's a] Pulitzer winner, Oscar winner, Tony winner. This guy is an amazing writer!" 
"So I read it, and the story was beautiful, very passionate. It was full of faith, full of hope, and it gave the elder — because I play a 68-year-old — a second chance at life when he most needed it," the actor continued. "It's a really uplifting movie in that respect, not that it doesn't have its tragedy in it, it does. But it has a great sense of hope at the very end and throughout the whole movie."
A synopsis of the film reads: "Amid a crisis of faith, an amateur golfer receives a startling message from God on his computer screen." 
Olmos' character, Joe, lost his faith in God after experiencing a series of great tragedies in his family — first his son and then granddaughter. The film's premise follows his journey back to faith, which also helped him learn to believe in himself again.
"I think that one of the biggest truths in life is to allow yourself to grow and change. Change is constant, but it's difficult. So a lot of us don't like to change," the 74-year-old former "Miami Vice" star admitted. "I think that through life, the more you're open — and that's what this movie is about — it allows you to understand the difficulties of life." 
"The story at the beginning is just like life," he added. "The only thing I could ever say to all the people that are watching and listening to this [is], 'May you bury your parents, and may your children bury you, and may that chain never be broken."
He called that pattern how life is "supposed to be lived" and "hopefully how it will unfold for us."
"But many times that chain is broken," he stated. "And when it's broken, it's really is hard to recoup and have faith in God and faith in yourself." 
Olmos shared that 2020 and the beginning of 2021 have been highly challenging for his family as they have experienced several significant losses.
He said when distress like that strikes, the "first thing you lose is faith in God. And when you just say, 'God, How can you do this to us? That person was such a young person and so nice, why did you do this? How could you let it happen?' That's the first thing that we do." 
"Really, you have to realize that you have to walk with God. You have to keep Him with you at all times, not just in the good times, but all the time with you, and thinking about Him because that really, truly is the gift," Olmos advised. "That's what you find in the story. The story gives you a sense of faith in yourself and the strength with your faith to give yourself a second chance at life. And that, to me, is the essence of living. You got to keep giving yourself chances to live."
The actor, whose career spans over four decades, explained how faith in God has been pivotal in his own life during hard times.
"Just yesterday, we buried a friend of mine's son — 29 years old. Then about a month ago, we buried my aunt [who] died of COVID. Over the last few months, we buried three of my first cousins [who] died of COVID. All in all, it could be really depressing to the point of not understanding the beauty of this life and continue to share this life in a positive way," Olmos revealed in his interview with CP.
"Thanks to my faith and my understanding, I've been able to completely continue to move forward in a way that inspires me to gain strength in the troubles that I faced, that made me stronger."
Olmos said that the "emptiness that one feels" in situations like those "is filled with the knowledge of life and God."
"So when you have these moments, when you have these big holes in your heart and in your soul, what fills it is knowledge and faith," Olmos maintained. "So those are the moments when you really gain strength in understanding yourself so that you can move forward and help others."
"Walking With Herb" is based on the book of the same name by Joe S. Bullock and is filled with Bible scriptures, mentions of divine signs and moments orchestrated by God.
"In real life, I think they're everywhere and if you can pick up on them, they become inspirational," Olmos said of his own belief in divine signals. 
"That's why you look for them and you find them. I believe in them. When you see it, you know it. Whether it be a certain moment of the wind blowing, or bird, or an animal, or a friend, or something just triggers that moment of understanding. It's almost like it grabs your heart; it grabs your soul and makes you feel." 
Olmos wishes for the film to inspire its viewers.
"I want them to take a sense of hope and faith in oneself and God and hopefully … give themselves a second chance of life," he concluded.
"Walking with Herb" is exclusively in theaters on April 30, May 1 and May 3 for a limited three-night Fathom Events engagement.