Egyptian Officials Knock Ben Carson's Theory That Joseph Built Pyramids to Store Grain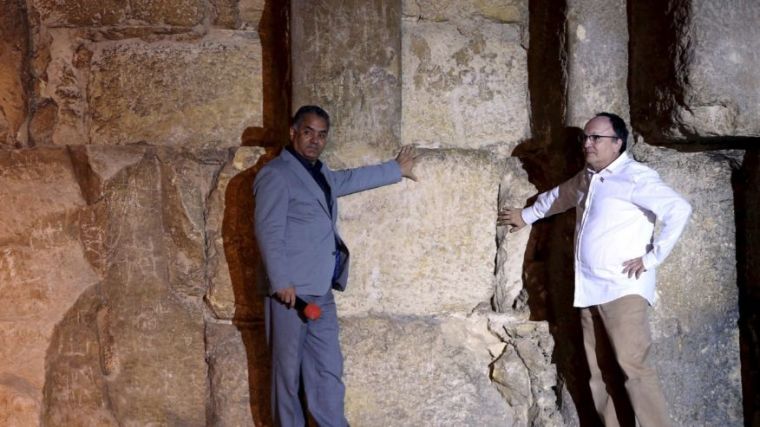 Antiquities officials in Egypt aren't pleased with 2016 GOP presidential candidate Ben Carson's claim that the country's iconic pyramids were built by the biblical Joseph to store grains instead of the bodies of ancient pharaohs.
At a recent news conference in that country officials there thumbed their collective noses at Carson's recently publicized theory and grudgingly responded to the hoopla over his comments.
"Does he even deserve a response? He doesn't," said antiquities minister Mamdouh el-Damaty on the sidelines of a news conference about recent thermal scans of the pyramids that could reveal hidden tombs, according to The Associated Press.
Carson made the grain storage suggestion, according to BuzzFeed, as part of his 1998 commencement speech at Andrews University, a school affiliated with the Seventh-day Adventist Church.
"My own personal theory is that Joseph built the pyramids to store grain," Carson said in the video of the speech posted on YouTube. "Now all the archeologists think that they were made for the pharaohs' graves. But, you know, it would have to be something awfully big if you stop and think about it. And I don't think it'd just disappear over the course of time to store that much grain."
Mahmoud Afifi, Egypt's head of ancient antiquities, told the AP that Carson's comments were similar to other inaccurate theories about the pyramids, including that they were built by Atlanteans from a mythical lost continent.
"A lot of people are trying to prove that the pyramids weren't built for burials," said Afifi. "Maybe they're comments used for publicity like that man who's not an archaeologist and says they stored grain, and I don't know what that was based on."
Carson's hypothesis on why the pyramids were built is among 13 listed by gizapyramid.com. The grain storage hypothesis was proposed by Syrian scholars in the 1500s and Joseph was indeed mentioned, according to the website.
"Benjamin of Toledo, in the Middle Ages, was of the opinion that the pharaoh had stored a great quantity of wheat there. It was thought that purpose of the Great Pyramid was to convert it into a granary in the time of famine," noted the description listed under Joseph's Granaries.
Veteran alternative archaeology reporter Scott Creighton as well as a 2011 report in the Smithsonian magazine note that there is no consensus as to why the pyramids were built.
"The idea that these structures were conceived and built as tombs is all pervasive to our modern mindset, so much so that many have come to accept the idea as being not so much a theory but as actual fact," wrote Creighton in an essay published online.
"So why then should it be deemed necessary to question what many regard as fact? The first thing to say is that the evidence in support of the tomb theory is only circumstantial; there is no direct primary evidence to support the pyramid tomb theory. Neither are there any ancient Egyptian texts that state why the ancient Egyptians conceived and built their pyramids. Indeed, there are a number of ancient texts that state the pyramids were not used as tombs," he said.