Egypt's Coptic Christians Declare: 'We Take Pride to Die' for Jesus Amid ISIS Terror Attacks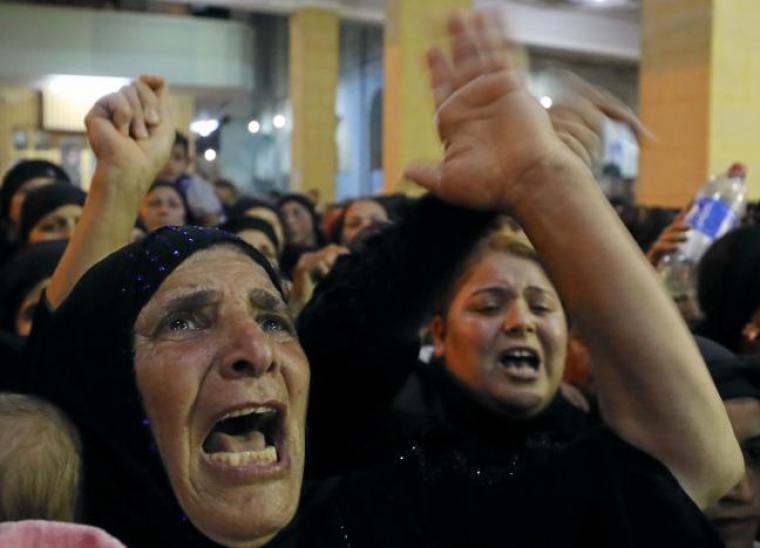 Coptic Christians have said that they "take pride" in dying for their faith following the latest slaughter at the hands of Islamic State terrorists.
"We take pride to die while holding on to our faith," Bishop Makarios, the top Coptic Orthodox cleric in Minya, said over the weekend, according to CBC News.
Reports have emerged revealing that IS gunmen forced Christians on their way to a monastery off a bus on Friday, where they asked them to denounce their faith and convert to Islam. The Copts, including children, refused, which led to the massacre of 29 believers, one of the chaplains comforting survivors revealed.
Thousands of Copts have been mourning the slain in the bus shooting, expressing their grief and rage at funerals for the victims.
"With blood and soul, we will defend you, oh cross!" Copts yelled at the Church of the Sacred Family in the village of Dayr Jarnous.
"We will avenge them or die like them," they said. "There is no god but God and the Messiah is God!"
Survivors have been speaking out, describing how children attempted to hide under the bus seats to escape gunfire.
"One survivor, a small boy who seemed to be about 6, said his mother pushed him under her seat and covered him with a bag. A young woman speaking from her hospital bed said the assailants ordered the women to surrender their jewelry and money before they opened fire, killing the men first and then some of the women," CBC described.
IS has slaughtered more than 100 Christians in Egypt since December in a series of separate attacks, including twin church bombings on Palm Sunday.
The Egyptian government responded to the shooting on Friday by carrying out a series of air strikes against suspected IS bases, and has launched a manhunt for the jihadists.
Reuters reported that on Monday, Minya's security chief was transferred as part of disciplinary action, but Copts say the government is not doing enough to protect them from radicals, and to punish those responsible.
"This is the result of only one thing: negligence, negligence from the government for not punishing these people," a man identified as Salama, an uncle of one of the victims, said.
Besides a lack of protection, Copts who have fled North Sinai, where many of the attacks have occurred, and sought refuge in Port Said, have also complained that the government has not provided aid so they can resettle.
"We are the families displaced from al-Arish to Port Said in February. We are living inside small rooms inside the youth camps and the aid building. We are suffering and none of the officials or the Port Said governor will listen to us," a statement by the displaced families earlier in May read.
"As time passed, 28 families remained in the camps and aid buildings. Three months passed without any attention from the government or officials in Port Said. The governor then declared that there was a lack of residential houses to transfer the families to, in addition to a lack to jobs, which forced the martyr Nabil Saber to return to Arish, where he was killed — a message to every Copt thinking about returning," they added, referring to another murder carried out by suspected IS militants.
World leaders have condemned IS' massacre of Copts, with U.S. President Donald Trump calling the Friday attack a "merciless slaughter" that "tears at our hearts and grieves our souls."
Russian Foreign Minister Sergei Lavrov also said on Monday: "I express my condolences in connection with this attack which caused many victims."
Lavrov added: "This evil should be fought jointly."