Egypt's Coptic Christians Travel to Jerusalem in Record Numbers Amid ISIS Attacks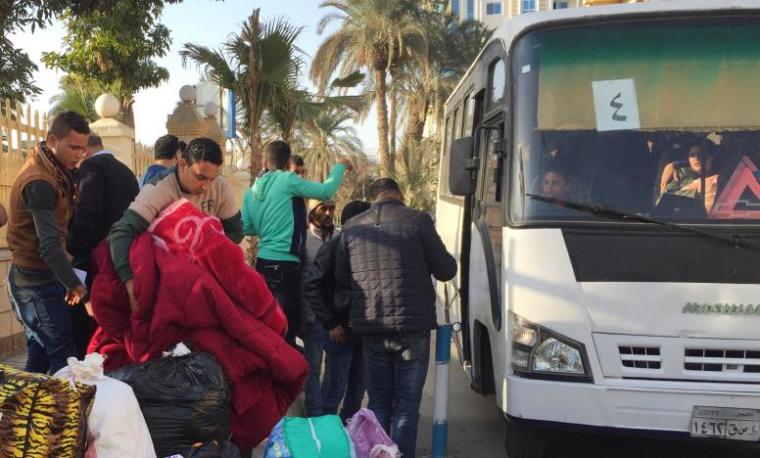 Amid increasing attacks on Coptic Christians by the Islamic State terror group in Egypt, a large number of Copts are now making pilgrimages to Jerusalem, according to reports.
The number of Egyptian tourists to Israel nearly doubled to 7,450 from 4,428 between 2014 and 2016, most likely due to the Coptic community's increasing interest in the pilgrimage, Religion News Service reports.
The term "muqadiseen," roughly meaning one who has visited the scared precincts mentioned in the Bible, is used in Egypt for the Copts who have been to Jerusalem.
Coptic Pope Shenouda III, who died in 2012, had told Copts not to travel to Israel to show solidarity with Palestinian nationalism, but the incumbent pope, Tawardos II, visited Israel for the funeral of Coptic Archbishop Abraham of Jerusalem and the Near East in 2015.
After the death of Shenouda III, applications for tourist visas at the Israeli embassy rose from a few hundred to nearly 3,000, according to RNS.
The human rights group Amnesty International earlier this month urged Egyptian authorities to offer "urgent protection" to Coptic Christians in North Sinai and provide essential services and accommodation to hundreds who are being forced to flee their homes after at least seven Christians were killed in a series of attacks.
"This terrifying wave of attacks has seen Coptic Christians in North Sinai hunted down and murdered by armed groups. No one should face discrimination — let alone violent and deadly attacks — because of their religious beliefs," said Najia Bounaim, deputy director for campaigns at the group's regional office in Tunis.
The attacks also forced at least 100 families and 200 students to flee.
Islamic State, also known as IS, ISIS, ISIL or Daesh, recently released a video threatening Christians in the country. IS is also believed to be behind the bombing of a chapel adjoining Cairo's St Mark's Cathedral, the seat of the Coptic pope, in December. At least 28 people were killed.
"Oh crusaders in Egypt, this attack that struck you in your temple is just the first with many more to come, God willing," said a masked man in the video. The group claimed the same man blew himself up in the chapel.
Egypt's IS affiliate is based in the Sinai Peninsula.
While authorities are being accused of not doing enough to provide security to Christians, ordinary Muslims are reportedly rushing to help the minority community.
"Ordinary Muslims are kind and try to help however they can — they're often first on the scene, rescuing the injured and taking them to hospitals," Father Rafic Greiche told Catholic News Service earlier this month.
It's not just IS, but also sections of local Muslims who persecute and attack Christians.
Last week, police in the Moheidat district in southern Egypt used tear gas and arrested eight people after a Muslim mob targeted Christian homes after rumors that a Christian family was holding captive a teen who had reportedly converted to Islam, according to The Associated Press.
Copts make up only 10 percent of the nation's 92 million population, and have often been victims of militants who have vandalized churches, Christian bookshops, orphanages and other buildings.