Muslims 'First on Scene' Helping Injured Christians in Islamist Attacks in Egypt: Priest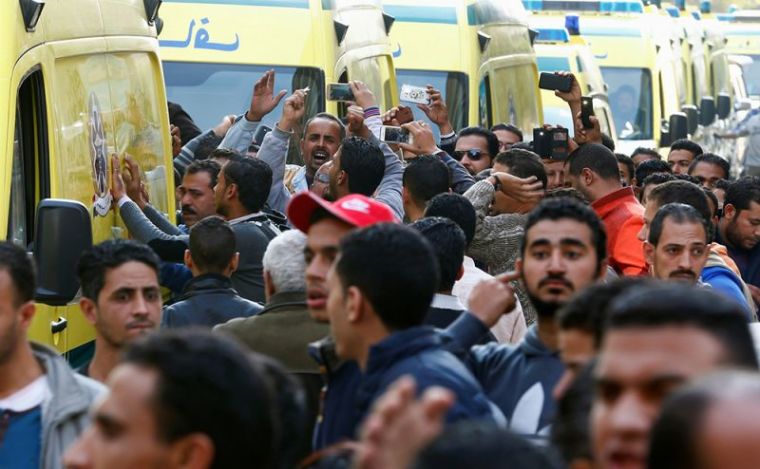 Ordinary Muslims in Egypt are rushing to help the minority Coptic Christian community from the increasingly violent attacks carried out by Islamic extremists, according to a local Catholic priest.
"Ordinary Muslims are kind and try to help however they can — they're often first on the scene, rescuing the injured and taking them to hospitals," Father Rafic Greiche told Catholic News Service.
Hundreds of Copts in North Sinai have fled their homes after scores of believers were killed by extremists in recent weeks. Persecution watchdog groups are urging the government to offer "urgent protection" for the minority population.
"You can never do enough against jihadist and terrorist attacks, which come, like any criminal acts, at a time no one can foresee," Greiche added.
"But while no country can be fully secure, I think there's will on government side to act decisively against these constant attempts to destabilize Egypt."
Amnesty International accused the Egyptian government of failing to protect the Coptic residents, reminding officials that they have a "clear duty" to ensure safety and access to essential services for people.
"This terrifying wave of attacks has seen Coptic Christians in North Sinai hunted down and murdered by armed groups. No one should face discrimination — let alone violent and deadly attacks — because of their religious beliefs," said Najia Bounaim, deputy director for campaigns at the group's regional office in Tunis.
The attacks against Christians, who make up roughly 10 percent of the population, have come from suspected Islamic State terror group supporters.
IS has specifically said it is targeting Christians. Its affiliate in Egypt recently released a video where a masked militant warns: "Oh crusaders in Egypt, this attack that struck you in your temple is just the first with many more to come, God willing."
The jihadist was referring to the bombing of a chapel adjoining Cairo's St. Mark's Cathedral, the seat of the Coptic pope, in December, where at least 28 people were killed.
Greiche admitted he is fearful that the militant organization has become "strongly entrenched" in North Sinai.
He said that Christians are under attack "all the time." Coptic Orthodox Bishop Angaelos revealed that as many as 40 Copts were killed between December and February.
"These horrific attacks have gone largely unnoticed by the international community, but Copts continue to suffer tragic violations daily," Angaelos said last month. "The common denominator is that these innocent children, women and men have had their lives brutally and tragically ended for no other reason except that they are Christians."
With the government's role under scrutiny, Egyptian President Gen. Abdel-Fattah el-Sissi spoke out against the attacks in Sinai, calling them "a cowardly plot by evil people intended to undermine national unity and confidence in the state."
The president revealed that he has instructed the defense, interior and intelligence ministries to "resist all attempts to sabotage stability and security."