Election 2018 Polls: Democrats Losing Support After Kavanaugh Hearings?
Senate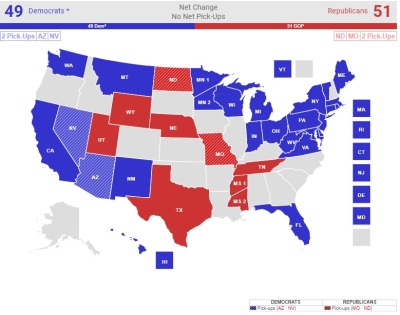 As the debate over the confirmation of Judge Brett Kavanaugh comes to a close, Republicans appear to be securing their control of the Senate.
In their "Senate No Toss Ups 2018" map, accessed Tuesday, RealClearPolitics predicted that Republicans would have 51 seats
This is an increase from last week, when RCP predicted that the two parties would hold an equal 50-50 split, with Vice President Mike Pence serving as potential tie-breaker.
Tennessee was the race that flipped from Democrat to Republican, which involves incumbent Republican Marsha Blackburn being challenged by Democrat Phil Bredesen.
For its part, a CBS News poll whose findings were released Sunday found that Senator Blackburn "surged" to an 8 percent lead over Bredesen.
CBS attributed this changing numbers in favor of Blackburn to the Republican state focusing more on "nationalized" issues, like the confirmation controversy.
"By more than two to one, registered voters say national issues outweigh local ones, and voters in all the states surveyed say their vote for the Senate is mainly about the direction of the country over a list of other factors," concluded a CBS analysis of the poll.
FiveThirtyEight's model, updated Tuesday morning, gives the Republicans a 79.2 percent chance of keeping control of the Senate, while giving the Democrats a 20.8 percent chance of gaining control.
This is a strong jump for the Republicans, which last week was given a 71.2 percent chance of keeping control of the Senate; and a big drop for the Democrats, which last week was given a 28.8 percent chance of taking control of the Senate.