Ellen DeGeneres Tackles Pastor's Op-Ed in The Christian Post on Hollywood's Gay Agenda; Defends Her Same-Sex Marriage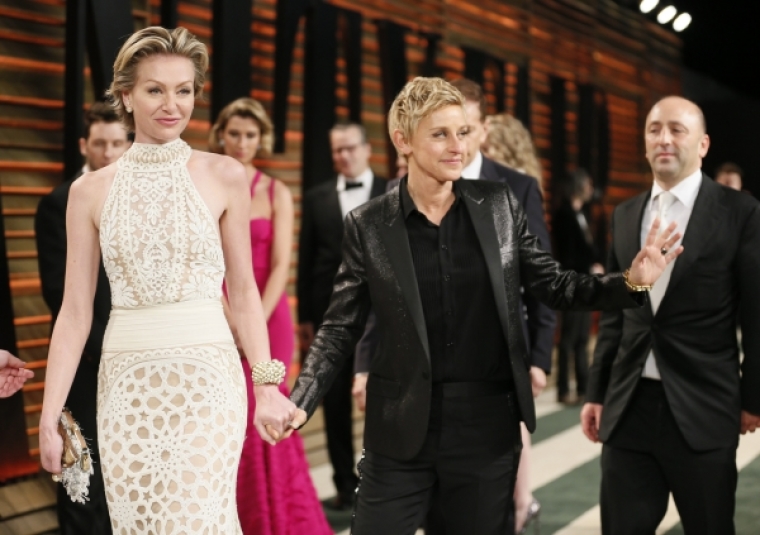 Popular talk show host Ellen Degeneres defended her marriage to her same-sex partner, Portia de Rossi, and took aim at Tennessee Pastor Larry Tomczak on her show this week over an op-ed he wrote pointing to a gay agenda in Hollywood.
"I don't usually read anything about myself. I don't look at the tabloids or the Internet unless it's about me being pregnant, then how else would I know … but I heard there was an article written about me and I'd like to address it right now," DeGeneres began in her monologue on Pastor Tomczak's op-ed.
"It's a pastor who wrote an article for The Christian Post where he accuses Hollywood of having a gay agenda and said that 'Ellen DeGeneres celebrates her lesbianism and 'marriage' in between appearances of guests like Taylor Swift to attract young girls," she said, quoting a section of the article.
Emphasizing that she took umbrage to the use of quotes in the article to refer to her same-sex marriage, she said: "First of all, let's just break this down, I'm not 'married,' I'm married, that's all," as her audience applauded.
"Larry, I don't even know what it means to celebrate my lesbianism, I mean, I guess I do, it's like that," she said as she pulled a party popper from her pocket, releasing it and pronouncing "I'm gay."
She then began listing some of the television programming Tomczak highlights in his op-ed as promoting a gay lifestyle such as "Glee" and "Modern Family" before quipping, "If you ask me, Larry is watching a lot of gay TV."
She also mocked Pastor Tomczak's suggestion of classic TV programming as "great alternatives" to modern programming.
"The Fugitive, Gunsmoke, Little House on the Prairie, I Love Lucy and other award-winning shows are all available and cheap," Tomczak wrote. "My son has two adopted young boys who are growing up with Wally, Larry Mondello, Eddie Haskell and the Beaver and can't wait till the next episode!"
Degeneres later noted: "I don't have an agenda. I'm not here to brainwash anyone … The only way I'm trying to influence people is to be more kind and compassionate with one another … That is the message I'm sending out."
You can read Tomczak's op-ed here and watch Ellen's reaction below.