Eric Metaxas Hosts 'I Am Second Live' in Dallas; Stars in Movement's 100th Film, Celebrates 20 Million Views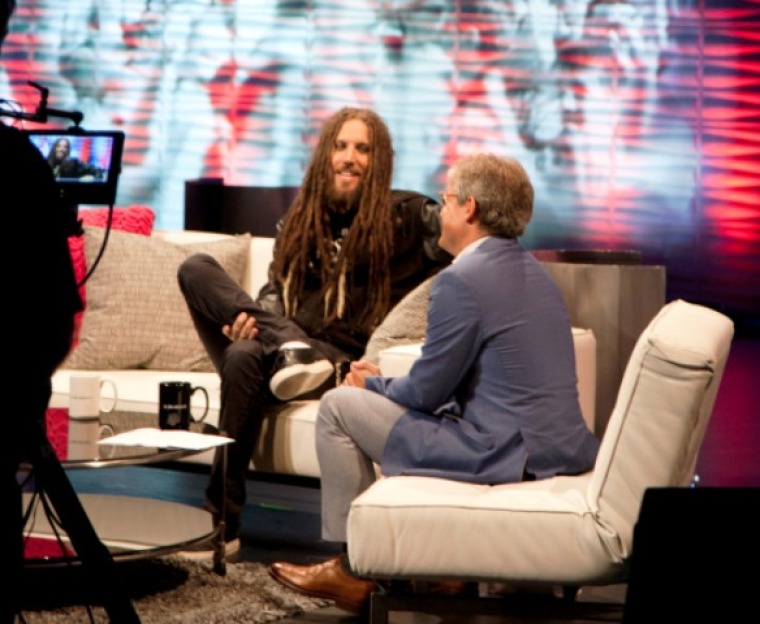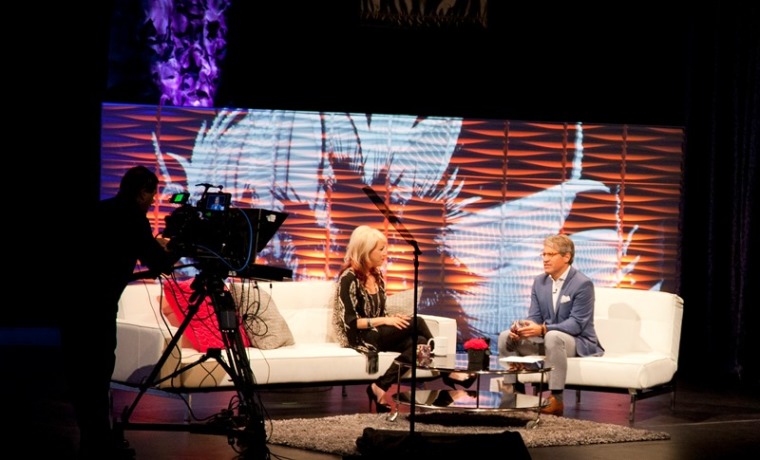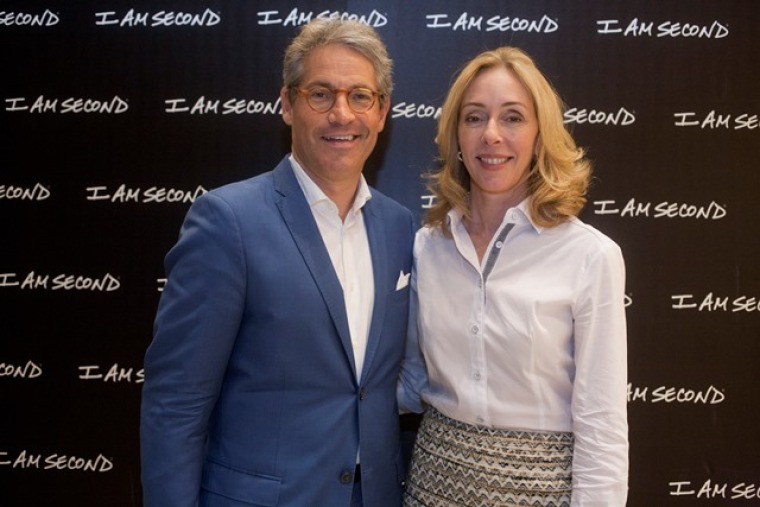 View Photos
DALLAS, Texas – Eric Metaxas, New York Times bestselling author who has written for Veggie Tales and Chuck Colson, is featured in the 100th "I Am Second" film that will launch on Thursday.
More than 10 million people have visited the "I Am Second" website since its initial launch five years ago, and in the 100th film featuring Metaxas, the humorous New York author describes how he first began his prayerful relationship with Jesus Christ 25 years ago. Even though Metaxas had grown up in the church, he didn't have a personal relationship with God, and when he started attending the prestigious Yale University, his doubts about faith grew. But an unplanned detour in his life led him to seek after God.
To honor the movement and celebrate the success of all the films that have been viewed by more than 20 million people, Metaxas interviewed four other "seconds" during a live taping of "I Am Second Live" in Dallas. The show featured Brian "Head" Welch, guitarist for nu metal band Korn, whose film has received the most views to date; Olympic gold medal winner Scott Hamilton, whose film has received the third-highest views behind Christian rapper Lecrae; Annie Lobert, who runs Hookers for Jesus in Las Vegas, Nev.; and former U.S. Navy Seal Remi Adeleke.
During an interview with The Christian Post Wednesday, Metaxas shared why he believes every Christian, young and old, needs to put God first, ahead of every decision they make in their lives.
"If you believe that we're created in the image of God, by God, for His purposes, then doing anything else is kind-of like putting sand in your gas tank," he said. "And, for people who don't believe that or don't understand that, it's hard to believe. I just know that God is real, and that we are not made to function properly without Him, and without putting Him first. When we do that, we actually become ourselves. We become who we're supposed to be."
He continued, "you don't really want to go through life not being who you are supposed to be. I just think that whoever you are or wherever you are in life, you cannot go wrong by giving everything to Him. Because He actually knows how it's supposed to fit together and what's supposed to be done with it. So that's my life's thesis."
Metaxas also spoke about the need for Christians to cast their concerns and worries to God, because He designed a relationship in which people are to obediently trust in Him. And two of his favorite scriptures that speak to this issue are found in Philippians chapter four.
Reciting the scriptures, he said, "'be anxious for nothing, but in all things by prayer and supplication with thanksgiving make your requests known unto God (Philippians 4:6).'"
"Just the idea, be anxious for nothing, we have so many things to be anxious about. God loves us enough that he commands us to be anxious for nothing, but to bring Him our problems in prayer – that means so much to me," Metaxas commented.
"And then, 'rejoice in the Lord always,' (Philippians 4:4). Just the idea that he wants us to have His joy always, even when things are tough, to have a secret joy and a relationship with Him. He made us for that. He didn't make us to have the drip-drip of toxic worry. And it's a natural thing for us to do, but he reminds us, 'no, don't be anxious, and rejoice in me.' So those are probably my two favorite scriptures."
From Korn to Christ and back again
Brian "Head" Welch, who stirred controversy when he left the band Korn in 2005 and then returned last year, told Metaxas in his interview that God led him to go back on tour because he said, "those [the fans] are God's people." And God told Welch, "I want them."
Although many fear that his return to Korn will only lead him back into the darkness he had escaped, Welch assured Metaxas that all of the band members are family men now, and no longer will you find strippers or drugs backstage, just children and spouses.
Welch's journey to unite his faith with his fans, whom he calls, "my people; my tribe," and the music he loves, is being documented in a film that's expected to be released in 2014. But Welch emphasized that the film will be released "when God wants it finished."
During an interview with CP, Welch spoke candidly about his life as a rock star, and the sex, drugs and rock 'n' roll lifestyle he left behind to follow Christ.
"All I know is that I was chasing all that stuff and it left me empty. And I was a complete empty shell – just totally like nothing inside. I had everything. I had the money; there was girls everywhere, all the drugs – pills, doctors' prescriptions, illegal drugs, everything. And it was just empty, so empty. And as soon as I went to church, I felt the love from Jesus. That's when I was fully satisfied. And I was totally done with everything in the world because I was satisfied inside, and I got filled up," Welch said.
Tattooed on the right side of Welch's neck is his favorite scripture: Matthew 11:28.
"'Come to me all who are weary and I will give you rest,'" Welch quoted. "And that's Jesus' words. And that was my scripture, it was popping up everywhere. I was so lost and he gave me rest for my soul; it's simple."
Sharing Christ's love through Hookers for Jesus
Annie Lobert, founder of Hookers for Jesus, which provides help to women who work in the sex industry, told CP that even after being saved, women continue to battle the voices in their head that tell them they're not worthy, and should feel guilt and shame for the rest of their lives.
To overcome negative thoughts, Lobert said she not only reads her Bible, but she reads it aloud.
"I believe that what God said about us is true. Every time that I get attacked, and every time that I felt that somebody was judging me, whether it be a Christian or someone that's in the world, I recite those scriptures that say, I am the head and not the tail, I am above and not beneath," she said. "I think quoting scripture out loud is healthy for your brain, and it's healthy for your soul and it's healthy for your spirit."
She continued, "even to this day, and I've only been saved and on fire for 10 years, I still have flashbacks, and I still have dreams about my past life. And when I talk about it, I reference back to it. And those times as a sex industry worker, as a sex traffick victim, are very traumatic. The women who've been there, they have these residual memories that are hard to process. So if they don't process their pain, those voices will come back often."
"For them to truly get the healing that they need, they need to allow God inside, to come into their heart and speak life into them. That would look like this: giving His presence; being in a healthy church family; being around good friends who love you; and anytime you need help, pick up the phone and dial your closest friend or mentor. Because that's God's love, and that's what's going to get you through. And that person is also going to help them remember who they are in Christ."
When she started following Jesus Christ, Lobert said the first thing she learned was who she is in Him, and the sacrifice that He made to give her everlasting life.
"I stood on His word," she said. "And every time the devil came to talk to me, I said, satan get behind me."
The scriptures that Lobert noted as being among her favorites and those she share with people in need are 2 Corinthians 5:17, Genesis 50:20, and Revelations 12:11.
"I love 2 Corinthians 5:17:' I am a new creature in Christ, all things old have passed away, all things are brand new.' And Genesis 50:20, 'the evil that you meant for me is being used for good.' Joseph's quote, what you meant to harm me, is actually being used to help other people now. That one really spoke to me. The last one that I really love is: 'we are overcomers by our testimony in the blood of the lamb.' Revelations 12:11," she said.
The "I Am Second" and "You Soy Segundo" films have been viewed by people living in 219 countries and continue to gain in popularity. During the next five years, the movement will be homing in on the 50 largest cities throughout the United States to reach people in the most unexpected places and to share God's love for them.
Click here to learn more about "I Am Second." Upcoming seconds expecited to be released in November will include Phil, Jep and Reed Robertson from "Duck Dynasty."
I am Second® - Eric Metaxas