Albert Pujols 'I Am Second' Video Debuts Inside Angel Stadium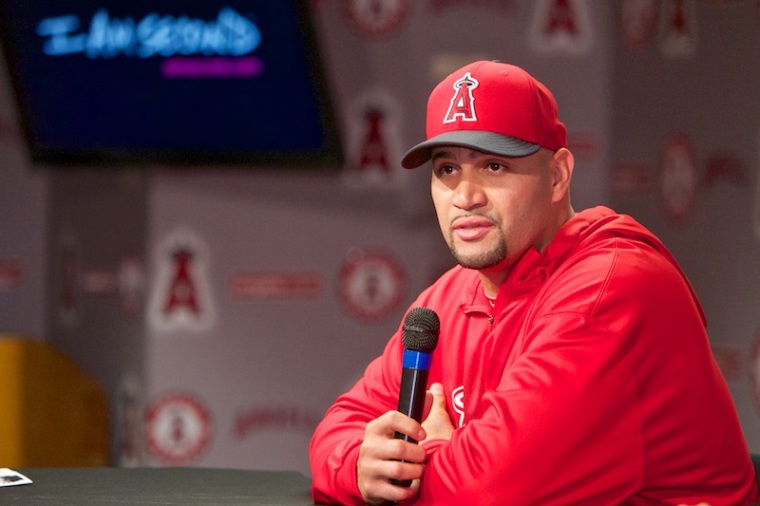 ANAHEIM, Calif. – Los Angeles Angels first baseman Albert Pujols took a timeout Tuesday afternoon from preparing for a significant moment in his illustrious career – facing his old teammates with the St. Louis Cardinals – to talk about what he considers his top priority.
"I feel the most important thing in my life is to share my testimony with everybody," Pujols, who won three most-valuable-player awards and two World Series titles with the Cardinals, told reporters attending a press conference at Angel Stadium about his "I Am Second" video.
"[The short film] is a great opportunity to now see what I do off the field and who I represent – and what is the most important thing in my life and that is my relationship with Jesus Christ," he explained.
In the video, Pujols shares about his personal journey from the Dominican Republic to the U.S. major leagues and what personal legacy he hopes to leave beyond baseball. The short film is in partnership with I Am Second, a movement meant to inspire through stories of hope and transformation. Pujols' video premiered at just about the same time as the press conference on Tuesday on iamsecond.com.
A unique aspect of the film is that Pujols talks in both English and Spanish with English subtitles. His athlete star power is international.
Despite a lower performance level with the Angels since last season, Pujols is ranked in the top 10 baseball players in three statistical categories through 2012. His consistent batting style and quick defensive abilities make him one of the most respected first basemen in the league. He was voted the most feared hitter in baseball by 30 MLB managers.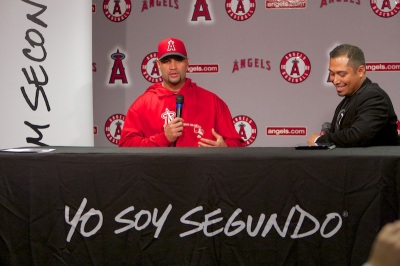 Even with all of the accolades in baseball, Pujols said he would rather be remembered for his accomplishments outside the sport.
"I don't want people to remember me as just a baseball player," Pujols says in his I Am Second film. "To me, off the field is more important than what I do on the field. Sure, I want to be a great baseball player, but I also wanted to be a godly daddy and husband, setting an example for my kids. If you would ask me this 20 years ago, I would have told you that I thought it was about me."
Pujols dreamed of playing baseball from a young age. He grew up in poverty in the Dominican Republic, before his family moved to the United States in 1996. Before long, his dreams began to come true and it seemed baseball would be the focus of his life. But then he met his wife, Deidre.
Deidre's faith and his daughter Isabella's Down syndrome gave Pujols a new perspective on life. Through his journey raising Isabella, Pujols became a stronger man of faith. It was this that inspired him and his wife to found The Pujols Family Foundation, a non-profit that focuses on aiding families with Down syndrome children, in 2005.
At the beginning of the video, he shares that a friend challenged him about four years ago to ask every player who gets to first base what the most important thing is in their life. "The response I sometimes get is why I am asking such a question and I tell them it is because there's more to life than this game," he said.
When asked by The Christian Post whether he still asks the question to players reaching first base while he is at his position, he said that he does, but not as much in the last three years.
He said that at this level of professional sports, losing focus on one's faith can happen easily because of all the attention given to athletes on their great abilities. To counter the pull of celebrity treatment, Pujols tells players about the team's chaplain ministry that includes chapel services and Bible studies.
"I encourage players to get into chapel because we have a service every Sunday in Spanish and English where you can learn more about how to get into a relationship with God," he said. "That's how it started with me … Strong Christians took me under their wings and encouraged me every day."
He added, that once a person makes a decision to accept Jesus, "the enemy wants to attack you more, and it doesn't get any easier after that, the only way to battle Satan is the word of God."
Pujols' complete I Am Second film can be viewed at either http://www.iamsecond.com or http://www.yosoysegundo.com.
About I Am Second/Yo Soy Segundo
Athletes, actors, models, musicians, pastors, politicians and many more have stepped forward, looked in the camera and proclaimed, "I am Second." But most in the iamsecond.com and yosoysegundo.com movement are ordinary people with stories of hope and transformation. The movement is best represented in communities through partnerships with local non-profits that help meet the needs of the community.
A non-profit launched in Dallas-Fort Worth in 2008, iamsecond.com website and films have reached 25 million people from 219 countries/regions. For more information, visit http://www.iamsecond.com.