Eric Metaxas Tells Pastor Greg Laurie: 'Americans Are at the Edge of Losing Liberty'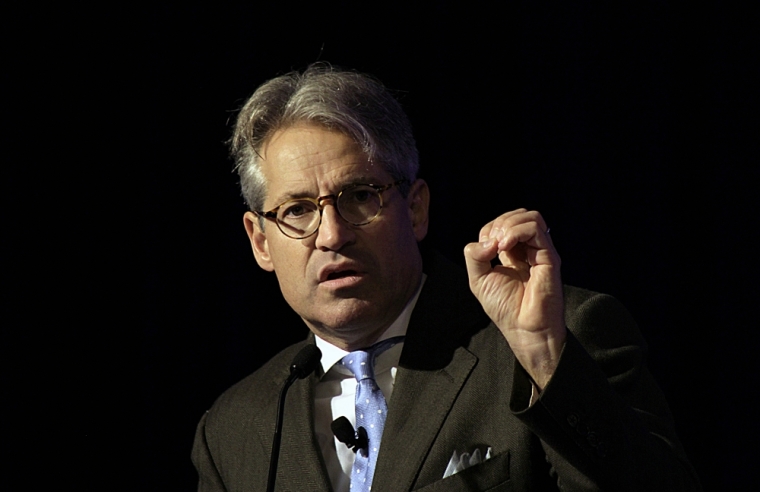 Pastor Greg Laurie interviewed New York Times best-selling author Eric Metaxas at his Harvest Christian Fellowship megachurch in California on exercising our faith as an American, as people go to the polls to decide who will be the next president. Metaxas emphasized that the United States is an idea, but today not many Americans know what it is.
Metaxas said Sunday he never understood what it meant to be an American when he was younger, explaining that America is an idea, as "we're not an ethnic group." Metaxas said this after Laurie spoke about the social commentator's new book, If You Can Keep It: The Forgotten Promise of American Liberty.
In 1787, when the Constitution was drafted, a woman asked Benjamin Franklin what the founders had given the American people, Metaxas explained. "A republic," Franklin replied, adding, "If you can keep it."
"More than two centuries later, Metaxas examines what that means and how we are doing on that score," says the book's introduction.
"We are at the very edge of losing the liberty that we have," Metaxas, author of Bonhoeffer: Pastor, Martyr, Prophet, Spy, told the congregation.
In his new book, Metaxas talks about the "Golden Triangle of Freedom," which he explained as being a concept that all the founders understood and called it the "heart of self government."
"Self governance or liberty requires virtue; virtue requires faith; and faith in turn requires freedom," Metaxas said, explaining that there can't be virtue if there is no faith, and there.
While all founders agreed with this, we are not teaching this in our schools, he noted. Franklin warned that If you stop keeping it, it would go away, he added.
Laurie mentioned that America has moved away from freedom of religion to freedom "from" religion. Metaxas responded by saying we have misunderstood the separation of church and state.
Separation of church and State means the state will keep its hands away from church, and not that we have to have a secular America, Metaxas underlined. "As soon as the government starts telling you what to believe, the whole thing dies."
There's no way America would have happened without George Whitfield, an 18th-century evangelist who traveled to America in 1740, Metaxas added.
Whitfield used to preach to thousands of people every day, and by the time he died, 80 percent of the people in the colonies had heard him preach in person at least once — without any television and microphone, Metaxas said. "He was a preaching machine for decades. … This is why the founders believed we can pull this off. Self government can work."