Erica Campbell Advises People How to Stop Blocking Their Blessings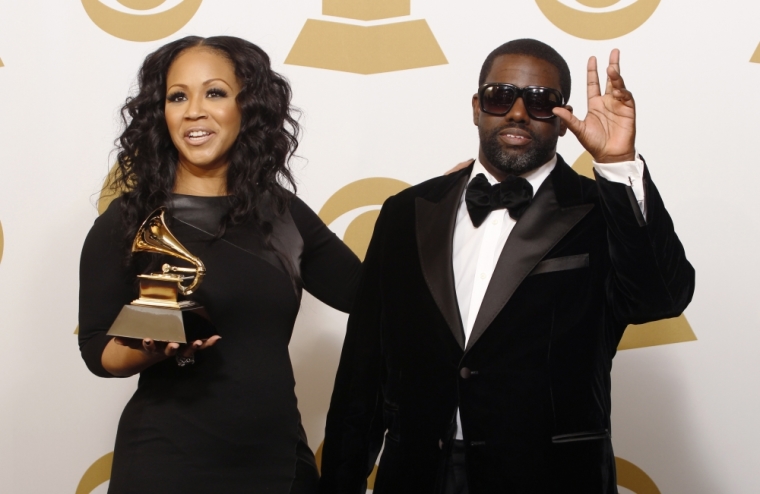 Erica Campbell is sharing more than Christian music on her morning radio show, with the gospel music songstress also imparting wisdom to her listeners by letting people know how their actions may be blocking their blessings.
Campbell is the host of syndicated morning show "Get Up! Mornings with Erica Campbell" broadcasted out of Dallas, Texas on weekday mornings. During the Joy Living segment of her show, Campbell spoke about some key points that she said revolutionized her walk with Jesus Christ.
In the segment that Campbell also decided to highlight on social media, the singer, who first started in the gospel music duo group Mary Mary, shared five things that people do to block their blessings. According to Campbell, people walk in negativity, mediocrity, hold onto their past and live in fear which can hinder the blessings of God.
As it pertains to negativity, Campbell is making it clear that negativity is similar to doubt which is ultimately "anti-faith."
"There is no way you can trust God and doubt him at the same time and that's what negativity does. Some people say 'I'm just being pessimistic'," the singer told her listeners. "No baby you're being doubtful. You're not trusting everything that He can be in your life."
Campbell followed up by explaining that mediocrity was, "doing just enough not to sin, but not doing enough to walk in the full abundance of God to really experience all that He has for you." She went on to explain that putting 100 percent into everything would result in rewards from God.
Next, Campbell spoke about the importance of not holding onto the past which could be evident if you are, "babysitting your pain, babysitting your problems, leaving them at the altar and then going back to pick them up when you leave church because you want to regurgitate that information in your mind."
Campbell went on to use Romans 8:1 to explain the importance of letting go of feelings of guilt.
"Romans 8:1 says there is therefore no condemnation to those who are in Christ Jesus. If God has set you free, be free," she said. "Don't keep reminding yourself of what you did. He already set you free."
After telling people to make declarations of deliverance, healing and overcoming, she made her last point by tackling fear.
"I love 2 Timothy 1:7 [which states] 'God has not given us the spirit of fear but of power, love and a sound mind.' You tell yourself, God didn't give me that," she said. "He didn't give me that anxiety, he didn't give me that depression, he didn't give me that sickness."
Instead Campbell spoke about the importance in declaring healing, wholeness and completion in Jesus. She concluded by reminding people not to block their blessings with their own actions.
"No more negativity, no more mediocrity. No more holding onto the past, no more guilt and no more fear. Get out of your own way," she said. "Don't tie God's hands. Allow Him to bless you."
She went on to ask people to, "open yourself up to all that God can do for you."
Campbell has had her own share of blessings with her WE tv reality television show Mary Mary, a Grammy Award winning solo music career and responsibility as first lady of the California Worship Center church. She previously spoke to The Christian Post about how she manages to balance it all.
"You just take one day at a time. It is a lot, but I don't feel overwhelmed," the "I Luh God" singer revealed to The Christian Post last year. "I feel like I'm busy, but if God gives you the vision, He will give you the provision to handle it. I don't do anything in my own strength or by myself."