Erwin Lutzer lays out 5 false gospels within evangelical churches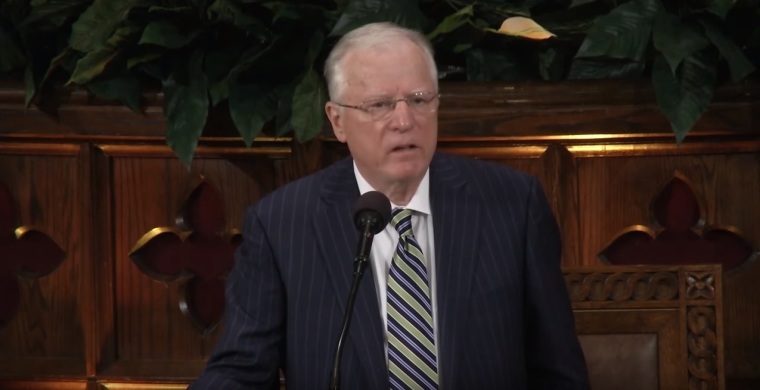 There are five false gospels found in evangelicalism today, says former senior pastor of The Moody Church in Chicago, Illinois, and current Pastor Emeritus Erwin W. Lutzer. 
Lutzer talked with Darrell Bock, executive director for cultural engagement at Dallas Theological Seminary, on an episode of "The Table" podcast posted online Monday.
During their conversation, Lutzer listed five false gospels, the first being that of "permissive grace," which involves churches saying that people can have grace without personal transformation.
"We have to preach about sin and do so compassionately so people know that they need the abundant, undeserved grace of God," said Lutzer.
"But today what you find is that there are many people who preach grace even before people really know that they need it."
Bock agreed, adding that he felt that was an issue for "Western culture in particular," saying that many westerners have a sense of entitlement, "as if God owes them something just by their mere presence on the planet."
"I think that entitlement eats away an appreciation for what grace really means, because, you know, you don't come to God with a sense of, 'Have mercy on me; I'm a sinner;' you come to God with an attitude of saying, 'Well, I can bargain with You about this, and You really owe me in one way or another,'" replied Bock.
The second false gospel Lutzer described was "social justice gospel," which he believed often led to "the gospel of personal conversion" being "left behind."  
"Social justice, no matter how well done, at its best is not the gospel. It may be the result of the gospel, depending on how it's defined. I mean, you can go to Africa and all of the various hospitals were built by missionaries," Lutzer explained. "So we've always had a social conscience, but social justice is not the gospel. The gospel is not what we can do for Jesus; it's what Jesus has done for us."
Lutzer also listed "new age" ideas as a false gospel that can enter an evangelical church, and also the "gospel of my sexuality," which involved evangelical churches not denouncing sexual sins.
The last one Lutzer described as a threat to evangelical churches was "interfaith dialogue," specifically certain kinds of dialogue. Lutzer cited dialogues with Muslims as an example.
"Now, I'm not opposed to debates. And, of course, I argue also that we need to befriend Muslims; we could talk about that even when it comes to other issues," explained Lutzer.
As an example of a harmful interfaith dialogue, Lutzer told Bock that he has an Islamic apologetics book by Muslims that includes statements like "Islam has always defended the righteousness of women. And Islam has always been on the forefront of civil rights. And Muhammad was a man of peace who tried to bring Jews and pagans and everyone together."
"It deals with 'how do you take Islam to an audience that probably has never even seen a Quran, much less read it, or the Hadith, and how do you sell them on a version of Islam that will be acceptable?' And many people are falling for this, and I warn against it," Lutzer added.
Lutzer's talk about the five false gospels was drawn from a book he published in August 2018 titled The Church in Babylon: Heeding the Call to Be a Light in the Darkness.
The book sought to answer how Christians can live in a "pagan" culture through two questions, "How did we get here?" and "How do we prepare for the dark and difficult days ahead?"
"Lutzer answers both of these questions. He will walk you through the many parallels between the Church in America and God's people in Babylon, and embolden you to be a gospel witness," notes the book's description.
"You'll be encouraged not to compromise your faith even when under constant pressure from all corners of society. And more than all this you will have a fresh encounter with Jesus Christ, as you consider the biblical role of those in exile."