ESPN Cuts Curt Schilling's Historic 'Bloody Sock' Performance From 2004 Red Sox Documentary
ESPN Cuts Curt Schilling's Historic 'Bloody Sock' Performance From 2004 Red Sox Documentary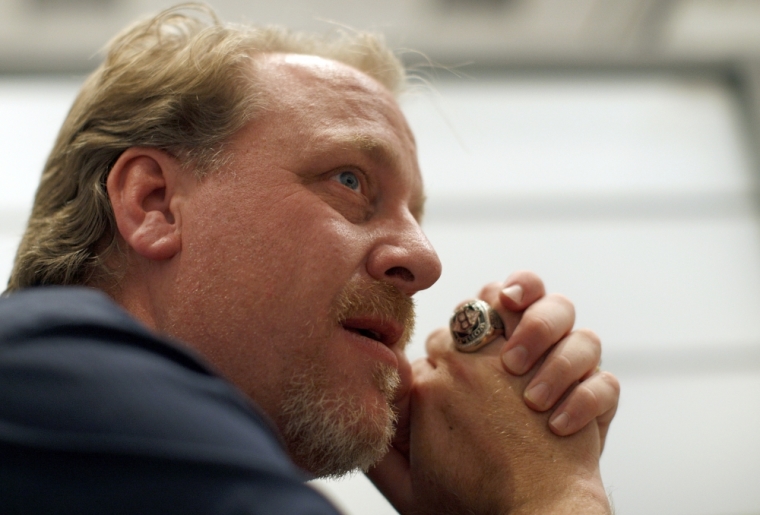 ESPN has scrubbed out one of the most defining moments of the Boston Red Sox's 2004 World Series playoff run that involved controversial pitcher and recently fired ESPN analyst Curt Schilling and his famous bloody sock from a documentary that aired over the weekend.
On Sunday night, ESPN broadcast the 2010 "30 for 30" documentary titled "Four Days in October." The documentary focuses on the 2004 Red Sox, who became the first MLB team to battle back from a three-game deficit in a seven-game playoff series when they beat the rival New York Yankees in the American League Championship Series to advance to the World Series.
When the documentary played on ESPN 2 this time around, the sports network left out a very integral part of the documentary that highlights Schilling's performance in the sixth game of the series.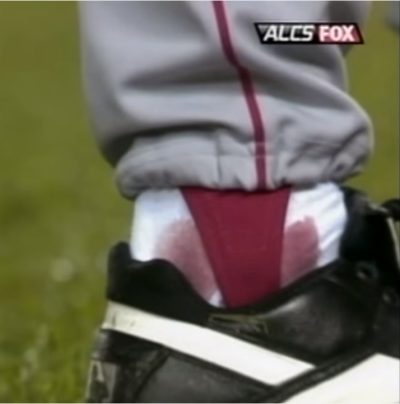 Schilling, a conservative who was recently fired by ESPN for a controversial Facebook post that expressed his views on North Carolina's transgender bathroom law, pitched seven strong innings, gave up only one run while dealing with an ankle injury and a noticeably blood sock.
His performance in Game 6 kept the Red Sox from being eliminated and propelled them to a seventh and final game in the series.
According to The Washington Post, the recounting of Game 6 lasts about 17 minutes in the documentary and ESPN needed to cut the documentary in order to make it fit in between its designated time slot — after a college softball game and before Sunday night's Yankees vs. Red Sox game shown on ESPN around 8 p.m.
"When a live event runs long, it's standard procedure to shorten a taped program that follows," an ESPN spokesman told The Washington Post. "In this case, we needed to edit out one of the film's four segments to account for the extra length of the softball game."
Schilling, who has not shied away from social media since his firing, took to Twitter Sunday night to lambaste ESPN for its lack of "integrity." The 49-year-old Schilling also tweeted a photo of his 2004 World Series ring.
"For sale, never used, rarely worn ring from player who didn't actually have anything to do with getting it," Schilling sarcastically wrote in the tweet.
Schilling, who has also reportedly been turned down for employment by Fox Sports, also asked fans not to make him out to be a victim.
"Btw, please don't make me victim. You saw it, I lived it, still got the ring. This is what happens when you embarrass powerful people," Schilling tweeted. "It's why we are where we are at as a people and as a nation. Time to change that #standup."
Mike Gonzalez, a senior fellow at the Heritage Foundation, correspondent and author, wrote in an op-ed for The Daily Signal that ESPN's explaination must be judged on the fact that it cut out arguably the most defining game of the series.
"To judge that statement one should consider what ESPN edited out. For ESPN did not leave out just any game — it cut out the "Bloody Sock" game, one of the most heroic performances in recent baseball history, if not in the three-century history of the game," Gonzalez wrote. "Pitching at Yankee Stadium for the Red Sox, who had not won a World Series for 86 years up to that point, Schilling won a decisive victory a day after doctors had sutured a loose tendon back into the skin. His ankle began to bleed, soaking the sock, but still Schilling pitched seven innings through pain and blood, as the camera focused on his ankle and his performance."
Although many chose not to believe that Schilling was really all that hurt by his injury in that game, Schilling tweeted a graphic photo in 2014 of what his ankle looked like underneath that sock that night.
Shonda Schilling, Curt's wife, also does not buy ESPN's explanation for leaving the "bloody sock" performance out of the airing of the documentary.
"Couples who get divorced don't usually stoop this low to get the last word in," Schilling told the Boston Herald. "I know (ESPN's) brand is to be true to Disney. That doesn't mean you have to act like a child. I don't remember any Disney films I ever saw that said to try to embarrass you if you want to be heard. Just one last thing, ESPN, people are not mad at what you did they are embarrassed for you."