Ethiopian Christian Man Forced Off His Land by Muslim Mob to Build a Mosque; Wife Is 'Praying, Fasting' and Pleading for Help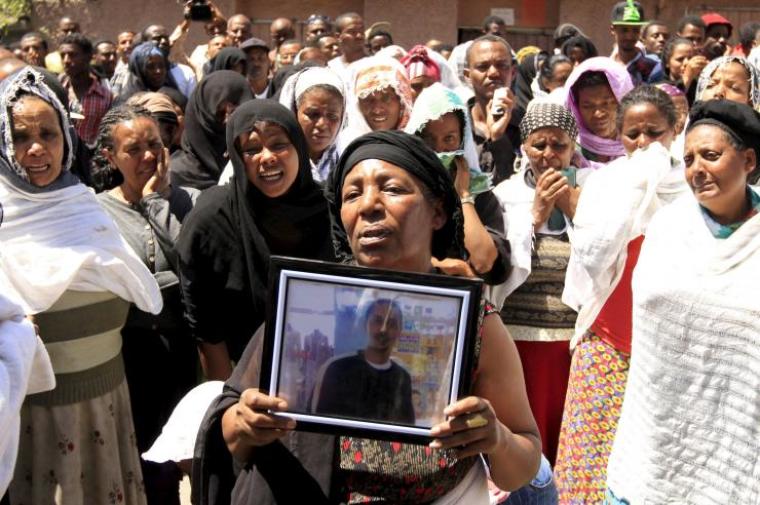 Fearing for his life, an Ethiopian man was forced off his land after Muslims ignored multiple court decisions protecting his property rights. International Christian Concern, a human rights organization that exists to help persecuted Christians worldwide, brought attention to Fikere Mengistu's plight last week.
Local Muslims in the town of Deder are demanding his property in order to build a mosque, and according to the ICC, have already begun construction.
Accoring to BosNewsLife: "The harassment allegedly began when Mengistu built a house for his 93-year-old mother two years ago." Muslims destroyed the home of his mother and then destroyed his fence and looted many of his possessions.
Fearing that the village's 38 Christians would use the house to gather for prayer," BNL reported, "dozens of Muslims began to occupy his land and would remain for weeks at a time shouting "Allahu akhbar."
"Their first plan was to kill my husband," Mengistu's wife, Haregewoyan, said in a statement to the ICC. "Now, he has escaped from the area. We are fasting and praying for God to rescue us from this forceful action."
Multiple Ethiopian courts have ruled in favor of Mengistu, upholding his title to his land in seperate decisions in November of 2014 and again in April. The land has been in his family for more than 90 years.
"We did our best try to defend our faith based on the law of the country and with all our resources, including ICC budget, to pay for our legal expenses, declared the Mengistu family. "Muslims are out of the control of the government and the law. What can we do?"
The Police Commandr in Deder, Abadir Yuya, reportedly is insisting that the court decisions are not valid decisions and they are required to be reviewed. "Since then, the mob has continued harassing the Mengistu family," ICC noted, accusing local authorities of ignoring the court decision and encouraging the Muslim mob in their actions. The police in the region have denied any wrong doing.
In a statement, ICC's regional manager in Africa, Troy Augustine, called the "continued harassment" of the Mengistu family in Deder "unacceptable."
Augustine is urging local authorities to uphold the decisions of the courts "instead of bending to pressure from the religious majority or worse, participating in the persecution of Christians through illegal activities." He also told BNL that officials and law enforcement should "be stripped of their authority if they fail to uphold the Ethiopian law and religious freedom guaranteed for all Ethiopian citizens in the constitution."
The U.S. State Department estimates that 19 percent of Ethiopians belongs to Christian evangelical and Pentecostal groups, while almost 44 percent belong to the Ethiopian Orthodox Church. The town of Deder, located in the Oromia region of Ethiopia, is overwhelmingly Muslim.
"Please help me protect my land and secure my family and the fellow Christians," Mengistu's wife pleaded. Some 30 Christians and part of Mengistu's family have gathered for prayer on the property in hopes of intervention.
"The constitution and most laws and policies generally protect religious freedom," according to the State Department.
The Christian Post reported on Tuesday that an Ethiopian Christian man was ordered at gunpoint to murder two of his friends, Christian pastors, or else his three children would be killed. And in April, 30 Ethiopian Christians were beheaded by ISIS in Libya.