EU to Tighten Sanctions Against Russia 'Within a Week;' Ukrainian President Urges Action Before 'Point of No Return'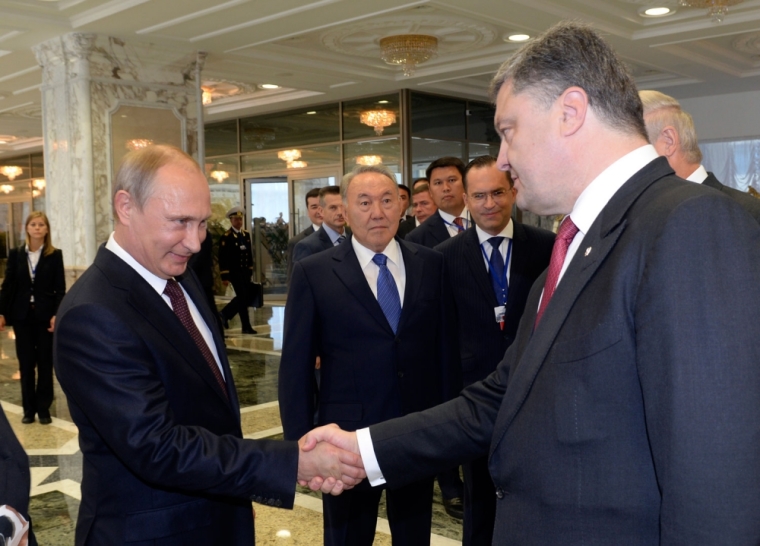 A top European Union leader said Saturday that new sanctions are likely be proposed "within a week" against Russia because of its incursion into Ukraine, whose president has warned that the conflict might turn into a full-scale war if action is not taken soon.
"The European Council says that it stands ready to take further significant steps in the light of the evolution of the situation on the ground and it requests the commission to urgently undertake preparatory work ... and present proposals for consideration within a week," European Council President Herman Van Rompuy said at an EU Summit in Brussels, Belgium, according to CNN.
On Saturday, leaders of Germany and France also stressed the need for tighter sanctions against Moscow.
German Chancellor Angela Merkel warned that new sanctions will be imposed if Russia continues to maintain its military presence in Ukraine, but she added that a military solution to the conflict isn't desirable, BBC reported.
French President Francois Hollande said, "Are we going to let the situation worsen, until it leads to war? Because that's the risk today. There is no time to waste."
British Prime Minister David Cameron said the EU is facing "a completely unacceptable situation of having Russian troops on Ukrainian soil. Consequences must follow if that situation continues."
The United States supported EU's likely move to impose new sanctions.
"We welcome the European Council's consensus today to show strong support for Ukraine's sovereignty and territorial integrity and to prepare further sanctions for consideration in coming days," White House National Security spokeswoman Caitlin Hayden was quoted as saying.
The existing sanctions include asset freezes and travel bans on senior Russian officials and separatist leaders in Ukraine, restrictions on loans for Russian state banks, and blocking defense-related technology exports and certain oil industry exports to Russia.
Ukrainian President Petro Poroshenko said the possibility of a full-scale war cannot be ruled out.
"I think we are very close to the point of no return. The point of no return is full-scale war," Poroshenko said Saturday at a press conference after talks in Brussels to consider new measures to force Russia to reconsider its position.
Russian President Vladimir Putin warned Western nations Friday, saying "it is better not to come against Russia" as it is "one of the most powerful nuclear nations."
"I want to say immediately that Russia is far from getting involved into any large-scale conflicts. We do not want and do not intend to do this," state-run Itar-Tass quoted Putin as saying.
"I want to remind you that Russia is one of the most powerful nuclear nations. This is a reality, not just words," Putin went on to say. "We are strengthening our nuclear deterrence forces and our armed forces. They are getting more compact and more efficient at the same time. They are getting more modernized in terms of their supply with the latest armaments. We continue building up this potential and we'll be doing this in the future."
Russia has sent over 1,000 soldiers into southern Ukraine to fight alongside the rebels there, according to a U.S. official.
The conflict began following massive protests in Ukraine after then President Viktor Yanukovych, who was pro-Russia, suspended preparations for signing an Association Agreement and a Free Trade Agreement with the European Union, in favor of closer economic relations with Russia. The Ukraine parliament removed Yanukovych on Feb. 22, after which he fled to Russia and ethnic Russian forces annexed the Crimea region. The conflict has been worsening since then.