US Says Russia 'Manipulating, Lying' About Ukraine Invasion; Russia Tells America to Stay Out of Its Affairs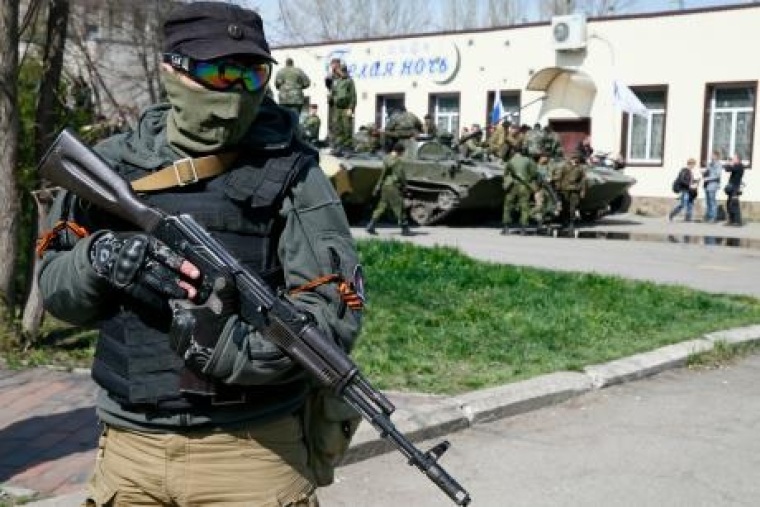 The United States' ambassador to the United Nations accused Russia of "manipulating" and "lying" about its role in Ukraine, as U.N. Security Council members met for the 24th time on Thursday to discuss the apparent Russian invasion into Ukraine. The Russian ambassador retaliated by telling America to stay out of other country's affairs.
Ambassador Samantha Power said that President Vladimir Putin's government "has manipulated. It has obfuscated. It has outright lied," about its involvement in Ukraine, The Associated Press reported.
Russian Ambassador Vitaly Churkin fought back against the accusations, and said that Ukraine "is waging war against its own people."
Churkin did not deny that Russian fighters have entered the country, and said: "There are Russian volunteers in eastern parts of Ukraine. No one is hiding that."
He argued, however, that the U.S. needs to "stop interfering in the internal affairs of sovereign states."
On Wednesday, Ukrainian President Petro Poroshenko called off a planned trip to Turkey citing "Russian troop deployments" in the east of the country, calling it a "sharp aggravation of the situation in Donetsk region."
A Ukrainian military official also accused Russia of carrying out a "full-scale invasion" in Ukraine by sending tanks and armored vehicles to aid pro-Russian rebels who have attacked and captured several cities.
A pro-Russian rebel leader admitted that between 3-to-4,000 Russian citizens have joined the rebel's forces and are now fighting against Ukraine.
Power said that every single one of the Security Council's meetings on the Ukrainian conflict has sent a straightforward, unified message: "Russia, stop this conflict. Russia is not listening," she said, also highlighting the large deployment of Russian forces along the border with Ukraine.
Putin has repeatedly denied that Russia is supplying arms to the pro-Russia rebels, whom he described as "insurgents" for "undermining Kiev's military operation which threatened lives of the residents of Donbass and has already led to a colossal death toll among civilians," Fox News reported.
The Russian president did not address news of Russian troops entering Ukraine in a statement on Friday, but appealed for rebels to release Ukrainian soldiers who are reportedly trapped in eastern Ukraine.
"I'm calling on insurgents to open a humanitarian corridor for Ukrainian troops who were surrounded in order to avoid senseless deaths," Putin said.
U.N. Undersecretary-General of Political Affairs Jeffrey Feltman spoke out against the latest developments and the ongoing military aid Russia is sending to Ukraine, saying that it marks a "dangerous escalation in the conflict."
Ukraine's deputy ambassador to the U.N., Oleksandr Pavlichenko, suggested it is time to discuss the consequences of the world ignoring Russia's apparent invasion.
"How many more red lines have to be crossed before this challenge can be addressed?" Pavlichenko asked the council.
The White House announced on Thursday that Poroshenko will travel to Washington to meet with President Barack Obama on Sept. 18, as a sign of American solidarity with Ukraine.
"The visit will highlight the United States' firm commitment to stand with Ukraine as it pursues democracy, independence, and stability. President Obama looks forward to discussing with President Poroshenko efforts to pursue a diplomatic resolution to the crisis in eastern Ukraine as well as our continued support for Ukraine's struggle to defend its sovereignty and territorial integrity," read a White House statement on the upcoming meeting.